Getting hyper over future transportation, Small vans, big impact and Aiming for no black marks
The Hyperloop has been mooted as the future of mobility; it will allow people and goods to be moved safely, efficiently and sustainably at unprecedented speeds through a vacuum.
Hyperloop Transportation Technologies (HTT) has received a major nod for the development of the concept. Global insurer Munich Re has carried out a comprehensive risk analysis of the Hyperloop technology developed by HTT and declared it feasible and insurable.
Over the past year, a project team, within the special enterprise risks unit at Munich Re, was set up to consider the risks and challenges facing HTT's Hyperloop technology.
"The technology developed by HTT is set to fundamentally change the way we travel in the future. Such technological shifts give rise to new insurance needs that demand innovative solutions – which our Hyperloop team at Corporate Insurance Partner is happy to develop," says Torsten Jeworrek, member of the Munich Re board of management.
Dirk Ahlborn, CEO and co-founder of HTT adds: "Offering an insurable system is a massive milestone for this groundbreaking technology. As we move forward with commercialisation of the system and our technology, our biggest challenge remains the creation of a new regulatory framework."
According to the two entities, further cooperation between Munich Re and HTT will expand the boundaries of transportation and insurability…
It might sound like science fiction but the reality is far closer than one would expect. The next step is to begin building, while construction of the first full-scale passenger Hyperloop capsule is well underway. An official reveal will take place in early 2018.
Small vans, big impact
Nissan Motor Company unveiled two new fully customised vehicles at the Tokyo Motor Show: the new Paramedic Concept and the all-electric e-NV200 Fridge Concept.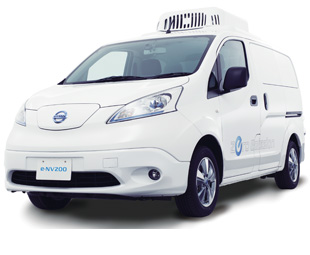 Nissan's fifth-generation ambulance, the Paramedic Concept is based on Nissan's NV350 Caravan. This makes for better comfort for the patient and a better work environment for paramedics and drivers.
Uniquely, it includes Nissan's Intelligent Around View Monitor and technology to reduce the spread of germs. The ambulance also carries a lithium-ion auxiliary battery that supports life-saving medical equipment when patients are in remote areas or in need of emergency assistance.
Nissan plans to start sales of the ambulance in Japan in 2018 and aims to double annual sales of the ambulance compared with the previous model.
The big news, though, is the company's solution to urban delivery challenges: the all-electric Nissan e-NV200 Fridge Concept.
"The e-NV200 Fridge Concept will create huge value for commercial users – generating more business, as well as reducing the cost of ownership. With zero emissions, it'll be perfect for busy urban environments where larger vehicles are often prohibited," says Ashwani Gupta, senior vice-president of the Renault-Nissan LCV Business Unit.
The Fridge Concept's is intended for increasingly stringent urban environments, where large delivery trucks are often prevented from stopping. The vehicle is fitted with an additional battery pack in the cargo space to power a refrigeration unit.
Aiming for no black marks
We've previously reported that a new generation of London's famed black cab is to hit the capital city's streets in 2018, and has undergone months of torturous testing in extreme weather conditions in the Arctic and Death Valley.
Now, though, the new electric black cabs will face their toughest test yet – taking to the streets of London. This is the final phase of testing ahead of the January 2018 deadline for all newly licensed taxis to be zero-emission capable.
The test fleet of six vehicles will be driven by real London cab drivers who will help to collect vital information, such as the emissions savings and the performance of London's charge point infrastructure, before delivering to customers and being available to fare-paying passengers later in the year.
"We will now be able to accurately quantify the significant improvements these vehicles will make to London's air quality, which will benefit all Londoners regardless of whether or not they use taxis. For those who do, the experience will be transformational," says Chris Gubbey, CEO of LEVC (formerly the London Taxi Company).
The new cabs feature six seats, contactless card machines, onboard Wi-Fi, laptop and USB charging points, a panoramic roof, and a stronger aluminium body that will better protect passengers.
In addition, London's passengers should expect an unrivalled ride quality, class leading wheelchair accessibility, air-conditioning, and a much more spacious cabin. World-class active and passive safety systems include forward collision warnings, autonomous emergency breaking and emergency brake assistance.
For the drivers, the new vehicles include on-board navigation to help them identify congestion and plan alternative routes, access to online charge-point maps and hailing apps for taking bookings.
Focus on Transport
November 8, 2017
Published by