Getting on board the Bafana Bafana bus
Although not an official transport partner of the FIFA World Cup, Mercedes-Benz South Africa is a sponsor of Bafana Bafana – and determined to get South Africa behind our national team.
Exactly 105 days before the 2010 FIFA World Cup officially kicks off in June, Hansgeorg Niefer, CEO of Mercedes-Benz SA (MBSA), handed the keys of Bafana Bafana's luxury coach to South African Football Association (SAFA) CEO, Leslie Sedibe. The official hand-over was accompanied by speeches from both Niefer and Sebide, as well as a sneak preview of the local talent SAFA is recruiting to create an African soundtrack to the World Cup.
And what a preview the handover was; not only of the bus itself – a star amongst luxury coaches – but of the spirit of MBSA, SAFA and the whole country towards FIFA's football spectacular.
"I believe that we will host the best World Cup the world has ever seen," said Niefer to press and SAFA representatives gathered at the official handover ceremony. "We have faith in Bafana Bafana, who have already proved they're a team to be reckoned with during the 2009 Confederations Cup," he continued.
As part of a steadfast belief and pride both in South Africa and local football, MBSA has undertaken to play its part in rallying South Africa behind the national side.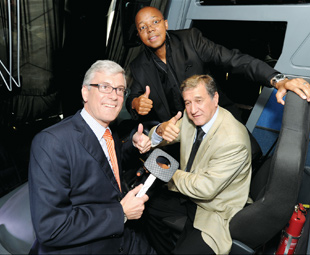 MBSA's national campaign, "Driving Bafana Bafana… get on board", launched on 15 March with the team's luxury coach travelling the length and breadth of South Africa to capture images of the nation supporting their side. Everyone and anyone is invited to have their photograph taken and stand a chance to have it included in the final image that will form part of the accumulated imagery to be printed on the bus. Once the bus branding has been completed, it will be handed over to the team in early May.
"The coach represents the heart of South Africa and its love for football," said Niefer.
The Multego is MBSA's star coach. "Luxury, style and safety are the cornerstones of the Multego," Niefer continued. "This coach will be a travelling home to Bafana Bafana for the next three years and it needs to reflect our national pride.
"Sporting events such as the World Cup raise us above issues of race, culture and other differences. Instead, there will be widespread celebrations and a nation united. It's an opportunity South Africa must embrace."
And one MBSA wanted to be a part of. If the media's excitement over the handover is any indication, there is no doubt that MBSA will generate the same level of enthusiasm amongst South Africans across the country during the final weeks leading up to the World Cup.
Sedibe is no less positive about the team's luxury coach. "It's a pleasure and honour for us to accept this coach," he said. "To us, the Bafana Bafana coach symbolises the journey our national team will be making to reach greater heights. It quite literally will move us up the FIFA rankings to reclaim our position as the power house of African football." 
Focus on Transport
March 1, 2010
Published by