Going green and off the grid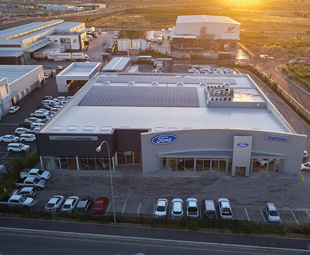 Halfway Ford, of Kuils River, in the Western Cape, has made major strides in providing its own electricity as well as using minimal amounts of water from the municipal supply.
Halfway Ford Kuils River's decision to utilise solar for its electricity requirements and to recycle and harvest water was influenced by a long-term goal of the Halfway Group to move towards zero-based emissions by 2050.
With the help of Renu Holdings – a Durban-based company specialising in commercial, industrial, and residential renewable energy solutions – Halfway Ford Kuilsriver now boasts an array of solar panels and control systems that supply all its electricity needs.
A water-harvesting system allows the dealership to collect rainwater and to recycle water used in the car wash. Heat pumps are used to heat water and highly efficient LED lighting has been installed throughout the building.
These systems are contributing to impressive monthly savings on overheads amounting to 16 000 kWh in electricity costs and 27 500 litres of water. There is an added benefit when the grid-tied solar photovoltaic panel system produces more power than Halfway Ford requires, as this excess electricity is then sold back to the municipality.
"Ford is a global leader in terms of environmental innovation and implementation. We are, therefore, very proud of this project in Kuils River, which is serving as a shining example of a motor dealer taking responsibility for its impact on the environment, while showing the local community that Halfway Ford is a local business that cares," says Casper Kruger, MD of Ford Motor Company Southern Africa.
Focus on Transport
February 15, 2018
Published by