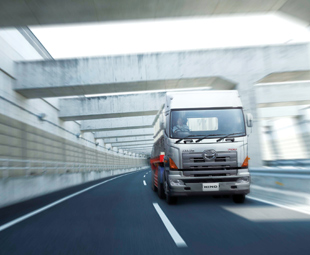 Hino's domination of the medium and heavy commercial vehicle markets has ensured the manufacturer overall dominance of the local market for a large portion of the last four decades. A new focus on the extra-heavy sector indicates Hino's determination to take this dominance to the next level…
Despite the contracting commercial vehicle market, Hino has actually grown its market share from
15 to 18% over the course of the last few months.
"Year-on-year sales figures reveal that medium commercial vehicle (MCV) sales are down by 44%, heavy commercials (HCV) by 43% and extra-heavy commercials (XHCV) by 63%," reveals Casper Kruger, Hino's general manager. "To be increasing market share within such conditions is a strong indication of the trust and reliability associated with the Hino brand."
However, while the Hino range encompasses all three weight categories in the form of the Hino 300 (MCV), Hino 500 (HCV) and Hino 700 (XHCV), it is the MCVs and HCVs that have really made their mark on South Africa's transport sector, with the Hino 700 securing only 4.6% of the extra-heavy market share.
An aggressive focus on the extra-heavy sector, coupled with the inclusion of new models to the range tailored towards the local market's needs and conditions, aims to rectify the current status quo.
"Hino has secured the number one position in the customer satisfaction index conducted by Scott Beyers for three quarters in a row," states Piet van Wyk de Vries, vice president of Hino.
"We are clearly delivering a quality service to our clients, from our products right through to our after-sales support, but we can't rest on our laurels," he continues.
"The Hino name needs to be synonymous with trucking in South Africa, and in order to achieve this, we need to build on our current sales and after-sales service levels, and increase our market share across the entire sector, most notably in the extra-heavy market."
According to Kruger, this has become Hino's challenge for the foreseeable future: to gain a strong foothold in a market not traditionally dominated by the manufacturer.
"The extra-heavy long-haul market is a unique one, with highly specific needs, particularly in a country like South Africa," he explains. "Truck drivers are faced with poor road conditions, long distances and the resultant need to be able to sleep two people comfortably in one cab."
As a result, Hino has been working closely with Hino Motors in Japan to design a Hino 700 range ideally suited to local conditions.
The Hino 700 range currently consists of a tipper model, freight carrier, 4×2 truck tractor, and a 450 hp and 480 hp truck tractor respectively. The newest edition to the range is the 2848 double-sleeper cab.
This 700 Series sleeper cab, first unveiled at the 2008 Johannesburg International Motor Show, has officially been shipped to dealers throughout the country.
The vehicle is available with air suspension and a choice of 450 hp or 480 hp engines. The engine is the 12.9-l, turbo-intercooled, six-cylinder Hino E13C TT. The 450 hp version develops 331 kW of power at 1 800 rpm and 2 157 Nm of torque at 1 000 rpm, while the 480 hp E13C VB produces 353 kW of power at 1 800 rpm and 2 157 Nm of torque at
1 000 rpm.
The transmission is a ZF 16S221 unit with eight forward gears and a splitter, to allow the driver a choice of 16 ratios. The gearshift is mechanically controlled with power shift. The drum brake system incorporates anti-skid control. An engine retarder and transmission 'intarder' are standard fitment, while the rear axle features a differential lock.
These new models – aimed specifically at the long-haul operator – are an important addition to the Hino model range and will allow the company to compete aggressively in this important segment of the extra-heavy truck market.
Focus on Transport
July 1, 2009
Published by