Hyundai could make a bakkie, if it wants to …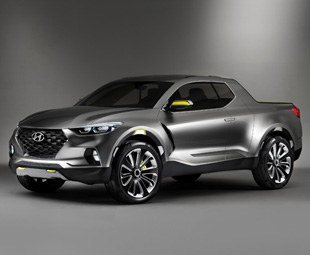 The 2015 North American International Auto Show is currently underway in Detroit, USA, and, as can be expected, is filled with all the high-horsepower glitz and glamour of new and future vehicles. At the show, Hyundai has revealed its ability to tackle the global "pickup" market with the Santa Cruz concept.
But, says Hyundai, the Santa Cruz doesn't focus on all the same attributes as traditional pickups … It's designed to meet the desires of "Urban Adventurers" for expression, efficiency and manoeuvrability.
The concept is purposefully compact and, although it has four doors and seating for five, its overall footprint is similar to a small crossover, like the company's ix35.
"These dimensions make it ideal for navigating the urban environment or a tight parking spot that most pickup drivers often have to pass by," says the company.
Items can be securely locked in the cargo bay under an integrated rigid tonneau cover that conveniently retracts when not needed. "The Santa Cruz is the perfect vehicle for those that want the attributes of a crossover, but still have dirty stuff that belongs 'in the back'," notes Hyundai.
The Santa Cruz also offers an innovative tailgate extension that allows the bed length to be expanded. When fully extended, its bed length is said to be similar to a mid-size pickup.
The wheel arches, roof and bed rails offer tie-down cleats for securing cargo and, for ease of access, the Santa Cruz features rear-hinged rear doors.
There is no word yet of when, or if, it may enter production.
Focus on Transport
January 15, 2015
Published by