Joburg's M1 gets a facelift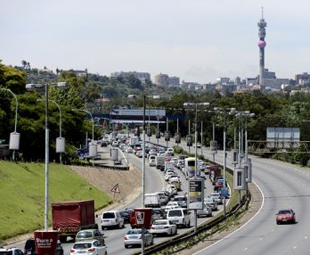 A year of traffic disruption is on the cards for users of Johannesburg's M1 freeway, as the Johannesburg Road Agency (JRA) moves into the second phase of major rehabilitation to three of the road's bridges.
The two sections of the road most affected will be the iconic double-decker section of the M1 – between Carr and Anderson streets in the city centre – where work will include rehabilitation and structural repairs, asphalt surfacing, expansion joints, drainage systems and new road signs.
In addition, the Federation and Oxford bridges are also undergoing major facelifts. A two-kilometre section of dual-carriage freeway between Rockridge and Federation Roads is being rehabilitated and the existing storm water drainage system in the area replaced.
Mpho Kau, the acting MD of the JRA, says the revitalisation project on Oxford and Federation bridges will be concluded by February 2017 at a combined cost of R210-million, while improvements on the double-decker section will finish in May 2017.
The freeway revitalisation project forms part of Johannesburg's investment of more than R100 billion in strategic infrastructure over a ten-year period.
JRA advises the following timeline, to help commuters plan their journeys during the construction period:
• The northbound carriageway of the M1 – carrying traffic from Soweto and the M2 – will be reduced to two lanes between the St Andrews and Killarney off-ramps, from February 29 until December 31;
• The southbound carriageway of the M1 – carrying traffic from Midrand – will be reduced to two lanes between the Killarney and St Andrews off-ramps, from April 3 until December 31;
• The southbound on-ramp onto the M1 from Oxford Road will be closed at Ettrick Road from April 3;
• The Oxford Road off-ramp from the M1 travelling north to be closed from August 13;
• Certain lanes on the double-decker section will be closed until July 6, 2017, during weekdays between 09:30 and 14:30. The construction will be halted during morning and afternoon peak hours – but work will be stepped up in the evenings and over weekends.
"This section of the freeway is a key arterial route through the heart of Johannesburg, carrying approximately 80 000 private cars daily, as well as commercial traffic and public transport – all vital to the growth of southern Africa's most important economic hub," says Christine Walters, member of the Mayoral Committee for Transport.
Follow JRA online and on social media for the latest developments, journey planning tips, alternative routes, and traffic advisories.
Twitter: @MyJra,
Facebook: Johannesburg Roads Agency,
JRA Find&Fix mobile app
Focus on Transport
February 24, 2016
Published by