The world of agriculture is changing. Most problems can no longer be solved with duct tape and baling twine. Equipment is expensive – equivalent to the price of a small house. CLAIRE RENCKEN goes farming.
There's no doubt about it – farming isn't as simple as it once was. Regulations are stricter, agri-business is more consolidated, resources are scarcer and equipment is infinitely more complicated and costly.
Much of what used to be done by hand is now carried out by giant machines. New, elaborate technologies afford the kind of precision and predictability that farmers 20 years ago never dreamt of. Tractors are no different, either.
In a previous issue of FOCUS, we wrote about the New Holland hydrogen-powered tractor; one of which was being tested on a farm in Italy.
Now it seems we're entering the age of the driverless tractor. It is considered driverless because it operates without the presence of a person inside the tractor, itself. Like other unmanned ground vehicles, driverless tractors are programmed to independently observe their position, decide speed and avoid obstacles such as people, animals, or objects in the field, while performing their task.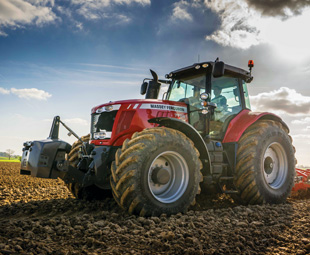 The idea of the driverless tractor actually surfaced as early as the 1940s, but has really come to fruition only in the last few years. The tractors use GPS and other wireless technologies to farm land without the need of a driver. They operate simply with the aid of a supervisor monitoring the progress at a control station, or with a manned tractor leading them.
While John Deere claims to be the largest manufacturer of autonomous vehicles, other manufacturers, such as Autonomous Tractor Corporation, Case IH and Fendt also offer self-driving farming equipment.
For the most part, these futuristic fleets haven't hit South African fields just yet. However, in the meantime, there are many other options available to our farmers.
Earlier this year, Massey Ferguson announced the introduction of the new MF 6700 tractor series, a major step forward in the evolution of the Massey Ferguson Global Series. The MF 6700 range is the most powerful in the series, with engine power outputs ranging from 83 to 98 kW.
Following the path set out by the MF 4700 Series, for a strong workhorse across a full range of applications, the manufacturer says the MF 6700 Series provides even greater performance with its modern straightforward design, low cost of ownership and enhanced reliability.
Ashley Fleming, marketing specialist, Massey Ferguson for Africa and Middle East, comments: "This is a very important tractor for Massey Ferguson in Africa and the Middle East, offering farmers more power and increased versatility, while retaining the dependability and ease of operation for which the Massey Ferguson Global Series has become renowned. The latest technology is combined with familiar controls to make the MF 6700 an invaluable power unit for any farming operation."
Farmers, for whom price is not an issue, have the option of the John Deere 9RX Series tractors. According to John Deere, these are the perfect combination of power, performance and intelligence. They are built to pull large implements through a variety of field conditions. The company's website states that the 9RX covers more acres in less time; improving yield potential and profitability.
It also claims that this tractor sports the roomiest, most well-equipped, and technologically advanced cab on the market. Visibility is good and the 40° right-hand seat swivel allows the driver to see even more.
These are just a couple of the options available on the market. Watch this space; we're looking forward to writing more about those driverless tractors in the not too distant future …
Equipment on demand
Nigerian technology start-up, Hello Tractor, is an on-demand farming machinery service for farmers in rural Africa, many of whom can't afford to own any high-tech equipment. The cost of buying and maintaining a new tractor, for example, is way beyond the means of most smallholders.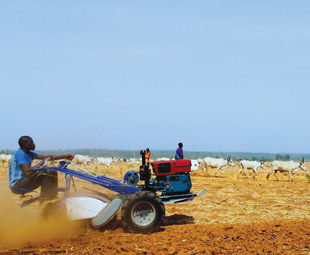 Hello Tractor, which has been described as the "Uber for tractors", is a start-up in Nigeria that offers farmers access to machinery via an SMS order system. Farmers then pay for the tractor when the job is complete using mobile money (a form of cashless payment in Africa).
For the farmers, these rentable tractors are more efficient and significantly cheaper than taking on temporary labour, and can, therefore, help increase the profit and the yield of the farm.
The tractors owned by Hello Tractor are also "smart tractors" – they are fitted with GPS antennae that can transmit data – even in areas where there is no internet connection. This data can be used to add value to the farmers themselves and to industry stakeholders.
Hello Tractor founder, Jehiel Oliver (a United States citizen with a background in investment banking), says the data collected includes farm location and size, crops grown, as well as time of planting and harvesting. This can be combined with public information, such as weather and soil types, to build unique farmer profiles.
Focus on Transport
May 7, 2016
Published by