Traditional basics, new possibilities
You read about it in our pre-launch exclusive last month, now the new Iveco Daily has been launched and is aiming to rule the large-van roost. GAVIN MYERS drove it – and is quite convinced it'll do just that
Since it first took the world van market by storm in 1978, Iveco took its time to launch progressive models of the Daily to market. The second generation, for example, only arrived in 1990, and the third a decade later.
Generations four to six of the Daily took another eight years. This could be considered a relatively slow evolution, but Iveco will tell you that the reason is because the basics have always been right.
A ladder-frame chassis has always been the backbone of the Daily; providing strength normally associated with much larger trucks. As such, the new Daily offers class-leading payload and towing capacity.
The top 70C15 models, for example, offer a 7,2 t gross vehicle mass (GVM), 4,2 t payload and 3,5 t towing capacity. The range begins at 3,6 t GVM.
"We offer up to two tonnes more payload and 50-percent more towing capacity than the closest competitors. This combines to give the operator the best earning potential in the segment," says Elvis Mutseura, product marketing manager at Iveco South Africa.
These vehicles are big, too. The Daily offers the longest load bay in the van segment and largest load volume: 5,1 m and 20 m3. There is a middle 18 m3 version, while the 16 m3 – the "go-to baby" in the range – offers just under 4,7 m and can load up to six pallets.
As you'll read in our interview with Mutseura and Carmelo Impelluso, MD of Iveco South Africa, a high percentage of panel vans get converted into people carriers. In commuter spec, the "go-to baby" will carry 22 passengers – offering them each 600 mm of legroom. Use the
18 m3 and 25 passengers will reach their destination in comfort.
And I'm not just saying that … The independent front and parabolic rear suspension combine comfort, vehicle control and strength. We were able to test these attributes at the local launch and can report that every model drives smoothly, quietly and comfortably. The cab quality is top-notch with not a squeak or rattle – even from within the converted buses.
Four engine and two gearbox options are available – beginning with a 2,3-litre turbodiesel powerplant producing 94 kW (126 hp) between 3 000 and 3 600 r/min, and 320 Nm torque between 1 800 and 2 500 r/min. Three three-litre versions follow, the first is a single-turbo version – offering 112 kW (150 hp) and 350 Nm from 1 400 to 2 600 r/min.
The second three-litre version features a variable-geometry turbocharger to produce 127 kW (170 hp) from 2 900 to 3 500 r/min and 430 Nm torque between 1 400 and 2 600 r/min. Finally, the twin-turbo version pumps out 153 kW (205 hp) from 3 100 to 3 500 r/min and a hefty 470 Nm torque across a wide band of 1 400 to 3 000 r/min.
Fuel efficiency has been improved by five percent thanks to the adoption of low-friction piston rings; high-grade, low-viscosity lubricants; and a reduced drag coefficient.
A six-speed synchronised manual gearbox with double overdrive is available, but the star of the range is unquestionably the eight-speed ZF automatic – a first for commercial vehicles. Dubbed Hi-Matic, shifts are made smoothly in less than 200 milliseconds. Self-adaptive software, with 20 different shift programs for any given driving condition, controls this transmission, while drivers can choose between Eco and Power modes, or shift manually.
The version of the Hi-Matic used locally has been strengthened for light commercial-vehicle applications and was extensively tested for the climatic conditions prevalent in South Africa. It features an external cooler and an independent transmission support for improved durability.
The new Daily has been laden with safety and convenience features in equal measure. Every Daily comes with ESP9 (the latest version electronic stability program). Among the attributes of this system are hill-hold control to save clutch life, especially when carrying a load; trailer-sway mitigation; and roll-over mitigation. Driver and passenger airbags are standard as are daytime running lights. Cornering lights feature where front fog lamps are specified.
On the convenience front, seven-tonne vans and camper variants feature an air-suspended driver's seat, while every conceivable space in the cabins has been used to aid storage. Carrying a bulky overnight bag? Lift the passenger bench and store it safely underneath.
Power mirrors, a radio with Bluetooth and air-conditioning feature. The battery has been up-spec'd and relocated to under passenger footwell – a cooler area that prolongs battery life. A quick-release isolator prevents the need for spanners when the battery needs to be disconnected.
We've added lots of practical value to make this vehicle a great place for the driver to work," Mutseura enthuses.
"The Daily is opening up possibilities to do things in a different way," says Mutseura. "It's possible to use a panel van in applications that up to now could only be served using trucks. With a 4,2 t payload and 3,5 t towing capacity we believe that the new Daily can greatly increase the earnings potential in many of these applications.
"Our analysis shows that in many applications, even where the purchase price of the Daily may be as much as 25 percent more than a truck, the new Daily can out-earn existing solutions and can be a very profitable alternative for operators.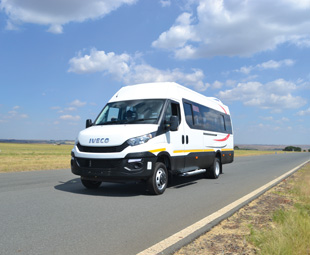 "We offer bigger payloads, smaller engines, more safety and comfort, as well as reliability and durability that guarantee the value of our products in the long term," Mutseura reiterates.
Indeed, the basics that make the Daily what it is are all still there – only in a package that'll be more appealing to the market than ever before.
Carmelo Impelluso, MD of Iveco South Africa, and Elvis Mutseura, product marketing manager, explain the dynamics of the South African market and how they expect the New Daily to make a big impact
Impelluso has only been in South Africa since January, but already the local market has made a big impression on him.
"It's one of the most fun markets in the world, according to me," he smiles. "It's a really different market – manufacturers from around the world are present, probably because it's a point of reference for the sub-Saharan region and everybody tries to enter Africa from here. You have to pay a lot of attention, analyse the market and know your customers very well."
While Impelluso has had only a few months to learn the dynamics of the local market, he has made a few important observations.
"Operators running extra-heavy commercial vehicles (EHCV) are as professional as those in Europe. They want demo vehicles to check our claimed figures and they only talk 'total cost of ownership'. In the medium and light segments, operators are still very much focused on purchase price," he says.
It's here that he expects the Daily to open some eyes. "Sure, the vehicles might be more expensive than some of the competing brands, but the consumption and payload allow the difference to be recovered after a few months, and their durability means longer replacement cycles," he notes.
Imports of the old Daily were stopped in December 2015 and the model closed on 16-percent market share.
"We saw a surge in the first quarter, due to the sell out of the old model. The absolute number of the market is down, but our share is up," Mutseura explains.
Implelluso adds that the new Daily model range presents several possibilities for the company. "We want to grow in the panel-van segment with the 18 and 20 m3 models; there is no vehicle that can compete at the moment. We're also hoping to impact the minibus market with – 26 seats (five more than the competition) the payback for operators is fantastic."
Mutseura explains that up to 70 percent of panel vans sold get converted to passenger vehicles. "The vehicles are imported as panel vans and the conversion is done locally. The 3,5 t chassis cab is popular for camper van conversions, while panel vans find application in an extremely wide range of jobs that range from freight through passenger transport, as well as specialised functions like ambulances and mobile workshops."
Despite a tough 2015 as a result of teething problems at the Rosslyn plant – which is now well up to speed – and the market currently down by ten percent compared to the first quarter of 2015, the company's current performance is looking quite strong
"Our EHCV market share in the first quarter has doubled compared to last year," says Impelluso. "We aim to end this year with 50 percent more truck registrations (the target is 2 000 units in the southern African region). We also aim to sell 200 Afriway buses."
Naturally, the success of the new Daily forms a big part of that plan. It did, after all, account for half of Iveco's global sales during 2015. Looks as though it's about to make its own big impression on our market.
Focus on Transport
May 7, 2016
Published by