Light Commercial Vehicles (LCVs) were almost as ubiquitous as their heavier counterparts at this year's Johannesburg International Motor Show (JIMS). FOCUS brings you what's new.
Changan (Chana)
The newly-formed Changan Southern Africa, holding company of the Chana brand of vehicles, put on a forceful display at JIMS. The Star II LCV range was facelifted in August and this small load-lugger has benefitted from more aerodynamic styling, refinements to the engine, and improved gearbox performance – thanks to upgraded bearings and internals. General concerns about Chinese build quality have been addressed with tighter shutlines, improved welding techniques and improved quality of paintwork. The Star II offers an 800 kg payload in single cab guise, 600 kg in club cab and half-a-tonne in double cab. Pricing starts at R59 900, with a standard one-year / 60 000 km factory warranty.
Chevrolet
Chevrolet displayed its soon-to-be-launched Ute, the third generation of one of South Africa's best-selling half-tonne bakkies. The vehicle will follow the same formula as its popular predecessors in terms of style, functionality, loadability, dependability, and economy of operation – all with an added element of fun. The Ute is built on an all-new platform and has strong "Chevrolet family" looks. It is expected to be launched before the end of the year.
FAW
FAW previewed two models it intends to bring to market when the passenger and LCV divisions of the business are launched to South Africa in March 2012. First of these was the CA 1020 Mini pickup. Available in both single and double cab, this bakkie is designed to provide efficient, reliable and low cost transportation, combined with impressive load-carrying capacity. Its versatile cargo bed is designed to expand loading options by featuring a conventional tailgate combined with drop sides.
Also previewed was the Mini Panel Van, designed to offer small businesses a fresh alternative in economical transportation. It provides the versatility of a van and the convenience of a compact people carrier, seating six to eight occupants.
Ford
Excitement at the Ford stand centred on the launch of its new Ranger. Developed in Australia on an all-new platform and built in South Africa (for export to 148 markets), the Ranger is the first Ford LCV to be launched under the One Ford strategy. This combines the expertise of Ford's divisions around the world to build vehicle ranges for global markets. The latest Ranger promises new levels of quality, efficiency and safety. It will be offered in single cab, super cab and double cab, while two new Ford Duratorq TDCi diesel engines and one proven Ford Duratec petrol engine will be on offer. Look out for the launch in a forthcoming issue of FOCUS.
Foton
Foton showed its impressive new one-tonne Tunland range of bakkies, expected to hit South African showrooms in the first half of 2012. The Tunland is claimed to be one of the largest one-tonne pickups on the market and has achieved a four-star Euro NCAP crash-test rating. The vehicles will be powered by a 2,8-litre turbo-diesel Cummins engine,
developing 120 kW of power and 360 Nm of torque. A 2,4-litre 100 kW petrol engine will be added by the end of 2012. The vehicles will also feature optional four-wheel drive with rear differential lock, while a six-speed ZF automatic transmission will be offered at a later stage.
The Tunland was joined by the company's current Thunda range of single- and double-cab bakkies.
Hyundai
Hyundai unveiled its new H1 Multicab. Based on the popular H1 panel van which FOCUS tested in August, this new model blends the business and family applications of its panel van and people mover brethren in one – essentially a "double cab panelvan". It will be offered with Hyundai's five-year/150 000 km warranty and roadside assistance, as well as a five-year/90 000 km service plan. This new addition to the Hyundai family will be available
early in the first quarter of 2012.
Isuzu
Ahead of the imminent international reveal of the all-new KB, visitors to the General Motors stand were given the opportunity to experience an under-the-skin view of the technical features of the current Isuzu KB. A "transparent" version was built especially for the show, enabling visitors to see the technicalities of the vehicle, as well as the number of local enhancements made to the KB in an ongoing engineering collaboration with Isuzu in Japan.
Mazda
Taking pride of place on the Mazda stand, and making its debut at the show ahead of its introduction in 2012, was the new BT-50. To be built in Silverton, Pretoria from early 2012, the BT-50 signifies Mazda's new direction in the pickup segment. It was developed as an "Active Lifestyle Vehicle" and is intended to further extend the appeal of a utility, from traditional business users to a wide range of customers with an adventurous lifestyle. It will be marketed at those who want all the features and comfort of a passenger car, combined with the versatility and off-road abilities of a pickup. The new design incorporates higher sides to the cargo tray, increasing maximum cargo volume to 1 214 litres, an increase of 178 litres over the current double cab model.
Mahindra
One of the high-profile newcomers on the Mahindra stand at JIMS was the new Genio one-ton pickup, shown to the local public for the first time. The Genio represents a departure from the norm for Mahindra, which has traditionally adapted Indian domestic models for sale in export markets. Available as both a single and double cab, the Genio will be powered by Mahindra's 2,2-litre turbodiesel m-Hawk engine. The company sees the Genio as a versatile pickup that sits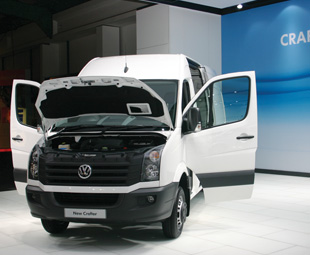 between the requirements of a workhorse bakkie and a recreational vehicle. South Africa is the first country outside India to receive the Genio. Initially only 4×2 models will be available, with 4×4 models following later. Launch prices start at R149 900.
Peugeot
Peugeot, branded as one of the leading commercial vehicle manufacturers in Europe, had its current range of commercial vehicles on display. These were the highly versatile former European Van of the Year, the Boxer (tested in FOCUS August); the mid-size Expert Panel Van with its 1,2-tonne payload and 5 m3 loading volume; the Expert Tepee, a useful eight-passenger people-mover with abundant space; and the Partner, an efficient and highly manoeuvrable panel van with the ability to carry 850 kg within its 3,3 m3 load compartment.
Tata
Part of Tata's large display of vehicles was an impressive array of the company's LCVs. These included the Super ACE one-tonne mini-truck, Tata Xenon CNG, Xenon 2.2 L Cargo Box and Xenon 2.2 L Double Cab 4×4. The new Super ACE supplements the brand's existing bakkie range in South Africa, offering "more value for money" to its customers, without frivolous excesses.
Of particular interest at the LCV display was the Xenon CNG – a mono-fuel factory-fitted CNG (compressed natural gas) vehicle. TATA claims the CNG-powered vehicle has lower maintenance costs than its conventionally-fuelled stablemates, as well as producing less carbon monoxide, carbon dioxide and nitrogen oxide emissions.
Toyota
Toyota featured a special version of the new Hilux range at JIMS, part of its "Heritage Edition" of vehicles designed to celebrate Toyota South Africa's first 50 years in 2011. The Heritage Edition is equipped with special leather seats, matching leather panels in all doors, a carpet set, stainless steel side steps, a nudge bar and tow bar. It offers a significant increase in luxury and interior specification, but at a highly competitive price.
Volkswagen
Volkswagen Commercial Vehicles presented its entire model range and, while a striking and fully kitted-out Amarok attracted attention on the stand, it was the new-generation Crafter that was the big news. To be introduced locally in the first half of 2012, VW's new medium commercial vehicle provides numerous technical and practical advances over its predecessor. Key among these is the new range of Euro-4 and -5 four-cylinder diesel engines. These have significantly lowered fuel consumption and CO2 emissions – especially with the BlueMotion models – as well as giving higher and flatter torque curves. The vehicle's maximum payload is also increased by nearly 3% on some derivatives. The model line-up comprises two weight classes (3,5 and 5,0 tonnes), two wheelbases (medium and long), and one body style (panel van) with three different roof heights and a longer rear overhang.
Focus on Transport
November 1, 2011
Published by