Long-distance gas-fuelled trucking
In his monthly review of global news for local truckers, FRANK BEETON discusses Volvo's gas-engine developments, reveals the second piece in the Mercedes-Benz heavy truck jigsaw puzzle, outlines some interesting Nissan developments in Spain and comments on new MCV transmission options.

Last year, GLOBAL FOCUS reported on the launch of Volvo Truck's 13-litre FM MethaneDiesel series model which runs on a variable combination of diesel fuel and up to 75 percent methane, made up of either biogas or liquefied natural gas (LNG). Using gas injectors, and a special fuel tank to hold the chilled liquid gas, this 40-tonne GCM, 343 kW (460 hp) European market truck is claimed to have a potential operating range, without refueling, of 500 km. Volvo claims this methane-diesel technology has driveability and durability equivalent to a normal diesel unit, while reducing CO2 emissions by up to 70 percent – and has made the prospect of gas-fuelled operation over longer distances a practical proposition.
Following up on the European launch, Volvo has announced that it will make its 13-litre liquefied natural gas fuelled engine available to North American operators in 2014 as part of its "Blue Power" strategy. The technology is based on high-pressure diesel direct fuel injection without using spark ignition, and uses traces of diesel fuel to ignite the gas. Volvo claims this technique produces a 30 percent fuel-efficiency improvement over equivalent spark ignition gas-fuelled engines. Volvo Trucks North America is also offering localised operators its VNM and VNL daycab models with factory-installed Cummins ISL G or Cummins-Westport ISX12 G gas engines suitable for use with compressed natural gas (CNG) fuel.
Volvo has been testing 10 vehicles running on dimethyl ether (DME) as an alternative to CNG or LNG. This fuel, derived from natural gas, is said to be highly suitable for use in compression ignition applications without the need for spark plugs, and is claimed to require no particulate filter to meet the latest emission standards.
Mercedes-Benz – first the Actros, now the Antos
Last August, we reported on the announcement of the all-new Actros flagship truck model from Mercedes-Benz. Part of that announcement made the important point that this Actros, unlike its immediate predecessor, will be available exclusively as a long-distance premium hauler, and that construction and short-haul applications would be covered by two different model nameplates. A flurry of new European product activity was predictable in the run-up to the
January 2013 implementation date for the Euro-6 emission standard for new model introductions, and the power unit for the new Actros was duly identified as the Euro 6-compliant OM 471 derivative of the Daimler global Heavy Duty Engine Platform family that was first announced in June 2011. The new Actros also made its appearance in plenty of time for inclusion in the Hanover IAA truck show to be staged in September.
On May 5, the second piece of Daimler's new heavy truck product programme jigsaw puzzle fell into place – materialising as the Antos, a dedicated short-haul distribution truck. The initial announcement provided a list of generic range features, but with very little of the finer technical detail filled in. For example, no clues were provided regarding the axle configurations that will be offered, or the Gross Vehicle Mass ratings to be covered, but it seems very likely that the 4×2 layout suggested by the accompanying artists' impressions will dictate a GVM starting point, as a solo unit, of around 19 tonnes, and that it will be joined in due course by a 6×2 companion grossing out at around 25 tonnes. The Antos design philosophy centres on specialisation for short-radius distribution, providing rigid trucks or truck-tractors with ease of handling, good all-round visibility, easy access, optimised ergonomics and intuitive controls.
The Antos's cab follows the generally somewhat aggressive styling pattern set by the new Actros, but with the overall width dimension limited to 2,3 metres, and in short or medium length configurations. Chassis choices are said to include no less than 67 wheelbase lengths, covering the 2 650 mm to 6 700 mm spectrum. Power will be provided by versions of the recently announced Euro 6-compliant Mannheim-built engine family, offering 13 power output options ranging from 175 kW (238 hp) to 375 kW (510 hp), and driving through Mercedes' PowerShift fully-automated transmissions. Sub-variants will include the Loader, with a claimed unladen mass as low as six tonnes, and the Volumer with low coupling and frame heights to accommodate maximum cubic load volumes while keeping to minimum loading levels, where these features are the main operational priority.
Details are still awaited of the third member of this family, which will be optimised for construction-related duties. We're still holding on to the expectation that the name "Axor" may be used for this. It seems likely all will be revealed before the Hanover show in September. No indication was given in the Antos launch announcement of production start-up timing, which may also explain the absence of any comment regarding parallel Euro 5-complaint engine availability, which was a significant feature of the Actros introduction. This suggests that Antos models may only become available for delivery to European operators in the new year.
Nissan's Spanish developments
Nissan has announced that it will build an all-electric version of its NV200 light van in Barcelona. Initially launched at the 2009 Geneva International Motor Show, the conventionally-powered front-wheel-drive NV200, also built in Spain, is based on a Nissan's B type passenger car platform, and is available in 4,1 m³ panel van, seven-seat functional Combi, or more luxurious seven-seat car versions. All derivatives have sliding side doors and are powered by Nissan's 1,6-litre HR 16 petrol engine or Renault's 1.5dCi diesel, driving through a five-speed manual gearbox. This model was selected as New York City's "Taxi of Tomorrow". Since launch, sales have reached 100 000 units.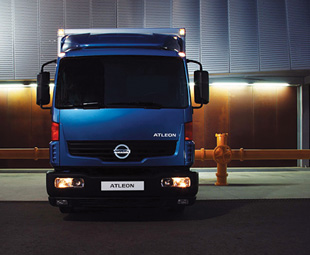 The new e-NV200 will become Nissan's second all-electric vehicle, following the Leaf passenger car, and is to be supplied to all world markets from the Spanish production location. Nissan claims this vehicle will emit zero CO2 emissions at point of use. An investment of €100 million has been made to set up production of this model, which is expected to result in the creation of 700 new jobs within Nissan's Barcelona plant and its local supplier base. Production is forecast to commence during Fiscal Year 2013.
An even more intriguing announcement concerns the production, from next year, of a brand new medium-duty truck for Europe at Nissan Iberia's Avila facility. Long-time readers of GLOBAL FOCUS will know of our fascination with Nissan's enigmatic Spanish truck, the Atleon. Dating back to 1980, the Atleon range originally covered the GVM spectrum from 3,5 to 15 tonnes, but bore no direct relationship to any other Nissan, UD, Renault, Volvo or Mack product, and its continued existence has been followed with keen interest. The history of this manufacturing operation stretches back to 1920 with the establishment of Ford Motor Iberica, which subsequently passed into Spanish ownership in 1954. It then built the Ebro range of trucks, initially based on the UK Ford Thames series, from the 1950s. Motor Iberica SA later entered into manufacturing agreements with Perkins, Massey Ferguson and Jeep, before being acquired by Nissan in 1980.
More recently, the main truck manufacturing assets allied to the Renault-Nissan alliance have been consolidated under Volvo ownership, while the Franco-Japanese group has concentrated on light vehicles, up to and including the Nissan Cabstar/Atlas/Renault Maxity light trucks, which are manufactured at Avila as well as in Asian locations. The global Cabstar family has GVM ratings ranging from 1,5 to 5,4 tonnes, and this may go some way to explaining the justification behind Nissan Iberia's €100-million investment in a new Atleon-class product. Most of the Volvo Group's European products are concentrated above 7,5 tonnes GVM, leaving a marketing gap above the European Cabstar, which tops out at 4,5 tonnes GVM.
According to Nissan's Spanish website, the current Atleon chassis/cab range is available only in left-hand-drive format, with GVM ratings of 3,5, 4,6 and 8 tonnes. It is powered by either Nissan's own ZD30DDTI, or Cummins' ISB5-4H diesels. The cab design appears to be very similar to the latest Cabstar, and is likely to use some common pressings. There is as yet no indication of how the new medium duty Avila will differ from the Atleon or whether that name will be carried over, but it seems likely that it will maintain an essentially similar market positioning.
While the marketing logic behind this new product, in a European context, is evident, it still begs the question: why is the light vehicle specialist Renault-Nissan group continuing to develop a "proper" truck when such comprehensive competence in this field lies within the related Volvo family? However, the recent announcement of the Volvo Group's "Common Architecture Shared Technology" engine line-up, with its smallest engine displacement at 4,5-litres, suggests that products below 7,5 tonnes GVM are unlikely to be in the planning window; this presumably leaves space for the Atleon replacement. It is also significant that, late in 2010, UD Trucks Corporation announced that it was to cease contract production of the Atlas F24 light truck for Nissan Motor Company Limited, and that manufacture of this model was to move to Auto Works Kyoto in January 2011.
This situation could have interesting local repercussions when UD Trucks Southern Africa is faced with the need to replace its current UD35/40 Series of medium commercial vehicles (MCVs). This product line-up has its origins in the 1990s and is being confronted by increasingly modern competition in the form of Isuzu's recently updated N Series, the brand new Hino 300, with, presumably, FUSO's latest Canter also waiting in the wings. These new models have introduced additional choices for MCV buyers in the form of 4×4 variants, crew cabs and automatic or automated transmissions. UD will need to counter these moves if it is to retain a viable share of the MCV segment, and it will be interesting to see where the replacement models come from. The existence of Asian manufacturers such as Eicher (India) and Dongfeng (China) in the broader Volvo global alliance may yet prove to be useful in the longer run!
MCV manufacturers adopt differing transmission technologies
The category of trucks dubbed "medium commercial vehicles" in South Africa provides operators and drivers with an initial entry point to the world of real trucking. The lower GVM limit of the MCV market segment is set at 1 kg above 3,5 tonnes, which is also the point at which it becomes necessary to have something more than the ubiquitous Code B licence to drive one of these vehicles. As a result, many drivers intent on a professional career in the transport industry receive their initial work experience in MCV class units, either in the form of European integral vans or Asian-source chassis-cab units equipped with van, dropside or tipper bodywork. It's also true that some drivers employed in the distribution trade or public authorities are chosen primarily for their skills as salespeople or artisans, rather than their driving ability. Their lack of prior truck driving experience or on-the-job training sometimes results in a higher level of vehicle abuse for this category than commonly found higher up the GVM spectrum.
Following the inauguration of the stand-alone MCV segment in 1988, almost every vehicle in this category was equipped with a manual-change synchromesh transmission. Notwithstanding the ease of gearshifting this technology provided, the frequency of engine overspeed damage and premature clutch failure in MCVs has always been a cause for concern, and has led to many acrimonious disputes between owners and dealers over rejected warranty claims because of suspected driver abuse. The situation was often exacerbated by vehicle manufacturers providing gearboxes with uneven spacing between the ratios of their indirect gears, which caught unwary drivers out when changing down to ascend hills. There was a clear case here for some form of automatic transmission fitment, but on-cost considerations in a price-sensitive market segment argued against this for some time.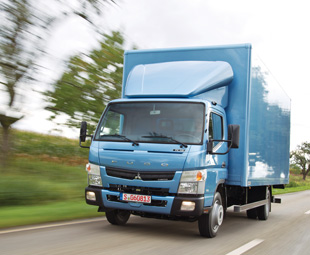 In 2008, however, Isuzu broke the mould by introducing variants of its latest N Series with an AMT option (Isuzu insists on using the contradictory automated "manual" transmission interpretation rather than the more widely accepted automated "mechanical" transmission description). In essence, AMT combines a conventional gearbox and friction clutch with computerised gearshift control, but is driven like a full automatic, leaving the computer to decide on the most appropriate gear and engine speed for any given condition. In most cases, an AMT
will replicate the choices and actions of a highly skilled driver, optimising performance and economy while eliminating unintentional abuse.
Isuzu's "Smoother" transmission incorporates several features to improve on conventional AMT levels of performance in terms of clutch wear and torque discontinuation when changing gear. These include a combination of fluid coupling, lock-up clutch and multiple-disc wet clutch to transmit torque from the engine to the transmission. The fluid coupling does not multiply torque, but progressively transmits engine rotation to the gearbox during the initial pull-off phase, until the lock-up clutch engages at 10 to 15 km/h. The wet-type multiple disc clutch absorbs the torque interruptions during gearshifts, which Isuzu describes as "seamless".
This year, Hino launched its latest 300 Series locally, including variants fitted with Aisin's A860E six-speed fully-automatic torque converter transmission that has reportedly returned hybrid-like fuel consumption results in Australian testing. The significant differences between this and earlier full automatics lies in the use of lock-up clutches working with all but the lowest indirect gears, double overdrive top gear ratios, and automatic downshifts on deceleration to maximise exhaust brake efficiency. The possibility that this technology will be capable of providing the benefits of full automatic operation without a fuel consumption penalty will be a most persuasive argument in drawing operators' attention to the new 300 Series Hinos.
Next in line for local introduction is sure to be Mitsubishi FUSO's latest Canter with Duonic dual-clutch transmission (DCT). The DCT is another form of AMT, but with the odd and even gear sets each coupled to their own clutch, through which rotational forces are transmitted to a common output shaft. By engaging and disengaging these clutches sequentially, with a small timing overlap, almost seamless shifts from odd to even numbered gears are enabled. FUSO parent Daimler Trucks claims this to be the first such application in a commercial vehicle. The six-speed M038S6 unit features a park facility, non-wearing wet clutches, and a low-speed creep/hill-hold function, and can be operated in manual or fully-automatic modes. This transmission is claimed to eliminate the momentary power and torque interruption experienced by "normal" AMT units when the clutch is disengaged to change gears.
The adoption of these alternative transmission solutions in the MCV market segment is a highly significant development, especially as these three major protagonists have followed different technological paths to reach a similar outcome, and this trend is sure to influence product specifications higher up the GVM spectrum. With an increasing number of drivers gaining their initial experience in "two-pedal" vehicles, it makes sense for equivalent developments to take root in the HCV category immediately above, and it's notable that Isuzu has already released some F-Series models with the AMT option. Torque converter automatics are old hat in the extra-heavy segment when it comes to stop-start operation, but the arrival of the new Allison TC10 10-speeder reported in GLOBAL FOCUS earlier this year suggests that medium- to long-haul operators are now also firmly in that transmission manufacturer's marketing sights.
---
Global FOCUS is a monthly update of international news relating to the commercial vehicle industry. It is compiled exclusively for FOCUS by Frank Beeton of Econometrix.
Focus on Transport
July 2, 2012
Published by