Think about your dream job – it's probably something exciting or highly-paid. I'll bet a humongous amount of money you don't dream of being a truck driver, says SEAN PARKER
We pass trucks every day, but we probably don't think about what it takes to drive long distances with expensive loads on, let's be honest, some appalling roads.
Well, I spent an entire afternoon experiencing an eight-tonne MAN TGS 358 kW (480 hp) behemoth.
This amazing opportunity enabled me to dispel a few myths I had about trucks: I thought they were smelly and had no place on our roads. I arrived at the MAN Truck & Bus offices in Isando on a Thursday afternoon and met Blackie Swart, MAN's driver training and assessment instructor; the man who trains clients who have bought new vehicles. He sported a goatee and a worn MAN cap, and greeted me with a grin.
I took a few minutes to walk around the EURO-5 TGS 26.480 6×4 BLS, gleaming in pearlescent white. At just under 3,5 metres, the TGS towers over any living creature. Its deep mouth and prominent MAN badge make it one of the most intimidating machines I've ever laid eyes on. Two horizontally-opposed air dams separate two gigantic light clusters that are much cleverer than they look.
I had a few "aha" moments as Swart showed me some nifty features. He performed a light test which launched a myriad of flickers and reminded me of the Christmas lights back home in Cape Town. The test is crucial in making sure the TGS is ready to tackle the long haul. By simply pressing a button located on the dash, Swart orchestrates every single light to see if it's in working condition. If one bulb is fused a warning message pops up informing the driver which light is out. This saves a lot of time and gives drivers the convenience of not having to get out of the truck to perform the task.
As part of the driver training programme, this TGS LX (LuxLine) has had its two usual sleeper bunks removed and replaced with four seats that accommodate the instructor and three trainees. One would think that a truck wouldn't soak up the bumps of our roads, but MAN has included an air-sprung, high-comfort driver's seat that reduces the risk of being thrown off your pedestal while driving cross-country.
I take a seat at the back in the extreme left of the cabin and marvel at how modern it looks. Black hard plastic is the order of the day. It looks as durable as the universe. Swart makes himself comfortable in the driver's throne.
There are a myriad of mirrors he must adjust to fit his needs – from side mirrors to mirrors to check the curb, everything is electrically adjustable. A multifunction steering wheel controls the audio system as well as cruise control settings, and allows the driver to get into the computer system to check all variables and make sure they're at optimum level. Tinted windows all around, a sun shade in front of the windscreen, roll-up sun visors for the windscreen and driver's door and high-comfort fabric seats mean the driver's comfort is assured.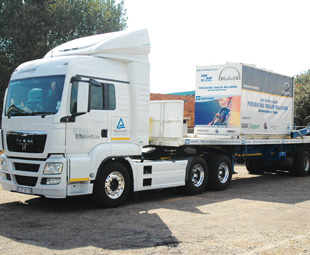 Swart tells me MAN has set up a truck that is driver-friendly, and that his job is to make sure that the client gets the most out of the vehicle. For example, if MAN quotes a certain fuel consumption figure, it's his job to illustrate to the driver how those figures are attainable.
Fortunately, he is helped by an array of fuel-saving features. First and foremost is the impressive ZF ASTRONIC TipMatic gearbox, which has 12 forward speeds and two reverse gears, depending on the requirement. This gearbox is so advanced that it pulled away in second gear, then promptly jumped to every second gear as we weren't carrying a load. The gears would start in second, then jump to fourth, sixth and eighth gear. This is done to improve fuel consumption; the gearbox doesn't need to shift through every single gear, which would use up far more fuel than necessary.
Interestingly, the TGS benefits from an automatic gearbox as standard, and customers will have to pay extra to have a manual 'box fitted. Swart explained that customers who opt for manual shift are usually those whose trucks need to traverse difficult terrain with heavy loads, such as mines. The TGS also has auxiliary brakes; for example, the exhaust brake helps slow down the vehicle without increasing fuel consumption via heavy or strenuous braking.
But the most impressive aspect of the TGS is the immense power of the in-line six-cylinder 12-litre turbodiesel engine. Pushing out 358 kW (480 hp), it produces more power than a BMW M3 and a colossal 2 300 Nm of torque between 1 050 and
1 400 r/min. That's surely enough to restart a planet, but the power delivery is so smooth that the surge is relentless from the get-go. Swart reiterated how simple it is for the driver to modulate the power and get away seamlessly.
And that was the end of my journey in the very advanced TGS 480, a superb piece of German engineering. My perceptions of trucks had been altered. There's only one hitch: if I become a truck driver, I want to drive a MAN.
* Sean Parker is this year's South African Guild of Motoring Journalists' bursar programme recipient. He recently spent a month with the FOCUS team, where he penned this article.
Focus on Transport
July 1, 2012
Published by