Major accolade for FOCUS!
FOCUS on Transport and Logistics has earned its most important accolade to date! Its editor, Charleen Clarke has been named the 2013 Mercedes-Benz Commercial Vehicle Journalist of the Year!

The inaugural award, which formed part of the South African Guild of Motoring Journalists' annual Motoring Journalist of the Year awards, was presented to Clarke by Selvin Govender, divisional manager of marketing for Mercedes-Benz Cars, and Christo Valentyn, vice-chairman of the South African Guild of Motoring Journalists (SAGMJ), at a banquet in Johannesburg.
Organised by the SAGMJ and sponsored by Toyota Financial Services South Africa, the competition is akin to the Oscars of motoring journalism. While it sets out to recognise and reward outstanding work by members of the SAGMJ, it also aims to improve the standards of motoring journalism and photography in South Africa.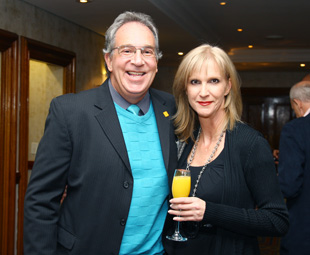 Standards were exceptionally high this year and only work of real excellence was rewarded. For instance, no prizes were awarded if an average score of at least 75 percent was not achieved. Clarke expressed delight at the recognition for the magazine. "This award is a tribute to each member of the truly superb FOCUS team. Each individual at Charmont Media strives for excellence each and every day. This will motivate us all to push even harder in the future, thereby striving for even greater heights," she comments.
Other winners on the night included Egmont Sippel, who scooped the Motoring Journalist of the Year title for a record sixth time, and Seagram Pearce, who was awarded Photographer of the Year for the second consecutive year.
A good friend of the FOCUS team, Roger McCleery, was honoured with a Lifetime Achievement Award. McCleery has served as master of ceremonies at many FOCUS events.
Ray Leathern took home the inaugural AA Road Safety Feature of the Year award, while Mark Smyth won the inaugural RMI Business, Industry and Technology Journalist of the Year award. Bridgestone again presented the Steve Dlamini Award for Excellence in Motoring Journalism, with Brent Ellis taking the honour. Angus Thompson won the inaugural Mercedes-Benz Editor of the Year award.
 

Our congratulations to all the winners!
Focus on Transport
June 13, 2013
Published by