MAN set to strut its stuff at JIMS
The Johannesburg International Motor Show (JIMS) is just around the corner, and MAN Truck & Bus has promised to pull out all the stops at its stand this year. FOCUS sneaks a peek at some, if not all, of what it will be showcasing.
If one were to ask the guy on the street what he knows about Maschinenfabrik Augsburg-Nürnberg, he would probably look at you in bewilderment. But ask a trucker about MAN Truck & Bus, however, and he will go all starry-eyed.
During the industrial boom in Europe in the early 1800s, the St. Anthony, Gute Hoffnung and Neue Essen industrial companies in Germany merged to become Hütengewerkschaft unHandlung Jacobi. In time, and after some more mergers, this large industrial hive – now called the Maschinenfabrik Augsburg – became known as one of the great innovative industrial hubs of the early 1900s.
A few trials and successes later, and MAN Truck & Bus had become an institution where innovation in the heavy commercial vehicles industry is concerned.
As executive chairman Geoff du Plessis points out: "An ethos of continuous improvement forms the foundation of our business and it's really based on the understanding that commercial road transport is essentially a 'people's business'. In essence, we operate in an ever-changing industry which means we have to be dynamic to adapt to dynamic market demands."
The company is set to show this engineering, technological and customer-focussed prowess at JIMS between October 16 and 27.
The large display will include examples from the company's entire range as well as a surprise or two for the public – and future buyers – to ogle over. Even more importantly, the show allows customers the opportunity to network with the MAN team – who plan to add value to the customer experience in line with the company's core value chain of offering business solutions; support, service, finance and telematics solutions; MAN ProfiDrive and BRT.
First in its JIMS line-up are the 6×6 Timber Grid, a 6×4 rigid tipper as well as an 8×4 tipper asphalt version of its TGS WW. Known throughout the local industry as a reliable, tough-as-nails off-roader, all models of the truck are available with common rail engines that operate on Euro-2 and Euro-3 emission standards in South Africa.
Constructed to be able to handle the sometimes hostile climate found in Africa, the TGS WW has enough hypothetical power under its cab, from 265 kW (360 hp), to 353 kW (480 hp) thanks to MAN's D20 and D26 common rail engines.
The TGS WW is able to handle gross loads of 18 to 41 tonnes and in order to operate in South Africa's harsh climatic conditions, particularly its high temperatures, the radiator is concealed behind the cab front for better temperature regulation.
The TGS WW range has three different cab set-ups. M-cabs, being the shortest, are designed for work on building sites, short hauls and distribution transport. Being slightly longer, the L-model cabs contain a single bed for spending the occasional night or rest stop on a haul. Lastly, for all the hard-core road warriors, there is the double-bedded LX-model cab which, like its smaller siblings, is kitted with ergonomic control configurations to help make driving on South Africa's roads as much of a joy as possible.
MAN will also be wearing its heavy-duty heart on its expo sleeve as the CLA range will be present in the form of a 6×4 tipper, as well as a 4×2 van body. Carried by a steel suspended hypoid rear axle, the 4×2 Freight Carrier day-cab runs on a six-cylinder D08 engine that produces around 162 kW (220 hp) and 800 Nm of torque.
With a wheelbase of 3 875 mm, the 6×4 BB Tipper day-cab version is slightly throatier, with a 206 kW (280 hp) engine that produces around 1 100 Nm of torque at
1 350 to 1 650 r/min. While also operating on a D08 engine, the bigger day-cab version is carried by steel suspended hub reduction axles.
As for the Volkswagen side of things, MAN's stand will feature a 4×2 19.320 BLS, as well as 6×2 rigid 24.250 BB Constellation. The sturdy-looking 24.250 is made for road hauling over short to long distances and can handle just about anything thrown its way; be it refrigerated transport, FMCG goods, fresh produce, and any other general distribution freight.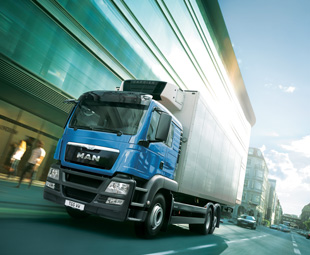 One of MAN's extra marketing spearheads at this year's JIMS will be the promotion of its Trucks to Go campaign. In short, Trucks to Go can be seen as a quick and easy "takeaway" solution for both MAN and VW trucks. What this basically entails is that trucks are sold as complete vehicles, without operators having to customise vehicles for their specific duties.
If a rigid-body truck with a container is what you need, then that's what you'll be buying.
In an interview with FOCUS's sister magazine SA MOVER, MAN CEO Bruce Dickson states: "A chassis-cab is an incomplete vehicle and cannot be used by customers to generate a profit without a body fitted. Having pre-bodied units available for sale directly means customers don't have to factor in body production lead times when purchasing a vehicle."
A MAN stand would not be complete without a bus section, however, and one of the buses to be shown at its stand this year will be the low-entry A84 Lion's City.
To be shown with a locally built, 
12,1 metre body, by MAN Bus & Coach, this 4×2 has a rear-mounted common rail engine capable of producing 206 kW 
(280 hp).
The name is fitting indeed as this bus is specifically made for city applications and can also accommodate wheelchairs. As for safety, the Lion's City features electronically controlled air suspension (ECAS), as well as auxiliary brakes and disc brakes on front and drive axles. Also standard with the Lion's City is MAN's Trucknology fleet management system which is present in its latest and most up-to-date form.
MAN also has some other tricks up its sleeve this year, and it should be added that FOCUS is excited about them, but for now the best advice we can give is that you go to JIMS and see the stand yourself.
Focus on Transport
October 1, 2013
Published by