MAN spruces up truck safety
A new generation of safety systems will be at the heart of the majority of new MAN Truck & Bus vehicles from November, in line with new European legislation.
The new-generation advanced emergency brake assist (EBA) system with sensor fusion, emergency stop signal (ESS) and lane guard system (LGS) will feature as standard on vehicle models to which the mandatory equipment requirements apply.
This includes the vast majority of MAN trucks, MAN and NEOPLAN coaches and intercity buses, as well as MAN coach chassis.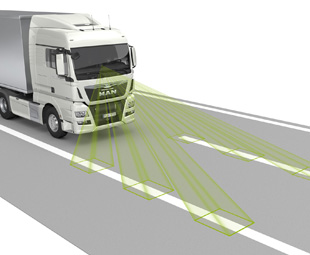 "This trend confirms our commitment to active safety and is MAN's next step towards a rapid spread of our safety systems," says Heinz-Jürgen Löw, sales and marketing chair at MAN Truck & Bus.
Newly registered trucks with two or three axles, a gross vehicle weight over 8 000 kg, and an air-sprung rear axle are required to comply with the European Commission legislation. The LGS is mandatory for two- and three-axle trucks over 3 500 kg.
The EBA system to be fitted by MAN also satisfies the stricter Level 2 legal requirements, which come into force in November 2018.
Watch this week's video to see how EBA works!
Focus on Transport
October 15, 2015
Published by