Visitors to MAN's stand at the IAA are in for a feast of trucking technology from across the globe. CHARLEEN CLARKE travelled to Munich for a sneak preview…
The cat's out of the bag. I can tell you exactly what the MAN Nutzfahrzeuge Group is planning to exhibit at the 63rd IAA Commercial Vehicles, which takes place towards the end of this month (from 23 to 30 September to be precise).
Just in case you're new to the industry, or have spent the past couple of decades on Mars, the IAA is the world's leading transport exhibition; it attracted more than 2 000 exhibitors from 48 countries, 300 000 visitors from 110 countries and 2 300 journalists from 54 countries in 2008. It takes place every two years, most recently, in Hanover – if you're English speaking – or Hannover, if German is your lingo of choice.
Understandably, MAN always has a massive presence at the exhibition – the fair does, after all, take place in the company's most important market. This year will be no different; the company will entice visitors to its customary stand in Hall 12 with a feast of trucking technology (as well as a beer and probably a wurst or two). But what is different this time around is its partnership with Volkswagen: for the very first time, the MAN and Volkswagen brands will share a single IAA stand. Of course, there will also be product offerings from markets such as India. However, that's nothing new – the CLA from its Indian joint venture, MAN Force Trucks, already occupied pride of place when we visited the show two years ago. So, what specific innovations can visitors expect to see?
In order to obtain the answer to this question, we travelled to Munich, and specifically the rather beautiful MAN Forum. This modern building – which opened in June 2009 – houses a MAN Branch Competence Centre, MAN Customer Centre and MAN Brand World. If those terms mean absolutely nothing to you, think more than 6 400 m2 of exhibition space (covering specific vehicles as well as the company history and technology), vehicle collections, driver training and, in typical German culinary fashion, a restaurant. There's also a large lecture hall, which was where we got to hear all about the company's quest to produce ever more efficient vehicles. More about this in a future issue of FOCUS…
From the MAN Forum, we participated in a massive test drive programme (on MAN's test track and also out on public roads). From hybrids to the stunning TGS-WW (which will have been launched in South Africa by the time you read this story), we drove them all.
It's simply impossible to comment on all the vehicles – that would mean devoting this entire issue of FOCUS to MAN's pre-IAA activities. So I have decided to cover just a couple of personal highlights, kicking off with the most significant vehicle which, of course, has to be the aforementioned TGS-WW.
TGS-WW: TOUGH AND EFFICIENT
I drove a TGS 33.440 around the test track and could not fail to be impressed. The redesigned interior is terrific – all the controls are within easy reach, while the materials used are all top notch. Operators will enjoy the fact that the vehicle really is a strong workhorse. For instance, it has robust radiator protection, a stone guard in front of the radiator, protective grilles on the headlights and rear lights, air intakes directed upwards with pre-filter and stone guards for the fuel tank.
Up for grabs are vehicles with a GVM from 19 to 41 t. The trucks are powered by Euro 2 and 3 D20 and D26 in-line six-cylinder engines with common-rail injection, which deliver anything from 257 kW to 353 kW (350 hp to 480 hp). As it's nomenclature implied, our test vehicle was equipped with a 324 kW (440 hp) motor, which pulled easily. It must be said, however, that we were not pulling a load, so this did not come as any big surprise. This engine was paired to a 12-speed MAN TipMatic automatic transmission, which was nothing short of superb.
The TGS-WW will, of course, occupy pride of place on the company's IAA stand. I am sure that it will be scrutinised by many a transport operator who is looking for a rugged workhorse that still delivers good levels of comfort and safety.
It is also about to occupy pride of place among South African fleets, by the way. By the time that you read this article, the MAN TGS-WW range of premium-class extra-heavy duty trucks will have made its debut on local soil.
The local TGS-WW range will include two-, three- and four-axle truck-tractor and rigid-chassis options. A total of 14 derivatives will be available (truck tractor, chassis-cab or tipper). Axle variants will include 4×2 and 6×4 configurations with leaf/leaf as well as leaf/air suspension; a 6×2-2 leaf/air suspension with single trailing axle and an 8×4 option with leaf suspension.
Thomas Hemmerich, head of global sales and marketing at MAN Nutzfahrzeuge, has described the vehicle as "a premium technology truck, with the right breeding for Africa. Whatever application it finds itself in, the new TGS-WW is a best-of-breed business tool, with MAN precision engineering working in unison with an extensive customer-focused support infrastructure committed to providing lowest cost of ownership, reliability and profitability to the operator," he notes.
Having experienced the vehicle firsthand, we cannot help but agree. Its predecessor, the MAN TGA, has become a household name amongst local transport operators since being released locally in 2005. Watch this space: precisely the same will happen with the TGS-WW…
CONSTELLATION: MAN LATIN AMERICA FLAGSHIP
But back to Munich, and my IAA sneak preview… Next up, I hopped into the cab of a Volkswagen Constellation 25-320 6×2, a light three-axle truck tractor suitable for long-haul transport as well as for transport tasks involving heavy or voluminous cargo. It was extremely interesting, by the way, to note the excitement generated by the Volkswagen products. We were joined by a number of European journalists and, of course, driving a Volkswagen truck was a completely new experience to them.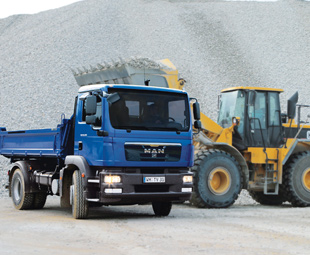 Like those journalists, I found the cab to be extremely comfortable – especially the driver's seat, which is obviously equipped with pneumatic suspension. It boasts all sorts of nice features for the driver – such as a cup holder, trays and a socket for electrical accessories (all located in the centre console; the socket was an optional extra), while each door has a 1.5-litre bottle holder.
I also got behind the wheel of a VW Constellation 17.250, which is ideal for urban transport applications (such as beverage deliveries or refuse collection). It was equipped with a turbocharged Cummins ISBe6 Interact common rail 6.0 engine which delivers 184 kW (250 hp) and a six-speed manual Eaton transmission. The really interesting thing about this truck was the fact that it can run on biodiesel as well as regular diesel fuel, which can be selected flexibly depending on the type of operation, economy and availability of the fuels. (These vehicles are fitted with two fuel tanks. An electronic system permanently monitors the vehicle's operating data and ensures that the engine is always supplied with suitable fuel via a dosing unit.)
CLA: FUNCTIONAL AND RELIABLE
The MAN CLA trucks were also of specific interest to the European journalists, who seldom see these Indian vehicles.
As an aside, it was interesting to chat to Dr Frank Hiller, executive board member marketing, sales and service of MAN Nutzfahrzeuge, about the growth of this brand. He mentioned that they are now even assembled in Uzbekistan. (In 2009, MAN founded a joint venture called JV MAN AUTO-Uzbekistan for the assembly, sales and service of trucks for markets in Central Asia. The joint venture imports components for heavy trucks from the MAN TGA and CLA ranges from Germany and India respectively into Uzbekistan, where they are assembled.) These trucks are also being sold in Indonesia, Vietnam, Morocco and, of course, South Africa.
Much like the TGS-WW, they are specifically designed for tough and challenging operating conditions. The products in the MAN CLA range include two- and three-axles chassis, truck tractors and rigids, ready for bodies to turn them into tippers and concrete mixers with GVMs of 15 to 26 t. It was good to see how the quality of these vehicles has improved over the years (they were dodgy at first; they're pretty good now).
HYBRID: HIP BUT NOT HAPPENING
As is typically the case at shows nowadays, there will be a flurry of hybrid activity on the MAN stand at the IAA this year. The highlight of the stand is the new Lion's City Hybrid that underscores the brand's claim to efficiency – this bus uses up to 30% less fuel and, accordingly emits up to 30% less CO2 than a conventional city bus. We didn't get to drive it (this particular IAA Advance Press Conference was limited to trucks; MAN hosted a similar event focusing on buses earlier in the year). However we did get to drive a hybrid truck.
The whole concept of hybrids is obviously not new; MAN's engineers have been working on various technologies to recuperate braking energy and thus save CO2 since the 1970s. The era of hybrid technology for distribution trucks began at MAN as early as 1983 with the first diesel-electric powered G90, a 7.5-tonner developed by MAN and VW. Two years ago, at MAN's pre-IAA media conference, I drove the TGL 12.220 Hybrid, a vehicle capable of carrying especially big payloads and equipped with a lithium-ion battery energy storage, which promised savings of up to 15% on fuel and CO2, depending on the operating profile.
There can be little denying that these hybrids have come a long way – the very latest products are outstanding and, in some cases, they are even meeting with commercial success. The aforementioned bus has already started working in Munich, and the company will soon sell units in Hagen, Paris, Barcelona, Milan, Vienna and several cities in the Netherlands.
But the same is not happening for hybrid trucks yet; despite the fact that these vehicles offer substantial benefits to the environment, they are still much too expensive – so operators are hardly snapping them up in their droves.
The MAN TGL 12.220 Hybrid is a case in point. While it boasts the most incredible technology, its price tag is a definite deterrent (one of the engineers said that it would cost €45 000 more than a regular truck). "It will take 20 years for it to pay for itself, so there's no business model," he explained.
But what about that fancy technology? Well, it has a 164 kW (220 hp) four-cylinder common-rail EEV-compliant diesel engine that delivers its output to a hybrid gearbox. Also integrated into the drive train is a 60 kW electric motor as a starter generator. A clutch separates the electric motor and the gearbox from the combustion engine to allow electrically-powered driving. The electric motor also serves as a generator, the braking energy being stored by a compact lithium-ion battery. The engineer who joined me in the vehicle explained that the overall system consists of an automated six-speed gearbox, an electric motor and a high-voltage battery.
"It performs all the functions of a full-hybrid system: stop/start, recuperation of braking energy, support when accelerating (boosting) and electrically-powered driving. The intelligence of the system is seated in MAN's hybrid energy management, controlling the energy flow between diesel engine, electric motor, energy storage, driving axle and auxiliary units. Energy management optimises the torque split between the diesel engine and the electric motor. Apart from that, power on demand is ensured for operation of the auxiliary units," he revealed.
Fuel is saved during idling by the automatic stop/start system, while more fuel is saved during acceleration, which would otherwise be high on consumption, by using the electrical power generated from braking energy to pull away. A more powerful 10 kWh battery even enables purely electric powering over short distances. The extra electric power, all of 60 kW, allows downsizing of the combustion engine, the reduced power then being compensated in acceleration by the electric motor.
There are challenges concerning the introduction of hybrid trucks – the cost (as I have already mentioned) and the extra weight of the batteries (which obviously reduces payload). The hybrid truck is also not as fuel efficient as the hybrid bus (MAN is only claiming a 15% fuel saving in the case of the truck). But MAN clearly believes that hybrids do have a role to play, albeit in the medium to long term. For this reason, MAN will be producing and testing several TGL Hybrids this year. We will watch the progress in this field with great interest.
TGX: LOW CPK
From hybrids to horsepower… my next test vehicle was a TGX 18-480 4×2, equipped with a 353 kW (480 hp) Euro 5 engine and a 12-speed automatic gearbox and hauling a 40 t load. It was interesting to discover just how fuel efficient this vehicle is. For example, my test vehicle was equipped with a direct-drive transmission (this is a standard feature). In combination with hypoid single axles this keeps friction losses in the power train at a minimum. Direct drive in top gear enables a saving in fuel consumption of around two percent relative to the overdrive version when the vehicle is operated mainly on motorways.
This isn't only good news for operators' bottom lines; it's also good news for Planet Earth. If you take a long-haul truck doing an average of 150 000 km a year as an example, even miniscule fuel savings can have substantial CO2 implications. A reduction of one litre per 100 km, for instance, reduces that truck's annual CO2 emission by 3.9 t. (This calculation is based on a 40-t 324 kW [440 hp] tractor-trailer combination with an annual mileage of 150 000 km and an average consumption of 33 l/100 km.)
EMPHASIS ON EFFICIENCY
And this brings me to my most significant observation of the trip. Unlike previous years, the company is not unleashing a gazillion new products onto the market. I have been travelling to the IAA for decades and, typically, each manufacturer brings out the dancing girls, unleashes the smoke and mirrors and… cue the trumpets… a world debut takes place.
That's not really happening on the MAN stand this year. There are no world debuts per se. Maybe it's as a result of the economy; maybe it's as a result of a change in emphasis.
Over and over again, the company's senior executives kept on emphasising the efficiency of their vehicles. If I heard about MAN's "Constantly Efficient" programme once, I heard about it a thousand times. Over and over again, they spoke about the company's desire to promote sustainable mobility, while offering operators economical solutions and also reducing CO2 emissions.
The "Constantly Efficient" programme seeks to achieve more freight per truck (thanks to low unladen weight), more kilometres per litre of diesel (via fuel-saving technologies), improved driver comfort and fewer accidents (thanks to electronic assistant systems). These are lofty goals indeed. But, if MAN can make these dreams a reality, that will be a much bigger story than any world debut.
Focus on Transport
September 1, 2010
Published by