More than 23 years ago MAN Truck & Bus debuted at Nampo on stand 194 with camping chairs and a few trucks. Throughout the years, MAN has become a one-stop shop for customers from the agricultural sector and remained loyal to stand 194
Neels Holtzhausen, area sales manager at MAN Truck & Bus, says all regular visitors to Nampo know MAN is at stand 194. "Year after year people come to see us, as we have all our professionals here at once. The sales staff and the truck and trailer builders are all here to answer customers' questions and give some expert advice," he says.
Dave van Graan, head of special sales projects at MAN Truck & Bus, says: "We are moving forward with better and more efficient products. We therefore need to advise our customers accordingly, and help them improve their business."
Van Graan explains that MAN has continuously supported Nampo, as it is one of the biggest agricultural shows of its kind. "With such a large number of big local, regional and international visitors, we just have to be there."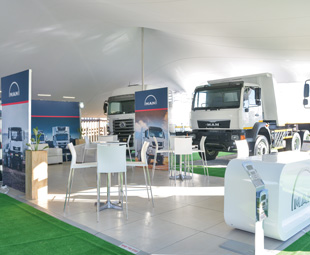 Holtzhausen says: "Without agriculture, the country's economy will be compromised, so MAN provides special services – from tailor-made transport solutions to hands-on after-sales support – for this important sector. We offer various funding solutions via MAN Financial Services, too."
Along with these special services, MAN displayed several vehicles at Nampo this year that cater to the needs of the agricultural industry.
The VW 19.320 4×2 BL received a lot of interest at Nampo with its high-roof sleeper cab and 320 horsepower. "This vehicle is in a class of its own in terms of livestock transport. It's an all-purpose type of vehicle, with a body that has been specially designed to carry cattle – its floors prevent cattle from slipping and its roof is designed to prevent cattle from wanting jump out.
"The partitions are removable and the sides can be taken off to turn it into a flat-deck truck. It features quality steel and body work. It's a nice, versatile farming solution," says Van Graan.
"Although it is mainly a livestock carrier, its 320 horsepower gives it the capability to operate in medium- to long-haul operations, pulling up to 45 t and a three-axle drawbar trailer. It has electronically controlled air-suspension, which provides stability for carrying cattle. We have a number of them made in different configurations available for customers."
The TopUsed 26.440 6×4 BLS was clearly visible at the MAN stand with its three-star seal of quality. "This is a very affordable option compared to a new equivalent vehicle. It is typically used in the agricultural industry as a medium- to long-haul semi-trailer solution.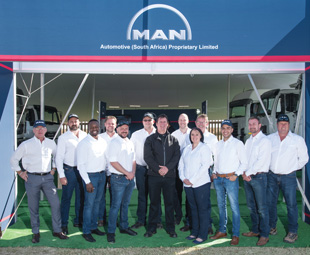 "Falling under the three-star category, it means the vehicle is four years old or less, and we've done bumper-to-bumper refurbishments. It's prepared to a standard where we can issue a one-year factory warranty," explains van Graan.
Alternatively, an MAN two-star TopUsed vehicle is optically and mechanically checked, and given a sound bill of health, where all small dents are fixed and electronics are in good working order. With a one-star vehicle technical checks are still undertaken, but for the most part the vehicle is sold as is.
"We offer full repair and maintenance contracts and service plans suited to customer needs. Specialists are available in every MAN branch and privately owned service centre, to make sure our customers receive the best possible service," says Van Graan.
MAN's Euro-5 flagship – the TGX 26.540 6×4 BLS XLX – received a lot of attention at the show. "It is MAN's highest horsepower long-haul truck for southern Africa with all the available safety features. It is ideal for the agricultural export industry. With its high horsepower and torque, average speeds and fuel efficiency are optimised, which means farmers can get produce to export harbours and markets safely, economically and quickly," says Van Graan.
MAN also had two CLA models at Nampo – a 15.220 4×2 BB chassis with a crane and a 26.280 6×4 BB tipper. "These vehicles are German engineered, made in India and customised in South Africa. They are a best-in-class value offering for the budget sector," says Van Graan.
"The CLA models are ideal for the agricultural industry as they have technology from the tried-and-tested MAN M/F2000 together with certain TG components. They are robust and simple to operate as a game-moving platform truck with a crane. They can also be used as a tipper truck for multiple tipping applications."
Holtzhausen says: "By having the right people and the right products for the agricultural sector in one place, MAN's presence at Nampo over the decades has given customers a one-stop shop for all their agricultural needs. As a result of being at Nampo MAN has often sold vehicles a couple of weeks, or even months later."
Focus on Transport
June 12, 2017
Published by