MAN Truck & Bus set out to achieve a three litre per 100 km fuel saving in its Consistently Efficient Tour this year (the benchmark set in last year's Tour in Europe) with its TGS EfficientLine trucks. Daftness or bravery? JACO DE KLERK discovers that fortune favours those who dare.
MAN's Consistently Efficient Tour 2012, the second of its kind globally, saw five gleaming trucks – three of the company's new TGS EfficientLine trucks as well as a promotional TGS 26.480 BLS Euro-5 "Green Truck" and a standard MAN TGS WW 26.440 BLS 6×4 vehicle – depart from MAN's flagship Centurion dealership in Pretoria on August 15.
From here, the epic fuel-saving odyssey ran to and through six cities – Bloemfontein, Cape Town, Port Elizabeth, Pinetown and Nelspruit – travelling more than 4 200 km in its full circle return to Centurion. The aim? To compare the fuel consumption of the EfficientLine trucks against the standard MAN TGS in truly South African conditions.
No-one could have anticipated just how fuel-efficient these vehicles are.
Frankly, we were all astounded when Bruce Dickson, deputy CEO of MAN Truck & Bus South Africa, announced on August 31 (the closing date of the Tour) that the TGS 26.440 EfficientLine test truck had – against that fuel-saving benchmark of 3 l/100 km – achieved a saving of 4,7 l/100 km compared to its standard counterpart.
In the round trip of more than 4 200 km, the truck saved 198 litres of fuel. That's a 7,8 percent saving. "At current fuel prices, a long-haul fleet operator averaging 200 000 km will save approximately R96 500 per annum per vehicle with such figures," Dickson explained to all present (and this was before the recent fuel price spike on September 4).
Hellberg Transport Management founder Fritz Hellberg's comment that it was "very courageous of MAN to do this" echoed in my mind as the presentations continued. As the official consumption auditor of the Consistently Efficient Tour 2012, Hellberg spent the entire trip in the trucks.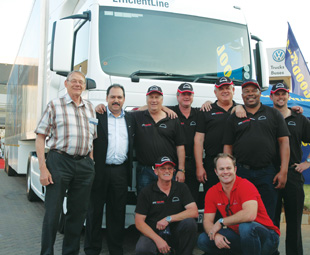 CANbus-interfaced onboard computers supplied by Cartrack measured fuel consumption electronically and provided additional data such as distances covered, average speeds, top speeds, driver behaviour, harsh braking and harsh acceleration.
Mark Gavin, MAN's national truck sales manager, pointed out that the EfficientLine TGS 6×4 26.480 achieved a 2,5  l/100 km fuel saving compared to the TGS 26.440 reference vehicle. Theoretically, the former should be heavier on fuel consumption, one of the many interesting facts that arose during the Tour.
He also pointed out that the vehicles were in motion for a total of 66 hours, with an average speed of 63 km/h, even though the route had some arduous terrain from Port Elizabeth to Pinetown as well as some appalling road works. "Despite this," said Gavin, "a 4,7  l/100 km saving was achieved versus the 3,3 litre maximum attained in Europe, showing the professionalism of our local drivers."
The Tour also demonstrated how man and machine can work together in perfect harmony – the EfficientLine trucks had up to eight percent fewer gear changes and ran with cruise control on 99 percent of the time. "I found this absolutely phenomenal," said Gavin. "It really shows the effectiveness of the AS Tronic gearbox."
MAN and its Tour partners have geared the EfficientLine trucks up for fuel consumption optimisation, tackling the challenge from four different angles: reducing the power demand of the auxiliary equipment from the vehicle, enhancing aerodynamics, reducing rolling resistance and minimising the vehicles' dead weight.
For the reduced auxiliary demand from equipment, the company has fitted new daytime driving lights that draw 24 watts as opposed to the 300 watts required by the older lights. "If the vehicle supplies less power to the other parts, it can concentrate on putting traction of the road," emphasised Gavin.
A new 120 amp alternator that's four percent more effective than its predecessor has been installed, while better insulation of the cab ensures that the air conditioner doesn't have to work as hard to heat or cool the cabin.
The vehicles also have a smart air pressure management compressor that only kicks in when required. "In most vehicles, the compressor runs 100 percent of the time," explained Gavin. "The statistics show that this compressor was used at a maximum of 39 percent capacity, and as low as 12 percent of the duration of the Tour."
MAN has governed its EfficientLine vehicles to run optimally at 85 km/h. "If you accelerate from 85 to 90 km an hour, the difference can result in a 20 percent increase in power used to counteract wind resistance," explained Gavin. Although the aero kits fitted by Aero Truck greatly help to counter air resistance, an increase in wind force will still have an effect.
The reduction of deadweight has been achieved by decreasing the weight of the front axle to 7,5 tonnes. "This doesn't really compromise your carrying capacity," said Gavin. "In some applications, it will – but we're talking about a difference of 200 kg carrying capacity in the worst-case scenario." Aluminium rims from Alcoa also play a role as they are considerably lighter than the steel alternative, while rolling resistance has been improved by the fitment of Goodyear's Marathon FuelMax tyres.
These elements proved their worth during the different legs of the tour. The aero kits were put to the test from Centurion through to Cape Town, where winds reaching 40 km/h plagued (or should I rather say tried to plague) the trucks. "There were headwinds, side winds, crosswinds; all types of wind," said Gavin. "So there we were, really demonstrating the effectiveness of those aero kits." Despite this, a saving of 6,4  l/100 km greater than the reference vehicle was obtained between Bloemfontein and Cape Town.
However, as Gavin pointed out, the second last leg of the Tour (from Pinetown up to Nelspruit) was marked by multiple road works and a lot of single lane roads. This brought average speeds down to between 33 and 53 km/h. With the influence of the aero kits and the 85 km/h governing speed basically
taken out of the equation, the other components played their part in achieving a 3,9 l/100 km saving here.
"The trucking industry," said Dickson, "needs viable solutions right now to ease cost pressures and, importantly, to reduce our carbon footprint – and the TGS EfficientLine has proven itself to be the obvious solution in addressing these challenges here in South Africa."
At the beginning of the Tour, the company undertook to donate one indigenous tree for every litre of fuel saved to Food & Trees for Africa, so the outcome resulted in an abundance of saplings for this non-profit organisation. "We have almost run out of trees," said Dickson. "At the last count, we were sitting at 600."
MAN and its dealerships around the country will assist in the planting of these trees at different schools, showing that the company not only has the best interests of its clients and the environment at heart, but also cares for local communities.
Focus on Transport
October 1, 2012
Published by