Market focus – Second Quarter best forgotten
With cumulative market sales down by 48.2% for the first half of 2009 when compared to the sales reported during the equivalent period last year, shock waves continue to be felt throughout the industry. FRANK BEETON reports.
This commentary reflects the state of the South African truck market for all commercial vehicles with gross vehicle mass (GVM) ratings above 3 500 kg, as reported to the National Association of Automobile Manufacturers of South Africa (Naamsa). In line with the current reporting regime of that organisation, the market has been divided into the following macro segments:
MCV – Medium Commercial Vehicles, GVM 3 501 – 8 500 kg
HCV – Heavy Commercial Vehicles, GVM 8 501 – 16 500 kg
XHCV – Extra-heavy Commercial Vehicles, GVM 16 501 kg and above
Buses – Passenger Vehicles, GVM 8 501 kg and above.
The review period for this commentary is the second quarter of 2009, i.e. April to June 2009.
These reviews are presented on a quarterly timescale, in order to reduce the impact of short-term market distortions which are often created by specific bulk-buy deliveries, the launch of new products, and/or the run-out of obsolete product ranges.
MARKET RESULTS:
With the first half of the 2009 calendar year now a matter of record, the level of recent deterioration in the truck market has continued to send shock waves through the vehicle supply industry. The cumulative market total of 9 678 units recorded for January to June 2009 reflects a reduction of 48.2% when compared to the sales reported during the equivalent six-month period of 2008, and was the lowest volume result for the first half of any year since 2004. The second quarter of the year failed to even maintain the greatly reduced momentum of its immediate predecessor, and total volume sales across the market were 15% lower in the April to June period than in the preceding three months.
It became increasingly clear, from mounting anecdotal evidence as the most recent quarter unfolded, that the impact of an extremely challenging asset financing environment on truck, bus and van sales had become a more significant factor in determining the market size and composition than any influence from South Africa's macro-economic environment. Earlier encouragement emanating from former finance minister Trevor Manuel's February budget speech, in which he gave assurances that the government's R787-billion infrastructure development plan, including R50.9 billion earmarked for specific transport-related expenditure, would still roll out, has completely evaporated in the face of monthly sales volumes regularly running at less than half the levels they had sustained only a year previously. Despite the substantial progressive reduction in domestic interest rates experienced since last December, there has been little perceptible change, up to now, in the general business environment.
SEGMENTATION DYNAMICS:
The market has recently been characterised by frequent and radical direction changes in the shares of its constituent segments. With market volumes having slumped back to early-2004 levels, the potential for short- to medium-term distortions caused by recent interventions, such as the sales incentive activity currently evident in some truck advertising, or the aggressive promotion of in-house credit facilities by certain vehicle manufacturers and importers, will be greatly increased.
It has been notable that volumes in the HCV segment, which is primarily populated by the heavier 4×2 vehicles engaged in distribution activities, held up particularly well during the second quarter. This appears to be in total contradiction of the expected pattern of macro-economic emphasis, but is more likely to reflect the intervention of large corporate entities in enabling the financing of their delivery contractors rather than any unexpected swing from fixed investment-linked activities to increased private consumption in the national economy. The recently held Indian Premier League cricket series, British and Irish Lions rugby tour and Confederations Cup soccer tournament have brought considerable international focus to bear on service delivery in South Africa, and this attention would have placed additional demands on the country's vehicle fleets that support these activities.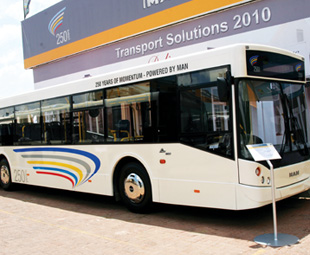 The strong growth of bus sales volumes in the second quarter would also have been bolstered by public sector purchasing, which is less dependent on the provision of financing facilities by banking institutions. The public sector bears the responsibility for a significant proportion of public passenger transport and the provision and maintenance of infrastructure. It should be noted that the bus sales results reflected in this report do not, as yet, include any deliveries of units ordered for bus rapid transit (BRT) systems planned around the country, the 150 buses recently ordered to support the Gautrain network, or the 570 buses and coaches reserved by the Department of Transport (DoT) for use during the 2010 FIFA Soccer World Cup. Some of these deliveries should start to reflect in the system once current negotiations between the DoT, municipal authorities and the taxi industry are satisfactorily concluded.
MANUFACTURER PERFORMANCE:
Please refer to the chart on the previous page, which illustrates the relative market performance and ranking of each participating manufacturer in the quarter just completed, as compared to the returns for the immediately equivalent preceding period.
Readers should please note that brands formerly represented by the Commercial Vehicle Holdings group, including International, DAF and VDL are now shown independently, while Renault and Mack volumes have been included with Volvo sales. Please note also that sales volumes of several commercial vehicle brands, including FAW, Warrior (Dong Feng), Hyundai and Ashok Leyland, are not reported to Naamsa, and are, therefore, excluded from this report.
Perusal of the results has resulted in the identification of the following selected significant highlights:
Mercedes-Benz SA (MBSA)
The Mercedes-Benz group continues its long-running occupancy of the premier ranking position in this market. However, it is noteworthy that this has been mainly supported, in the second quarter of 2009, by a dominant position in XHCV sales, where Mercedes-Benz products have improved their performance in an otherwise poorly performing segment. The three MBSA group brands have all been actively promoting the availability of in-house financing facilities, made possible by the acceptance of some level of risk by the manufacturer. This facility can be expected to particularly aid sales to the small fleet and owner driver markets, which, inevitably, will face the most severe challenges in a difficult financing environment.
Hino
From the results reflected in this review, it appears that the rebranding of Toyota South Africa's truck operation as Hino South Africa has proceeded extremely smoothly, in spite of the prevailing difficult marketing conditions. During the second quarter of 2009, the combination of Toyota Dyna and Hino 300 Series trucks came out on top of the MCV segment, while Hino's 500 Series cruiserweights also led the HCV category by a substantial margin. Hino's main area of opportunity remains in the XHCV segment, where any improvement over its current level of performance would also serve to narrow the gap to overall market leader, Mercedes-Benz. Current advertising suggests that Hino is involved in an incentive campaign to offset the effects of the depressed market.
GMSA/Isuzu
General Motors SA's (GMSA) occupation of third position in the market rankings during the first quarter of 2009 proved to be of short duration, and during the second quarter it slipped back to fourth, losing nearly one full percentage point of market share. Nevertheless, aggressive marketing of the new Isuzu N-Series, which includes double-cab, all-wheel-drive and automated transmission variants, appears to be paying off, and is set to gain additional momentum when the equivalent F-Series line-up enters the local market in 2010. Sales of the recently introduced Giga XHCV models have been progressing relatively slowly, but it is to be expected that re-establishing a presence in the premium category, which serves a highly discriminating set of operators, and was last occupied by Isuzu in the 1980s, will take time and effort. Sales of Opel-branded MCV vans totalled only two units in the second quarter, which is puzzling given Nissan's considerable level of success with a virtually identical joint venture product.
Nissan Diesel
Nissan Diesel recovered its third ranking in the market during the April-June period, but this was entirely due to improved MCV and HCV results, while XHCV sales, a traditional area of UD product strength, slumped to just 60% of their first quarter 2009 level. Given the good market acceptance, since launch, of the recently-expanded Quon product family, this performance may suggest that NDSA's clients have been more exposed to the recent financing malaise than most, making it important for the manufacturer to urgently addresses any weakness in this area in its marketing strategy.
Volkswagen
First evidence of the impending merger of VWSA's truck operation with MAN is starting to appear in press reports, with plans being reportedly made for the integration of operational, assembly distribution and support activities. Volkswagen trucks and buses stand to gain considerable impetus from an association with MAN, and to further improve on the progress they have already made in this market. The second-quarter 2009 performance was disappointing, however, with a 40% reduction in volume, nearly 2% reduction in market share and one position loss (to MAN) compared to VW's first-quarter fifth-position ranking.
MAN
MAN's results in the second quarter mirrored that of Volkswagen, with a 20% improvement in volume, more than 2% increase in market share, and the regaining of the fifth spot among the list of competing manufacturers. MAN's bus sales have regained substantial momentum, and the brand re-established its clear lead in this segment during the April-June period. The upcoming partnership with VW, with its greater spread of product and price positioning, promises to make a considerable impact on the HCV area of the market, where MAN's current volume participation is limited to a supply of relatively sophisticated and expensive European-source product.
Tata
After an improved showing in the first quarter of 2009, Tata's performance over the most recent three-month period has slipped back into a declining trend. The quarter-on-quarter comparison shows a volume reduction of almost 37%, nearly two percentage points less market share, and a demotion of one position to eighth place in the market rankings. Sales of XHCV models have been particularly hard hit, which may indicate difficulties with financing sales to smaller fleet operators who have supported Tata in the past. Recent anecdotal evidence suggests, however, that Tata will be addressing this issue with the provision of in-house credit facilities.
Navistar International
This US manufacturer recorded a poor result in the second quarter, with less than half the sales volumes recorded in the previous review period, and a loss of 1.3% in market penetration. This resulted in the loss of one position in market ranking to end the quarter in 12th position. Apart from the obvious risk of being totally exposed to the heavily depressed XHCV segment, Navistar's SA operation is still working through the process of optimising its local distribution network, with some key dealer appointments yet to be finalised. The recent opening of a new parts distribution centre in Midrand, however, is a positive development.
Others
Of the remaining manufacturers, Volvo (including Mack and Renault) and Iveco recorded improvements in both market share and ranking positions relative to their first quarter 2009 performances, while Nissan and VDL improved market share while maintaining their first-quarter rankings. Those losing ground included Scania, who have not yet delivered any of its numerous BRT units that have already arrived in the country, and Super Group, whose sales in this quarter were entirely restricted to Bei Ben products. Despite press reports of renewed local marketing activities, DAF failed to report any sales during the second quarter of 2009.
Focus on Transport
August 1, 2009
Published by