Truck manufacturers become self-reliant
For some time, Global FOCUS has been commenting on the emergence of the new truck manufacturing "culture" in the United States, where the leading brands are moving increasingly away from the traditional practice of offering a very wide selection of driveline aggregates, bought-in from specialist suppliers such as Cummins, Detroit Diesel, Caterpillar, Eaton/Fuller, Spicer ArvinMeritor and Dana.
This trend had initially surfaced when European-led groupings, Daimler Trucks and Volvo – long-established champions of "vertically integrated" in-house driveline component sourcing – acquired control of American brands Freightliner, Western Star and Mack. The motivation for increased rationalisation has intensified with the need to spread the amortisation of development and production costs across the largest global volume footprint possible, and it is highly significant that even American-owned truck builders, Navistar International and PACCAR (Kenworth, Peterbilt, DAF), have joined the movement towards greater self-reliance in the area of component sourcing.
CUMMINS GETS SMALLER ENGINES
As a long-established major supplier of diesel engines to commercial vehicle manufacturers in the United States and Europe, Cummins Inc. has identified its main risk from this emerging trend as the erosion of its traditional engine supply business in the heavy-duty mass sector above 15 t gross vehicle mass (GVM), and has developed new strategies in order to protect its interests. In the first instance, Cummins has identified emerging markets (China, Eastern Europe, Turkey, CIS), with their increasing levels of environmental awareness and tightening emissions controls, as an area of opportunity for its heavy-duty engines, which are currently emerging in versions that will comply with the latest
Euro 5 and EPA 2010 legislation levels.
To most people, the name "Cummins" is synonymous with diesel engines, and fairly large ones at that. Readers with longer memories will recall the famous NH Series of 14-l, 6-cylinder in-line turbocharged diesels, with their pioneering common-rail type "PT" fuel systems, that rapidly established themselves as the benchmark power unit for long distance road transport in South Africa during the 1960s. In more recent times, Cummins developed larger and smaller displacement engines for automotive, industrial and agricultural applications, with power units that range in size from the 3-cylinder, less-than-1-l A Series to the 60-l V16 QSK60. The current "on-road" automotive range extends from the 3.9-l, 4-cylinder ISB to the 15-l ISX and Signature power units.
The second element of Cummins' new strategy is to increase its focus on products positioned further down the mass and displacement scales in both traditional and new markets. This was characterised by the announcement, late in 2006, that Cummins had entered a 50-50 joint venture with Chinese manufacturer, Beiqi Foton Motor Company, to manufacture high-performance 2.8- and 3.8-l diesel power units for light trucks, pick-ups, multi-purpose and sports utility vehicles for the domestic Chinese and export markets. Now entering production at Beijing Foton Cummins Engine Company, these engines have been designated the ISF Series, and are rated at power outputs of 109 hp (80 kW) and 170 hp (130 kW) respectively. The ISF Series is also intended for light industrial and construction applications, and the engines are claimed to be capable of adaptation to meet Euro 6 emission standards, and beyond.
With the introduction of the Chinese-built ISF2.8 and ISF3.8 diesels, Cummins has established a global automotive engine range to span the displacement spectrum from 2.8 to 18.9 l, and now seems well placed to achieve the increased levels of global market coverage central to its new corporate strategy.
REST IN PEACE, LDV
Recent history is generously littered with sad tales detailing the demise of the once great British motor industry. One name that appears frequently in those accounts is Leyland, formerly one of the world's most successful commercial vehicle manufacturers, but, later, as British Leyland, the vortex into which many other famous names were destined to disappear. Leyland also had a long history in South Africa, but, by the end of the 1980s, the local operation had morphed into a management buy-out named Associated Automotive Distributors (AAD), that was destined to oversee the final days of the great Leyland heritage in South Africa before turning its attention, more recently, to the retailing of Nissan and Nissan Diesel vehicles.
During the period in which AAD's supply of Leyland vehicles was in the process of drying up, the company made several attempts to source alternative products in order to maintain its critical business mass. One of these was an integral panel van from an independent British manufacturer, LDV, and, from 1996, slightly more than 300 of this manufacturer's Peugeot-engined VH 400 ET vans were to enter the South African market through the AAD organisation. The basic design of this model harked back to the full forward-control J4 van initially introduced by Austin and Morris in 1960, although it had been developed later, under British Leyland stewardship, into the Sherpa with a longer wheelbase and extended nose. LDV had, in fact, been established in 1993 as Leyland DAF Vans Limited, (hence "LDV"), as a management buy-out to take over the assets of the bankrupt Leyland DAF van operation, and its Sherpa-derived products.
LDV's own history, since that time, has been somewhat turbulent. Early in 2005, the company launched its more modern Maxus front-wheel-drive van range, the result of a £500-million (R6.6-billion) investment. This product was the subject of a joint venture with Daewoo in terms of which production was intended to take place in both Poland and the United Kingdom, but the arrangement came to naught when Daewoo was declared bankrupt, and LDV was obliged to rescue the project for its own account. Subsequently, in December 2005, the LDV Group went into receivership, leading to the acquisition of the operational assets, stock and liabilities of the company by Sun Capital Partners Inc. of Florida, USA. Then, less than one year later, LDV Holdings Limited passed into Russian ownership under the GAZ Group. It was reported at the time that GAZ intended to add new product lines and expand production capacity at LDV's plant in Birmingham, and to produce the Maxus range at its own plant in Nizhny Novgorod, to facilitate sales in Russia and the CIS.
It now seems that the sands of time have finally run out for the LDV Group, with the news that it was placed in the hands of administrators on 8 June this year. There had been earlier hopes of a rescue takeover by Malaysian firm Weststar, but this failed to materialise. The GAZ connection had been severed when a buy-out team took control of LDV in March 2009, but the company lost £44 million (R585 million) in 2008, and the effects of the global financial crisis had prevented it from approaching its break-even volume of 10 000 units – only 5 000 sales were recorded in 2008. Thus ends the story of yet another British vehicle manufacturer.
KAMAZ GETS A NEW LOOK
Early in June, Russian manufacturer Kamaz Inc. showed off new cab styling for its trucks at the Construction Equipment and Technologies exhibition in Moscow. Kamaz has been building trucks since 1976, and claims to have been steadily improving the quality of its products in recent years, while incorporating modifications to comply with Euro 3 and Euro 4 emission standards. However, the basic cab structure has remained largely unchanged since its initial launch, and the company obviously felt that it needed a substantial facelift to complement the progress made in vehicle and component quality. The family of five models on display at the CTT2009 show included truck-tractors, dump trucks and urban transportation units.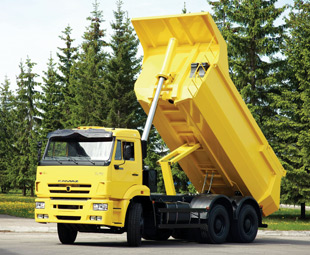 Changes to the cab include the introduction of four-point pneumatic suspension, a new front panel with integrated side skirts, restyled bumper, new mirrors and a new windscreen wiper system. Interior improvements include enhanced noise insulation, digital driver's display, adjustable steering column, and a Grammer air-suspended driver's seat. The new cab, which is aerodynamically more efficient than its predecessor, will become available from October 2009, with no planned price premium for the improvements.
Perusal of the images that accompanied the Kamaz press release revealed that the new cab styling does not reflect the announcement, late last year, that the Russian manufacturer was to gain access to the second-generation Mercedes-Benz Actros cab, as part of the deal where Daimler AG is progressively acquiring a 10% stake in Kamaz for $300 million
(R2.4 billion), and the two companies are to engage in technology transfers and joint projects. It is expected that the next Actros, or a differently-named successor model, will adopt versions of Daimler's HDEP 6-cylinder in-line global diesel engine family, which will dictate the development of a new cab structure, whereas Kamaz' own in-house V8 diesel is likely to be compatible with the general layout of the historic Actros cab sheet metal.
Media reports have confirmed that this "new" Kamaz cab is, indeed, an interim design, providing some measure of modernity, while the prototype of an entirely new cab is being developed. The logical conclusion to be drawn from the foregoing is that some future Kamaz models will have an appearance closer to the basic Actros shape that, having passed through three distinct product generations, has become familiar to European and world truck buyers over the past 13 years.
A NEW CANTER FOR EUROPE
The recent launch of a new Fuso Canter range for the European market has brought some very interesting facts about this product to our attention. Firstly, it was revealed that the Canter is the most produced single model in the entire Daimler Trucks global family, with 144 000 units built in 2008, and is claimed to be the world's best-selling light truck in the category between 3.5 and 7.5 t GVM. It was also noted that the Canter has been produced at Tramagal, Portugal, primarily for the European market, since 1980, and that more than 150 000 of these trucks have already been built at that facility. This certainly dispels any notions that Japanese trucks are not well accepted in Europe, and suggests that the ladder-framed Canter, now fully integrated into the global Daimler Trucks family, and substantially different from the integral construction Mercedes-Benz Sprinter range which occupies a similar payload space, could do even better in this geographic area in the years ahead.
The Canter is now entering its seventh generation since the model first appeared in Japan in 1963, with some 3.5 million units having been produced for global consumption since. This new European version, with approximately 70% local content, has been developed in response to the compulsory requirement for Euro 5 emissions compliance which comes into effect this October. As a result, many of the product innovations relate to the power unit, which will now be standardised as a 4-cylinder, 3-l diesel available with three output ratings – 130 hp (96 kW), 145 hp (107 kW) and 175 hp (129 kW), and with torque outputs ranging from 300 Nm to
430 Nm. The engine design features overhead camshafts, four valves per cylinder, variable geometry turbocharger, common-rail fuel injection system, and a standard exhaust brake. Euro 5 emission levels are achieved in the two lower-output versions through the use of cooled exhaust gas recirculation, oxidising catalytic converter and a diesel particulate filter, while the highest output version uses Daimler's BlueTec/AdBlue urea solution technology. Engines capable of meeting the even more stringent Enhanced Environmentally Friendly Vehicle standard, which is around one-third more demanding in terms of particulate emissions than
Euro 5, will be available early in 2010.
All models will be equipped with a six-speed manual transmission controlled through a dashboard-mounted gear selector. Mass saving features include a plastic fuel tank and a tyre resealing system in place of a spare wheel on 3.5 t GVM models. Single or double cabs are available in narrow or wide versions, and there are seven wheelbase lengths ranging from 2.5 m to 4.5 m. Fuel savings of between 5 and 8%, and servicing cost reductions of around 20% are claimed in comparison to the predecessor model, which had also offered a larger displacement 4.9-l engine as a range option.
---
Global FOCUS is a monthly update of international news relating to the commercial vehicle industry. It is compiled exclusively for FOCUS by Frank Beeton of Econometrix.
Focus on Transport
August 1, 2009
Published by