Mercedes-Benz shows Sprinter to the world
Mercedes-Benz has shown its brand new Sprinter to the world and, of course, FOCUS was there. On Tuesday, February 6, we joined about 240 of the world's leading commercial vehicle journalists in Duisburg, Germany, for the world premiere of this highly anticipated new van.
The new Sprinter is the successor to a global phenomenon; Mercedes-Benz has sold more than 3,4-million Sprinters since its premiere in 1995, and, judging by our initial impressions of the new van (which we have yet to drive), sales should carry on merrily.
Rather fascinatingly, the new vehicle is actually cheaper than its predecessor. When it launches in Europe mid-2018, pricing will start at a mere €20 000. That's €4 000 less than the previous model. (We hope that the price will also be lower when the vehicle launches in South Africa early 2019.)
This is a really great deal because, in absolutely every department, the new Sprinter is much, much better than its predecessor.
It certainly looks better. The back isn't that different, but the front is prettier and less utilitarian. The inside is massively different; instead of the distinctly commercial vehicle look of the "old" vehicle, the new Sprinter is decidedly passenger car-like.
In terms of connectivity, it's just plain astonishing. "The new Sprinter is to conventional vans what the smartphone is to a plain old mobile phone," Volker Mornhinweg, head of Mercedes-Benz Vans, proclaimed in Duisburg.
It wasn't just marketing gobbledegook; the new Sprinter is Something Seriously Special. It's connected to the internet all the time, and people-carrier derivatives will feature a WiFi hotspot.
Speaking of people carriers, Mercedes-Benz has optimised the seating configuration on these derivatives, which also feature more comfortable seats, cupholders, USB ports and storage space for smartphones.
The range of variants is equally astonishing. The number of options in terms of powertrain, wheelbase, transmission variants, roof heights and engines is quite staggering. In fact, the Sprinter will be offered in more than 1 700 basic variants! One of these is an electric vehicle, which will be launched overseas next year (sadly there are no plans to bring it to South Africa).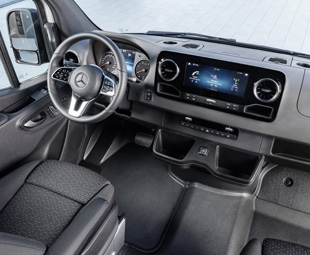 Very significantly, Mercedes-Benz has also augmented the tried-and-tested rear-wheel and all-wheel drive variants with front-wheel drive. "The benefits are 50 kg more payload and an eight-centimetre lower loading edge, which will make delivery drivers very happy indeed. It also means we can offer our customers a particularly affordable entry price point," Mornhinweg explained.
Another factor that's really important – especially in South Africa, where we're remarkably good at murdering people on our roads – is the exemplary line-up of safety features. On offer are Brake Assist systems, Lane-keeping assistance, Blind Spot Assist, Attention Assist and radar-based Distronic.
Other fabulous features include Mercedes PRO (which enables a driver to lock and unlock the doors using an app, to name but one of many features) and the MBUX multimedia system.
Read all about these features – and lots more – in our full report on the new Sprinter in Issue 3 of FOCUS. Expect it to hit your desk, smartphone (via our app) and computer in mid-March.
Focus on Transport
February 9, 2018
Published by