Mercedes improves the OM 471
In his monthly review of global news for local truckers, FRANK BEETON details the upgraded European version of Mercedes-Benz's global diesel engine family, makes some comments and suggestions regarding the possible globalisation of Volkswagen's Constellation family, and details Dongfeng's KX "Kinland Flagship"
In 2011, the introduction of Mercedes-Benz's new-generation, 12,8-litre OM 471 power unit was seen as highly significant. First, it was clearly intended to power the soon-to-be-announced Euro-6 Actros flagship range.
Second, it was of six-cylinder in-line configuration, and intended to replace vee-form engines in the Actros line-up.
Third, it was the first European application of Daimler's Heavy Duty Engine Platform, which, by then, had already found its way into the North American and Japanese markets with Detroit Diesel and Fuso branding.
In its initial version, the OM 471 offered outputs of 310 to 375 kW (421 to 510 hp) and torque ratings from 2 100 to 2 500 Nm (1 548 to 1 843 lb-ft). The challenging Euro-6 emission standards were met through a combination of cooled exhaust gas recirculation, particulate filter and urea-based selective catalytic reduction.
Four years on, in early July, Mercedes-Benz announced upgrades for the OM 471, with claims of lower fuel consumption and CO2 emissions. This latest generation is being made available with five output options ranging from 310 to 390 kW (421 to 530 hp), all developed at 1 600 r/min. Torque ratings range from 2 100 Nm to 2 600 Nm (1 548 to 1 917 lb-ft), all at 1 100 r/min. Power delivery is claimed to remain virtually constant from 1 450 to 1 800 r/min, while the torque curve flattens out between 900 and 1 450 r/min.
Changes to the engine specification include: increased common-rail pressure (from 900 to 1 160 bar) in the X-Pulse fuel system; eight-hole in place of seven-hole injector nozzles; revised piston bowl geometry; compression ratio raised from 17,3:1 to 18,3:1; and reduced exhaust gas recirculation rate.
Improved economy, emissions and flexibility
The improved output and torque curve characteristics of the new-generation engine provide more operational flexibility. This has enabled Mercedes-Benz to change the final drive ratio of the Actros from 2,611:1 to 2,533:1, allowing for a three-percent reduction in engine revolutions at 85 km/h cruising speed.
The process that feeds controlled quantities of exhaust gas to the drive turbine of the asymmetric turbocharger, as well as the EGR system, has been refined to finely control the volume of gas passing through the EGR process in line with engine operational requirements.
The revised fuel-injection system also varies the quantity of fuel being supplied to individual injectors to influence exhaust gas temperature, reduce soot emissions, and ensure regeneration of the diesel particulate filter.
Mercedes claims that refinements to, and simplification of, the OM 471 design, including the omission of numerous components and parts found in the original design, will also improve robustness and reliability.
In addition to Actros premium truck-tractor applications, the 350 kW version of the new generation OM 471 engine will also be found in the three-axle Mercedes-Benz Travego and Setra ComfortClass 500 touring coaches. The 375 kW version of the engine will be available as an option in the Setra TopClass model series, and be supplied as standard equipment on the Setra S 431 DT double-deck coach.
THE CONSTELLATION CONUNDRUM
In our July Global Focus analysis of the formation of "Truck and Bus GmbH", the holding division of Volkswagen AG's commercial vehicle brands, we offered the view that the unique range of products produced by MAN Latin America would benefit from an expanded geographic footprint, and greater utilisation of components sourced from within the Truck and Bus family.
We saw this as a particularly important part of the Group's strategy, because its global product portfolio is currently biased towards heavy trucks, buses/coaches and integral vans, with some medium truck coverage only in Europe.
The South American operations, on the other hand, also enjoy strong light/medium truck participation in their domestic markets, but are not significantly active in the export arena.
One important exception, however, is South Africa. Following extensive market studies, Volkswagen (VW) SA entered the local truck arena in 2007 with a range of Brazilian-sourced products positioned in the heavy and extra-heavy commercial vehicle segments, as well as three dedicated bus chassis.
The truck line-up consisted entirely of models from the newly introduced Constellation range. The reasoning behind this decision was probably influenced by the need to convert Brazilian-sourced products to right-hand-steering configuration for legal operation in South Africa.
The Volkswagen Caminhöes e Önibus operation in Brazil also manufactures two other ranges of trucks, which are currently designated "Delivery" (4×2, 5 500 to 13 000 kg GVM), and "Worker" (4×2 and 6×2, 13 200 to 23 000 kg GVM).
Constellation in South Africa
Following the sale of VW's Brazilian truck operation to MAN in 2009, the local marketing responsibility for the VW Constellation line-up, together with the related Volksbus range, was taken over the following year by MAN Truck & Bus South Africa.
Notwithstanding this move from the light-vehicle dominated VWSA to the totally commercial-vehicle oriented MAN, the Constellation range has recorded a best result of only 1,6 percent penetration into the combined heavy commercial vehicle (HCV)/extra-heavy commercial vehicle (EHCV) segments in 2012, and recently fell to levels of around 0,4 percent of the equivalent categories in 2014/15.
A cursory glance at published list prices for equivalent competitive models in the South African market suggests that the Constellation models are positioned very close to the most successful Japanese-sourced models in their mass classes, and well above the "value" offerings from other Asian countries. This pricing profile appears to be presenting an obstacle to increased Constellation penetration of the local market.
Looking at the 2014 Brazilian truck market, the MAN family, which includes both MAN and VW-branded products, was dominant in the 15- to 40-t gross vehicle mass (GVM), and six- to ten-tonne GVM categories, and narrowly led the ten to 15-t GVM category from the local Ford operation. This suggests that pricing levels "back home" are fully in line with Brazilian norms.
Comparing the technical specifications of Constellation models available in South Africa and South America, the most obvious difference lies in the adoption of MAN D 08 family engines in the Brazilian 13- and 15-t GVM 4×2 freight carrier models – in place of the MWM International power units previously used and still present in the local version.
The power outputs are not radically different, which suggests that the decision to go "in house" was driven mainly by commercial interests to gain more control over costs and parts sale opportunities. The Constellation is also available in South America with automated ZF transmissions and automatic activation of the Meritor two-speed rear axle.
A substantial global opportunity?
The foregoing suggests that, in order for Truck and Bus to successfully market VW Constellation products in countries outside of Latin America, consideration may need to be given to finding a more cost-effective manufacturing location than Brazil. It is not possible, however, to draw the same conclusion regarding VW's Delivery and Worker ranges, because there is no similar pricing comparison available to work with.
However, it is notable that the Brazilian commercial vehicle manufacturing industry is heavily dependent on major aggregate sourcing from specialist independent suppliers, which could have a direct bearing on input cost levels typical of that market.
For example, the Resende plant, where VW's Brazilian trucks and buses are built, operates on a unique co-operative system where eight separate outside suppliers actually fit their parts directly to the vehicles on the assembly line within their own specially allocated individual floor areas. VW's role in this process is one of overall quality assurance, while it also handles product development, marketing and global after-sales product support.
In our view, VW may well be advised to consider an alternative, or supplementary Asian manufacturing base for its medium/heavy truck range if it seeks to achieve a more comprehensive and cost-effective global footprint in this product category.
The now wholly-owned MAN Trucks India operation, which currently manufactures only the heavier CLA series, could well consider broadening its product offering, and there is also MAN's wide-ranging relationship with leading Chinese truck manufacturer Sinotruk (Hong Kong) Limited, part of China National Heavy Duty Truck Corporation (CNHTC). The opportunity is substantial and, given VW's obvious appetite for global motor industry leadership, it surely cannot be ignored.
DONGFENG KX REVIEW
In the November 2014 edition of FOCUS, Charleen Clarke made reference to the new Dongfeng KX truck tractor that was exhibited at the 2014 IAA Show in Hannover. Since then, we have reported on the regulatory approval of Volvo's $US 890 million (R11 484 million) buy-in to Dongfeng Commercial Vehicles (DFCV), and made some comments regarding the huge significance of the Volvo Group's association with DFCV to the global truck market.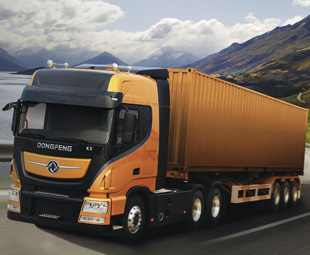 The supporting statement from the Volvo Group's incumbent president made it quite clear that Volvo would be providing technological support and global sales experience to the joint venture.
Specification detail
As the KX, also known as the "Kinland Flagship" in the Chinese domestic market, would probably have been the last new major DFCV product launch before the cooperation with Volvo achieved regulatory approval, we have decided to spend some time looking at its specification makeup.
The 6×4 truck tractor exhibited at Hannover was powered by a 13-litre Dongfeng Cummins turbocharged and intercooled six-cylinder diesel engine, equipped with a high-pressure common-rail fuel system, developing 358 kW (480 hp) at 1 900 r/min, and with a torque rating of 2 320 Nm at 1 000 to
1 300 r/min.
There is, reportedly, a choice of two transmissions in the KX catalogue, these being the Volvo Group VT2214B 14-speed manual shift, or ZF AS Tronic 12AS2540 12-speed automated units.
The KX cab was, reportedly, designed by an Italian company, UP-Design, and the vehicle rides on air-suspended axles with mass limitations of seven tonnes at the front, and 26 t for the rear tandem-drive bogie.
This model can be supplied in Euro-4 or -5 modes, achieved through the use of a Selective Catalytic Reduction system. Features include electronic braking and stability controls, disc brakes, a retarder, and GPS-based satellite navigation system.
This vehicle presented as a thoroughly modern design which should appeal to both the domestic Chinese market, and those export territories where Euro-4 or -5 levels of compliance are still accepted.
The Volvo Group reportedly assisted with the two-year development process which preceded the Kinland Flagship domestic Chinese market launch at the 2015 Shanghai Motor Show in April.
Looking Ahead
The Dongfeng connection with Cummins was established in 1986, when Dong Feng Motors obtained a Cummins technology licence. Then, in 1996, a 50:50 joint venture – Dongfeng Cummins Engine Company Limited (DCEC) – was established. This was to become the development and production source for the 13-litre engine.
Dongfeng also obtained a licence to manufacture the Renault Trucks 11-litre dCi engine, and this power unit was fitted to earlier Kinland-series vehicles imported into South Africa.
Presumably, the recently concluded Volvo/DFCV agreement will eventually lead to a more rationalised future approach to engine sourcing, as the Volvo Group has a comprehensive range of "family" engines including 11- and 13-litre units.
However, in view of the formal relationship already existing between Dongfeng and Cummins, and the enormous potential of the Chinese domestic market, it is likely that the DCEC co-operative venture will continue for some time into the future.
---
Global FOCUS is a monthly update of international news relating to the commercial vehicle industry. It is compiled exclusively for FOCUS by Frank Beeton of Econometrix.
Focus on Transport
September 2, 2015
Published by