MAN Truck and Bus South Africa has just launched a new range of premium extra-heavy duty truck tractors. The new MAN TGS WW range is based on its immediate predecessor, the MAN TGA, which was released in 2005 in South Africa and is now a household name amongst local transport operators. VIC OLIVER drove the MAN TGS 27.440 6×4.
To find out more about this exciting new range of vehicles FOCUS arranged a road test from Isando to Witbank. The vehicle chosen for the test was the MAN TGS 27.440 6×4 BBS, which was coupled to a Henred aluminium semi-trailer fuel tanker, which was loaded to its full legal capacity. The tanker was fitted with a tridem axle and super single tyres. The total combined mass used for the road test was 48 120 kg.
After a few minutes on the road you fall in love with this good-looking vehicle, and the statement made by the manufacturer that this is a driver's truck is well justified. It is a sophisticated workhorse and luxury home from home, making it ideal for long haul operations. The truck is very easy to drive with all the controls and instrumentation within easy reach and view. With a well-matched power and driveline, plus excellent retardation, the driver has the ability to remain in control of the vehicle at all times
The MAN model D26 common rail six-cylinder in-line diesel engine, producing 324 kW of power, is fitted to the vehicle. This engine develops 2 100 Nm of torque between 1 000 and 1 400 r/min, providing a platform for powerful and economical transport.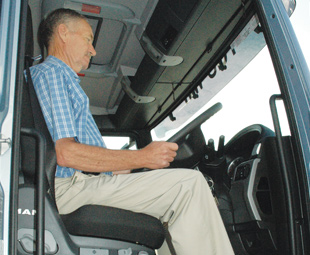 The engine is coupled to a 12-speed TipMatic automated gearbox, which is operated without a clutch pedal. The driver has the option to drive in an automatic gear change mode or in a manual mode. Manual gear change is very easily done by operating a finger touch toggle switch on the steering column. In either mode, gear changing is very smooth, providing comfort to the entire driveline, which in turn leads to lower maintenance costs.
The vehicle is equipped with a cruise control that automatically manages the set speed as selected by the driver. The cruise control also holds the selected speed when travelling downhill, by automatically engaging the engine valve brake and the gearbox intarder, if necessary.
The combined retardation power developed by the engine valve brake and the gearbox intarder of 770 kW is highly effective and gives the driver added confidence to stay in full control when descending a steep gradient or making an emergency stop.
The large disc brakes coupled to the ABS (Anti-lock Brake System) provide excellent braking power.
The 8 000 kg capacity front axle is fitted with 385/65R22.5 radial tyres, which enable the vehicle to be loaded to the maximum South African legal capacity allowance of 7 700 kg.
To optimise fuel consumption and save on maintenance costs, hypoid type rear axles are fitted.
Ride comfort is good, considering that the vehicle is fitted with steel suspension front and rear. The aerodynamic cab is solid and functional and of good quality. Good quality mirrors, electrically operated windows and a radio CD player are all standard equipment. The noise level inside the cab is also good.
Unfortunately a realistic fuel consumption measurement was not obtained on the test run due to an unforeseen police road block. All traffic was stopped and forced to queue at the approach to the road block. The queue was exceptionally long and very slow moving, and the vehicle was operated in a stop-start mode at engine idle speed for 60 minutes. The fuel consumption recorded was 52,8 l/100 km – but it should be stressed that this was not under normal operating conditions. If adjusted using the rule of thumb allowance of one litre of fuel used for every three minutes that the engine is idle, the consumption would be 44 l/100 km.
This new MAN range has been well tested under tough South African operating conditions by MAN Truck and Bus SA  to ensure that the vehicles will provide low cost of ownership, reliability and profitability to the operator. For peace of mind this new range is covered by a three year/600 000 km warranty. And, based on my test drive, I reckon it is going to sell faster than hot cross buns at Easter!
Truck test: MAN TGS 27.440 6×4 BBS
Focus on Transport
November 1, 2010
Published by