Mighty MCV makes light work of heavy duties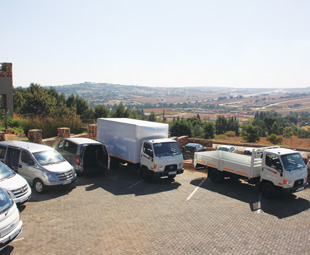 Hyundai is releasing more rough and ready medium commercial vehicles into the South African market. DANIELLE DU TOIT meets the new Hyundai Mighty HD series

Looking for a tough, durable, reliable and stylish vehicles that will perform under all conditions and suit any application? The Hyundai Mighty HD series could be what you're looking for.
The series consists of the HD65 and the HD72, which have a gross vehicle mass of 6 500 kg and 7 200 kg respectively. The gross combination weights of these two vehicles are excellent, with the HD65 at 9 500 kg and the HD72 at 10 200 kg.
The Mighty HDs have numerous features that could make them favourites – including Multi Focus Reflection (MFR) headlights which give the vehicles a bold appearance and increase safety by offering a wider, clearer light projection. Next to these statement headlights sit big direction indicators.
Another feature is the tilting cab, which enables easy servicing and regular engine checks: the cabs tilt at a 50-degree angle, providing easy and quick access to the engine.
Safety is critical in any vehicle, and Hyundai's Mighty HDs offer one of the safest, most ergonomic cabs available. Driver comfort is key and interior design has taken a "front seat", so to speak, with instrument panels that are within driver reach. Cab access controls are also positioned with the driver in mind, and there's ample illumination and stowage space. The instrument panel is in the direct line of sight of the driver and is backlit, making it easy to read day or night.
Hyundai is at the forefront of driver comfort and convenience, and this is demonstrated by the attention paid to the simple act of getting into and out of HD vehicles. Doors swing open to a 70-degree angle, and safety steps and grab handles are provided.
The vehicles come standard with an air control system that allows heating and ventilation, with a powerful fan and multiple outlets that mean freshness is guaranteed.
Another convenient feature that's been added to the HD series is the radiator reservoir which is situated on the inner fender, making it easy and quick to check and replenish water if needed. Every Mighty HD truck has a lockable toolbox located next to the chassis under the cargo body.
The cab rides on two oil-cushioned rubber mounts, an innovation that translates into a soft, gentle ride.
The safety of the vehicle will further set it apart. With a four-channel integrated Electronic Brakeforce Distribution (EBD) system and ABS as standard, the HD series is well on its way to proving itself. Large brake linings and tandem brake boosters give consistent, dependable and powerful braking.
Small but necessary features have been added – such as a safety catch for the propshaft to prevent the shaft from hitting the ground in the event of a breakage, thus protecting road users as well as the driver. The chassis of the vehicles have been heat-treated and reinforced with cross members, while new bolt fasteners improve chassis frame twisting and flexing.
Stringent quality tests have been done in order to maintain the highest standards in development and manufacturing, covering durability, performance and safety as well as noise, vibration and harshness (NVH) levels.
The warranty and roadside assistance package has been improved to three years/200 000 km, while the one-year/60 000 km standard service plan comes standard.
The HD65 and HD72 have the turbocharged D4DB diesel engine, which has a displacement of 3 907 cc. It delivers 95 kW maximum power at 2 900 r/min, with maximum torque of 372 Nm at 1 800 r/min. As with the outgoing models, the HD series is fitted with turbo-protectors.
Hyundai has 39 dedicated commercial vehicle sales dealerships and 41 commercial service points, all of which boast commercial specialists who understand customers' needs.
Danie de Beer, general manager of Hyundai Commercial Vehicles says: "We have a great product – it's a no-nonsense reliable workhorse that competes head-on with the competition."
Focus on Transport
June 1, 2012
Published by