Mitsubishi teases new Triton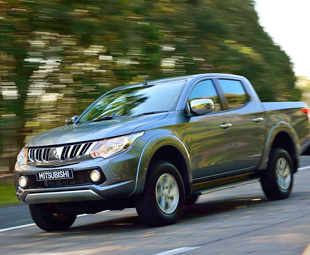 February 2017 is when you will be able to buy the new Mitsubishi Triton from South African dealerships. While it might be related to the recently launched Fiat Fullback, the Triton will offer some enhancements.
The highlight will be Mitsubishi's latest-generation 2,4-litre, four-cylinder DOHC MIVEC 16-valve turbocharged common-rail diesel engine. With its low compression ratio of 15,5:1 and variable geometry turbocharger, peak power is 133 kW and torque peaks at 430 Nm from 2 500 r/min.
Low-end torque is enhanced by 25 percent compared to the previous 2,5-litre engine. The new engine can be paired with Mitsubishi's latest six-speed manual, or five-speed automatic gearboxes.
"Our new lightweight turbodiesel engine is fitted with Mitsubishi's latest-generation MIVEC technology and weighs 30 kg less than its predecessor, resulting in improved responsiveness, fuel consumption, handling, cornering and braking performance," says Nic Campbell, GM of Mitsubishi Motors South Africa.
Buyers who opt for the 4×4 drivetrain will get to sample the latest version of Mitsubishi's widely acclaimed Super Select II 4WD system.
This multifunction setup gives drivers precise control in challenging weather conditions, or on loose surfaces, with low-range modes, including a rear diff-lock – essential for tackling tough and technical off-road obstacles.
"International reports have already found the Triton to be the most car-like pickup to drive. Fitted with a new-generation lightweight diesel engine, upgraded suspension and reduced noise, vibration and harshness levels, this new sport utility will impress owners with a comfortable ride that hasn't compromised those workhorse principles and multi-purpose functionality," concludes Campbell.
Focus on Transport
November 3, 2016
Published by