Fuso Trucks South Africa is looking back to its founding roots in order to move forward with an all-new bus offering, reports GAVIN MYERS.
South Africa is known for having a highly competitive vehicle market – whether you're talking private passenger vehicles, trucks or buses. Diversity, adaptability, reliability and accountability are buzzwords for survival in this increasingly difficult marketplace.
It's thus that FUSO Trucks South Africa has entered the local bus market with a 30-seater midibus based on its new Canter LIFT chassis. It was launched with much interest at the recent Southern African Bus Operators Association (Saboa) conference and exhibition.
"South Africa is a tough marketplace right now, so we have to look at new markets, one of which is definitely that of buses," says Ziyad Gaba, national sales manager for FUSO South Africa. Not that FUSO is new to the world of buses – the company's very first vehicle, launched in Japan back in 1932, was the P46 bus.
So what about the new Canter Bus? Godfrey Hani, head of FUSO Trucks South Africa, is decidedly upbeat about the company's new baby: "What the Canter Bus does extremely well is to maximise efficiency and lower the total cost of ownership, while being one of the most practical vehicles to own and operate.
"As a vehicle that is set to dominate the transport industry, the Canter Bus offers newly developed drivetrains. Our FUSO designers and engineers went beyond the ordinary and put everything they know about powertrain technology and efficiency into the new Canter Bus."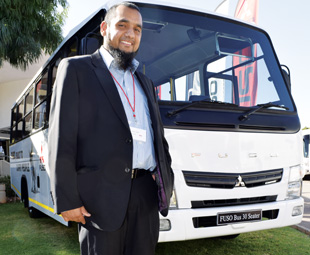 This powertrain is the 4P10, three-litre, common-rail diesel engine, which is Euro-3 compliant and produces 110 kW and 370 Nm. "Over one million units of this engine have been sold worldwide – it is proven, reliable and perfected technology," says Gaba.
The prototype unit on display at Saboa was fitted with a five-speed manual transmission, but production versions will feature the six-speed Duonic automated manual transmission (AMT), as launched with the Canter LIFT last year.
This is a dual-wet-clutch transmission. It provides soft shifts and is maintenance free – all to the benefit of passenger comfort and running costs. FUSO is proud that this is the only dual-clutch transmission currently available in a bus.
Among other features of the bus are: front and rear stabilisers, disc brakes all round with Anti-lock Braking System (ABS), Electronic Brakeforce Distribution (EBD), air-conditioning and central locking.
The Canter LIFT chassis is assembled at Mercedes-Benz South Africa's East London plant, before the 30-seat body is fitted by Busmark. ro em has also homologated 40-, 50- and 60-seater versions on its different chassis.
"We are ready to enter the marketplace. We are targeting the commuter side, with a focus on staff, mine and school transportation applications," says Gaba. "We have to offer value for money and that's where we will position ourselves." This extends to service intervals of up to 25 000 km in some applications and a two-year unlimited kilometre bumper-to-bumper warranty.
"This is a new chapter for us and we expect to grow our market share from strength to strength," Gaba concludes.
Focus on Transport
April 1, 2015
Published by