Negative mood, positive market?
The year has kicked off on a relatively high note, says FRANK BEETON, in his report on commercial vehicle sales in the first quarter of 2015.
It was noted, with considerable regret, that Mercedes-Benz South Africa has continued the practice of reporting only aggregated monthly sales data, for its Mercedes-Benz, Freightliner and Mitsubishi Fuso commercial vehicle brands, to the national Department of Trade and Industry through the first quarter of 2015.
Consequently, the National Association of Automobile Manufacturers (Naamsa) has estimated the breakdown of these aggregated sales to individual model and variant levels. The following analysis has processed the resulting data recognising that it is the most accurate reflection of the true market composition available at this point in time. Readers should please bear this situation in mind when comparing this qualified analysis and its conclusions with previous articles in FOCUS on Transport and Logistics' series of market reviews.
The published results indicated that the market had absorbed a total volume of 7 213 units during the first quarter of 2015, which were 12,3 percent fewer than the sales recorded in the final quarter of 2014, but only 0,7 percent less than the equivalent outcome in the initial quarter of 2014.
During January and February, 2015, the market had been characterised by relatively poor deliveries, but this was largely the result of UD Trucks' progressive delivery run-out of its U41 Series over this period.
Initially, it appeared that the remaining suppliers had not been able to fill the vacuum, but, by March, matters had stabilised somewhat, and the total market sales volume of 3 055 units for that month was the best single month outcome recorded since July 2008, when sales of 3 227 units were reported.
In fact, the performance of the aggregated segments above 8 500 kg gross vehicle mass (GVM) for the January to March period revealed year-on-year growth of 3,7 percent, when compared to the same group of segments' equivalent first quarter performance in 2014.
The market outcome for the first quarter of 2015 has been, to some extent, surprisingly strong, given the generally subdued mood in the local manufacturing community, as reflected in the most recent report and outlook published by the Kagiso Purchasing Manager's Index.
However, anecdotal evidence suggests that local businesses are currently holding significant cash reserves, and the truck market may well be benefiting from a tendency for operators to utilise this cash for fleet replacement and acquisition activities, rather than investments in bricks and mortar.
Rand exchange rate deterioration against the United States dollar has not been mirrored by similar losses against other truck-sourcing currencies, and interest rates have been holding steady at historically low levels, making vehicle acquisition an attractive proposition.
The EHCV and bus segments have continued to perform well, with the former 1,4 percent ahead of its equivalent first quarter 2014 volume by the end of March, and the latter 3,7 percent ahead in the same comparison.
The EHCV outcome is surprisingly positive, given stated concerns by some suppliers that the recent drop in global commodity prices has impacted on the export volumes moving out of South African mines, which, in turn, has necessitated some diversion of truck tractors normally engaged in mineral transportation to other work.
However, increasing evidence of shortened replacement cycles – to take advantage of the predictable operating overheads provided by maintenance contracts and buyback arrangements – has been evident. This factor should continue to add some impetus to the EHCV segment, in particular, until it becomes standard practice in the industry.
The bus situation has continued to benefit from ongoing deliveries of large-scale orders to local authorities rolling out integrated transport networks and bus rapid transit (BRT) operations.
SEGMENTATION DYNAMICS
The premium-payload EHCV segment has maintained its position as the market leader during the first quarter of 2015, having improved its share of the total market from 40,4 percent in the preceding quarter to
43,5 percent in this review period.
Conversely, the entry-level MCV segment fell away slightly, from the 36,8 percent level of market share recorded in the last three months of 2014, to 34,9 percent in the January to March 2015 period. This was mainly due to the supply constraint situation described in the previous section.
There was some evidence that the cruiserweight HCV segment had benefited slightly from reduced product availability in the adjacent MCV grouping, in that it grew in volume terms by 9,8 percent, over its equivalent first quarter 2014 performance. This was, however, not sufficient to arrest a slight decline in market share from 18,5 percent in the final quarter of 2014, to 18,1percent in this review period.
The passenger bus segment, at 3,9 percent total market penetration in the most recent three-month period, was slightly off the 4,3 percent recorded in the final quarter of 2014, but this grouping has continued to run at levels typical of its performance since early 2012.
The first quarter review of application performance levels within the MCV segment has freight carriers at 56,8 percent, integral vans at 37,2 percent, tippers at 4,1 percent and buses at 1,9 percent.
This outcome reflects a further weakening of the freight-carrier share, down from just under 70 percent in the third quarter of 2014, and 63,7 percent in the fourth quarter of that year. It is notable that this is the area of the segment where the withdrawal of the UD product has had the greatest impact.
Inevitably, a reduction in freight-carrier segment share will create a mirror-image increase for integral vans, which increased their penetration from 31,4 percent in the final quarter of 2014, to the level indicated above.
The results for the bus and tipper categories are still subject to the less than perfect market reporting, which does not reflect the aftermarket conversion of integral van units into ambulances and midibuses, or the bodying of freight-carrier chassis/cab units as tippers, or commuter buses. These conversions are, therefore, not evident in this analysis.
MANUFACTURER PERFORMANCE
Please refer to the accompanying chart, which illustrates the relative market performance and ranking of each participating manufacturer in the quarter just completed, as compared to the returns for the immediately preceding quarter.
The groupings contained in this section of the report are based on the rule that, if a manufacturer/group sells more than one brand through its distribution channels, then all sales for those brands will be consolidated in the result for the manufacturer/group.
Thus, Mercedes-Benz SA (MBSA) includes Freightliner and Fuso. Toyota/Hino contains both brands. MAN includes Volkswagen (VW) (Constellation) trucks and Volksbus passenger units, but not VW commercial vans (listed separately). Volvo Trucks includes Volvo Buses, UD Trucks, and Renault Trucks, and, starting with this review, Ever Star groups together Powerstar and Powerland products.
Please note that, owing to Naamsa's estimation of Mercedes-Benz, Freightliner and Fuso sales, as well as the resulting total market and individual segment volumes, we have not commented on supplier market shares, as these are factually unknown. The market shares listed in the chart are, therefore, not necessarily accurate, but included only for continuity. Our comments below will, therefore, concentrate only on absolute sales volumes and overall market positions for each individual supplier.
Mercedes-Benz SA (MBSA)
Within the limitations just explained, we have concluded that the Mercedes-Benz family has maintained its long-running market leadership position into the first quarter of 2015, with an estimated volume increase of 4,5 percent over its final quarter 2015 performance.
It is also still not possible to comment accurately on the individual market performances of the constituent Mercedes-Benz, Freightliner and Fuso brands. MBSA is introducing a new Actros 2646LS/33 variant to the EHCV segment. It has also recently launched new midibus/commuter bus chassis sourced from Fuso and Daimler India Commercial Vehicles.
The arrival of the latter, designated OF 917RF, raises the possibility that some BharatBenz products may be under consideration for the local market, given continuing frustrations over future clean fuel availability.
A total of 64 new city buses were scheduled for delivery to George by February, and MBSA is planning to bring CNG and dual-fuel buses to the South African market.
Volvo Group Southern Africa
As noted previously, the UD Trucks component of the Volvo Group has been running out its U41 MCV range during the review period, while stablemate Renault was simultaneously switching from broad EHCV segment coverage to a more application-specific line-up.
The timing of these strategic actions has resulted in a 30 percent reduction in the Group's sales volume in the first quarter of 2015, when compared to its result in the immediately preceding quarter. This has left the Group with a rather tenuous hold on the runners-up position in the market, which it has consistently held since consolidated reporting of Volvo, Renault and UD sales began in 2013.
The initial quarter of 2015 has, therefore, witnessed the first tangible outcomes of Volvo Group constituent brand repositioning, with Renault now specialising in the construction, and long-haul sectors with its K and C-ranges, while UD Trucks has exited the MCV segment without the immediate availability of a successor product.
During this period, UD Trucks launched its Thai-sourced Quester "emerging markets" EHCV range at an impressive event in the Waterberg, marking this brand's initial entry to the 8×4 and 6×2 categories within the EHCV segment.
The Volvo Group also opened its impressive regional parts distribution centre located in Ekhuruleni, during March, as part of its policy of combining back-office functions for all members of its family. Its Durban plant was also upgraded to assemble the latest-generation Renault trucks.
There has been much talk of a local market entry by the Group's Indian operation, Volvo Eicher, later this year, although no specific details have yet been revealed.
Hino/Toyota
Toyota SA's truck specialist division suffered a 2,1 percent decline in reported volumes in the comparison between this review period and the preceding quarter, but nevertheless achieved promotion in the overall market rankings from fourth to third position.
Notably, the combination of Toyota Dyna and Hino 300 Series products managed to achieve overall leadership of the MCV segment during the quarter just completed, and the planned introduction of additional automatic transmission and crew-cab variants to this range should strengthen its position even further.
Hino's push for greater penetration of the EHCV segment with its 700 Series has been underpinned by the deployment of EHCV specialist salesmen in dealerships, together with the promotion of maintenance plans, a used-truck programme and a buyback facility.
Isuzu Truck SA (ITSA)
ITSA was relegated from third to fourth position in the first quarter 2015 market rankings, on the back of a 37,4 percent reduction in absolute sales volume when compared to its performance in the final quarter of 2014. This was caused almost entirely by a more than
50 percent reduction in MCV category N-Series deliveries, which had been bolstered, in late 2014, by large-scale deliveries to a major bakery group.
In sharp contrast, Isuzu's HCV and EHCV volumes held steady in the review period, to the extent that the Japanese brand was the overall leader of the former category over the January to March period.
Scania
Scania's success story in the South African truck market continued unabated into the initial quarter of 2015, when the Swedish brand was promoted from sixth to fifth position in the market standings, having achieved a
23 percent increase in reported volume sales over its fourth quarter 2014 outcome.
Scania is currently placing considerable emphasis on driver education in its promotional activities, and is deploying industry-specific specialists within its sales force. The manufacturer is also launching an optimised construction range made up of 6×4 and 8×4 tippers/mixers during 2015.
MAN Group
The MAN Group's first quarter 2015 sales volume finished a very substantial 25 percent off its final quarter 2015 level, due primarily to a 34 percent reduction in EHCV deliveries, with HCV and bus volumes remaining steady. This resulted in demotion from fifth to sixth position in the market standings.
Most of the volume reduction was suffered by the parent MAN brand, but it was notable that subsidiary marque, Volkswagen, was able to achieve a 22,6 percent volume improvement in comparison with its previous quarter result, mainly due to the more than doubling of its bus deliveries. However, the performance of its Constellation truck range was very disappointing, with only seven EHCV units sold, and no units reported in the HCV segment.
The Group recently opened a new truck and bus dealer outlet, for both MAN and Volkswagen products, to the east of Tshwane, and Imperial Cargo announced the purchase of 60 TGS 26.440 truck tractors on a 36-month/
600 000 km rental agreement.
MAN is launching a new 500+ hp (373 kW) TGX tractor variant during 2015, together with its RR9 rear-engined high-floor bus chassis.
Iveco
Iveco's volume performance fell away slightly during the first quarter, when compared to its result in the preceding review period, with 3,6 percent fewer reported deliveries, although it was able to achieve an improvement from eighth to seventh position in the overall market rankings.
Iveco's recent promotional activities have been centred mainly on the manufacturer's participation in the 2015 Dakar rally, and the ramping up of production at its recently opened Rosslyn joint-venture facility.
Tata
Tata's first quarter 2015 performance included sales volume growth of 2,9 percent over its October to December 2014 outcome, but also the giving up of one market ranking position from seventh to eighth place. Tata has been progressively fleshing out its local product range to obtain more comprehensive market coverage. It is evident that its Prima "World Truck" series has played an increasingly important role in the marque's EHCV sales reporting since the first examples were retailed in May, 2014.
FAW
Chinese manufacturer FAW recorded an impressive 17,8 percent gain in sales volume in the comparison between the first quarter of 2015, and the final quarter of 2014, thus consolidating the tenth position in the market rankings that the brand held throughout 2014.
FAW, which is currently celebrating the 21st anniversary of its presence in the South African market, recently brought the truck bodybuilding shop at its Coega, Eastern Cape, plant into operation.
Ever Star
With the first retail reporting of Powerland branded products during the month of February, 2015, it has become appropriate to create a profile for the Ever Star group in this review, as it now distributes both the Powerstar (Bei Ben) and Powerland (Shaanxi) brands in this market.
Overall, the new group improved on the stand-alone Powerstar fourth quarter 2014 volume performance by a margin of 35,6 percent, and has moved from 12th to 11th position in the market standings.
With the introduction of the Powerland range, and increasing emphasis being placed on Powerstar's premium V3 2646 in the local market, it is evident that this Group is now broadening its focus outside of its traditional participation (mainly in the construction and mining sectors) to include the targeting of medium and long-distance haulage applications.
AMH/AAD
The Imperial Group's commercial vehicle operation recorded 37 percent fewer deliveries during the review quarter, than had been the case during the final three months of 2014. This resulted in a fall from 11th to12th position in the market rankings.
During the first quarter, the group initiated local assembly of the Hyundai H100 pickup at its Apex assembly facility, and announced that it was planning to bring the H350 range of MCV segment panel vans, chassis-cabs and midibuses to the local market.
JMC
JMC retained its 13th position in the market rankings during the review quarter, having improved its volume performance by a margin of 5,9 percent over its fourth quarter, 2014, outcome. This Chinese brand continues to be represented only in the MCV segment of the local market.
Babcock/DAF
With reported sales of 34 units in the January to March 2015 period, Babcock/DAF fell 39 percent short of its previous quarter performance, and was relegated from 14th to 15th position in the overall market rankings. It has been reported that Babcock plans to hold built-up stock of mixer and tipper models to encourage construction sector sales, and has recently added a 4×2 truck-tractor derivative to its local product line-up.
VDL
Bus chassis specialist supplier VDL recently announced product enhancements to its front-engined bus chassis range, while recording first quarter 2015 sales of four units; this being equal to its performance during the preceding quarter.
European van manufacturers
Of the five vehicle manufacturers that have regularly participated in the MCV segment of this market with European-sourced integral vans and their spun-off derivatives, only Citroën has not recorded any sales during the past two quarters, and the French concern appears to have terminated its local participation in the category.
Of the remaining four participants, only Ford, with its Transit/Tourneo family of vans and people movers, recorded an improved performance in the first quarter of 2015 over the preceding review period, with a 5,7 percent increase in absolute volume, and promotion from 15th to 14th position in the rankings.
All of Volkswagen Commercials, Peugeot, and Fiat suffered quarter-on-quarter volume losses, to the tune of 22,2 percent, 55 percent and 17,2 percent respectively. In the process, Volkswagen gave up one market ranking position to end the first quarter in ninth position, while Peugeot and Fiat held on to their final quarter 2014 rankings of 17th and 16th, respectively.
Non-reporting manufacturers
Readers should note that local sales volumes of several commercial vehicle brands, including Dong Feng, Yutong, Foton and Ashok Leyland, are not yet reported to Naamsa, and are, therefore, excluded from the comments and data contained in this report.
GENERAL MARKET COMMENTS
Published comments by supply industry management have generally included predictions for a flat year in the 2015 truck market, with some outlooks of negative outcomes for individual segments.
The general business mood in the country, at present, is not particularly positive. There is much focus on the inability of Eskom to provide continuous and reliable power supply, while the unstable situation in the trade union environment, typified by in-fighting and position taking, suggests that the threat of prolonged and disruptive strike action in the private and public sectors is very real.
However, as noted previously, those portions of the market that have not been fettered by availability issues are showing year-on-year growth of just less than four percent at the end of the first quarter. It can be rationally expected that the remaining participants in the MCV segment will take urgent steps to fill any gaps left by withdrawals. It can also be expected that the Volvo Group will take action to restore its broad market coverage, and this will lead to increased levels of competition for MCV sales.
If the current level of cumulative growth in the segments over 8 500 kg GVM is maintained, and the MCV category regains its momentum, a final full-year 2015 market outcome totalling some 32 500 units will become a realistic expectation.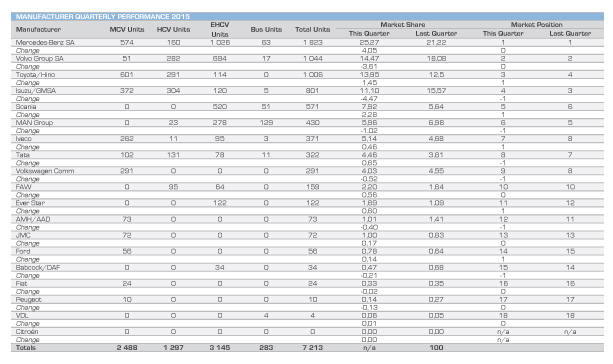 Focus on Transport
May 1, 2015
Published by