Our intrepid explorer, SHAUN CONNORS, dashes over to Germany to argue with the locals and put an 8×8 airfield crash tender through its paces…
Previous attempts at getting my hands on an example of the daddy of all airfield crash tenders (an 8×8) had, if you'll pardon the pun, failed to get off the ground… And then I mentioned the idea to MAN… OK, MAN probably isn't the first name you'd think of when it comes to airfield crash tender manufacturers, if indeed you could think of any. In fact, MAN doesn't think it has a single crash tender operating at a UK airport… Naturally in Germany, you'll find a few more… and they're built just down the road from what is officially known as Franz Josef Strauss International Airport (Munich Airport to the rest of us!)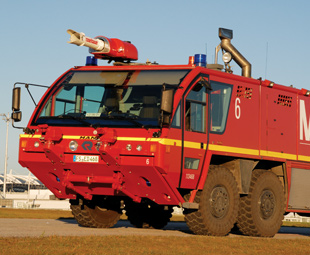 Work on Munich Airport began in 1982, with this work including the demolition of a 500-occupant village – can't see the ecomentalists letting anybody get away with that one nowadays. The airport opened its doors (runways?) to the public in 1992, and much of the testing on the original MAN crash tenders was done at the work-in-progress airport and, from there, a strong relationship developed between MAN and the airport's fire department. So when my request for a cruise was channeled through MAN, the answer was, "Ja!". In fact, Munich's airport fire department is very unusual in that it provides recently re-instated (post-911) guided tours for approximately 11 000 people per year. However, I'm sure not many of these get to play Fireman Sam.
Munich airport has two fire stations, designated (logically) north and south, these are crewed by 164 employees, with a minimum of 42 on station at any one time. Two fire stations are required at Munich to meet the International Civil Aviation Organization (ICAO) recommendation that, subject to driving conditions, any point on either of the two 4 000 metre runways can be reached within 180 seconds of the alarm being raised. The ICAO categorises airports from one to ten, depending on size and number of aircraft, also specifying the number of fire fighting vehicles and quantities of extinguishing agents they should carry.
Munich is Germany's second (Europe's seventh, and world's 14th) busiest airport – in terms of international passenger traffic, and during 2009 it moved around 32,5 million passengers making it a category nine airport. In 2009, it was named the second Best Airport in Europe, and the fifth in the world by Skytrax, the air transport research company.
The airport fire department has a fleet of around 30 specialist vehicles, but I was only interested in one of them… Tipping the scales at 40-ton and powered by a 746 kW (1 000 hp) 21,92-litre V12 MAN diesel that normally powers trains and boats (not trucks), this futuristic-looking 8×8 has its origins in a version of MAN's Category 1 8×8 truck, designed for the German Army as a mount for the Patriot surface-to-air missile system… Somebody somewhere just thought the stability of a purpose-designed 2,9 m wide 8×8 chassis would make a good airport crash tender. Give that man a pay rise.
With a world record holding top speed of 141,3 km/h and the ability to accelerate from a standing start to 80 km/h in 21,1 secs, none of those 1 000 horses can be wasted. And so, for fire-fighting, a separate 232 kW (311 hp) engine is fitted to pump up to 8 000 l/min of water and/or foam to a combination of a roof-mounted monitor (up to 6 000 l/min with an 80 metre range), two smaller bumper-mounted monitors, or an underbody sprinkler system to protect the tyres from heat/fire. And talking tyres, at a 13-tonne axle load, Michelin rate the 1600R 20 XZLs at 140 km/h for 15 minutes.
Average mileage for a vehicle at Munich Airport is around 3 500 km per year, although almost all of that is flat out, and much of it is training for what everybody hopes will never happen. In fact, the closest Munich has come to a Hollywood movie-style crash was when a pilot from a near bankrupt somewhereistan, flying a plane made out of old egg boxes, ran out of fuel and  "landed" in a field a few kilometres short of the runway.
In fact, from 2 651 callouts during 2007, the airport fire department extinguished only 116 fires, most of those being nothing more exciting than faulty microwaves or wastepaper baskets… Even worse (or better, depending on which way you look at it), on average, just over a third of all callouts are false alarms…
Of course, I was determined to test the vehicle fully for my FOCUS readers. Which meant a simple request on the subject of fire. "Any chance you could set something on fire for me?" I asked. "Nein," was the short version of the reply.
After then watching some driver training during which a budding Michael Schumacher did a three-sixty in 40 ton of fire truck on the skidpan, I then asked if I could have a go at that. The short answer included another "nein" followed by a germanically serious lecture about how not to do that. "How about a go at that world speed record then?" I asked. "Nein," was the full version of the answer in this case…
Eventually and largely because I suspect I was driving them completely nuts with my requests, I did get to drive, albeit within certain guidelines. So what's it like behind the wheel? Well, the central driving position is great, but maybe only when you don't need to worry about lanes or have to keep on a specific side of the road. And somehow 90 km/h (the limit to which all trucks over 7,5-t GVW are restricted to in the civilised parts of Europe) will just never seem fast enough again…
Focus on Transport
November 1, 2010
Published by