New dawn for Limpopo and MAN
With Limpopo Province's fair share of gravel and informal roads, maintenance of the Great North Transport Company's ageing fleet has become an ever-growing challenge. The company has, however, set the wheels of change in motion with the purchase of 80 new MAN buses. THINUS VAN ROOYEN reports.
During a chilly morning in July, the first step of significant change in the public transport sector of the Limpopo Province was celebrated.
Amid a typically rural combination of buses, trucks and donkey carts, the Great North Transport (GNT) Company's Mokopane bus depository played host to the handover of 10 brand new MAN Lion's Explorer HB4 26.310 FOCNR commuter-type buses.
The first 10 buses were handed over as part of a high-profile contract between GNT and MAN Truck & Bus for 80 buses worth approximately R140 million. The remaining 70 buses are set to be delivered during the rest of the year. The last of which are due to begin daily commutes through Mokopane, Marble Hall, and Hoedspruit early next year.
"This is a milestone event in the history of both organisations," says Bruce Dickson, CEO of MAN. "We will strive for superior service and consistent improvement."
The Gazankulu Transport Company and the Lebowa Transport Company amalgamated in 1996 to form the Great North Transport Company. Since then, GNT has become the leading premier bus passenger transport company in the Limpopo Province. Specialising in commuter, private hire, scholar/employee, inter-town and cross-border services, GNT carries in excess of 36 million passengers, over a distance of 36 million kilometres per annum.
GNT is wholly owned by the Limpopo Economic Development Agency (LEDA) and thus is administered by the province.
Despite such a large number of daily commuters, much of Limpopo's roads are informal, or merely gravelled. Subsequently, fleet breakdowns and maintenance costs have increased as its fleet has grown older and more worn out.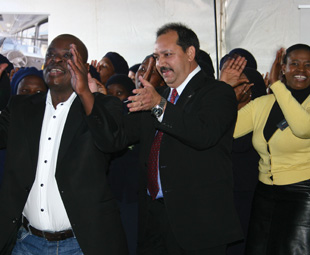 Against ten other competitors, Man Truck & Bus walked away with the contract for the 80 new buses. These are the first MAN buses to be commissioned by GNT. "We have an ageing fleet, with some of the oldest buses having been in service for over a decade," says GNT's first female CEO, Busi Mhaga. "The procurement of the new MAN buses forms part of our fleet rejuvenation programme, which includes overall fleet expansion and diversification into the luxury coach and cross-border markets."
Having recognised the need for new transport vehicles, GNT released a tender according to stringent Department of Trade and Industry guidelines, which stressed the need for competent bus prices, local-content quotas, skills-transfer obligations, job creation, and vehicle delivery parameters.
With traditional Tsonga flair, the proceedings of the day were initiated by the large St Engenas Zionist Christian Church choir, followed by statements and speeches from both MAN and GNT executive management. Further entertainment was provided in the form of various traditional Tsonga dance performances.
"Our average daily round-trip route is around 100 km on predominantly gravel roads. I'm pleased to say that the MAN HB4 has a solid track record in this type of start-stop application," says GNT's chief operating officer, Nkhensani Hlungwane. "It has the necessary build-quality, safety features, fuel economy and reliability to ensure we keep both our customers and our shareholders happy."
The HB4 runs on a Euro-3, front-mounted MAN D20 common-rail diesel engine. With a power output of 305,75 hp (228 kW) it produces 1 550 Nm torque between 1 000 and 1 400 r/min. The engine of the HB4 is accompanied by newer safety features such as TipMatic transmission, ZF intarder, full electronic braking system (EBS), ABS, traction control (ASR) and electro-pneumatic brakes (EPB).
According to Mhaga, the speedy delivery of the MAN HB4s provided GNT with much-needed refreshment in their fleet variety. Many buses in GNT's fleet had experienced regular breakdowns and maintenance hiccups. With its 6×2 air-suspended driveline and chassis, the HB4 will be able to take on the challenge of dealing with Limpopo's informal, gravel and rural roads.
Dickson adds that alongside the bus handover, extensive "train-the-trainer" courses will be undertaken via MAN's Driver Academy to cement driver confidence and competence among the GNT drivers operating the new HB4 buses.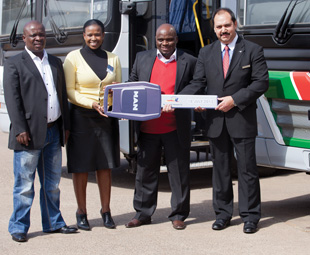 Supplementary training programmes will also be provided to GNT employees by seasoned MAN technicians in order for them to eventually sustain the quality of service and maintenance of GNT's new fleet at their own depots. Full maintenance of the buses will be executed by United Truck Centre.
According to GNT board chairman, Muthuhadini Madzivhandila, the company also has plans to establish a fully fledged driver's academy for its employees, with the cooperation of MAN, during the next year.
Madzivhandila also states that as GNT acquires the new buses, the older ones will be sold to smaller private bus transport companies in Limpopo.
"We are not in a space of making profit," he says. "We are here to serve the community. The fact that GNT has empowered a number of smaller private bus operators in Limpopo is a clear indication of the entrepreneurial spirit within the organisation."
Dickson is upbeat about the relationship between the two companies. "It is this forward-thinking approach to managing a commuter bus fleet that gives me every confidence that our partnership with GNT will grow from strength to strength," he concludes.
Focus on Transport
August 1, 2013
Published by