New products and CL for VDL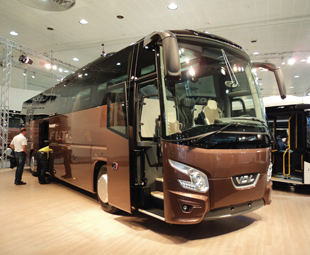 A new range of touring coaches and public transport buses, with a new corporate logo on the grille, is being launched by Dutch-based VDL Bus & Coach, with the first models having been revealed at the IAA in Hannover. This is part of a marketing drive by the company to show a single face – and a strong, unified bus brand – to the outside world
Since the takeover of chassis maker DAF Bus International, in 1993, VDL Groep was an active player in the European bus and coach industry. Following the takeover of bus manufacturers Berkhof Jonckheere Groep in 1998 and BOVA in 2003, VDL Groep had seven bus companies and several bus types under different marques.
In 2005 VDL Bus & Coach was set up with the aim of turning the bus group into a single strong bus company, with a single face. From 2007 considerable investments were made in developing new products and improving the production processes.
A great deal of market res
earch was also conducted so that the new VDL bus brand could be strongly positioned. With a streamlined product range, more efficient production and a clear projected image, VDL Bus & Coach says it is ready for the future.
"Together we possess many decades of experience in the construction of buses and coaches," said CEO of VDL Bus & Coach, Rémi Henkemans. "We are bus and coach builders, heart and soul, and will continue to be so in the future."
VDL's new coach made its world premiere at the IAA trade fair. It will be available in five length variants, as a two-axle and three-axle model, and bears the name Futura. Futura will now form the basis for a modular product family and all future VDL coaches. This means that the name and styling of the various height variants and the double-decker will be changed.
The name Futura is well established in Europe, as it was introduced in 1982 by BOVA. Nearly 11 000 Futura coach variants have been sold since then, having a reputation for their high cost-effectiveness,
VDL now hopes to satisfy European and international markets with another range designed to offer a very low net weight, aerodynamic finish and economical DAF drivelines.
Besides the new Futura, VDL Bus & Coach will also market its public transport buses under a single name: Citea. The Citea low floor was first present
ed during the UITP Mobility and City Transport Exhibition 2007 in Helsinki.
This bus recently received the prestigious Bus of the Year 2011 award. The Citea range is now available in several variants, one being a low entry variant with two and three axles.
The Citea has also undergone a restyling to match the Futura. So as to position the VDL brand strongly on the market, all public transport buses will also bear the new VDL bus logo. The product range is completed with an articulated variant and hybrid versions.
VDL Bus & Coach South Africa is responsible for sales, after sales and parts for all VDL Bus & Coach products in South Africa and is based in Meyersdal, Gauteng.
Focus on Transport
November 1, 2010
Published by