No more sleepless nights over tyres
On Wednesday (August 2) TrenTyre, in partnership with Goodyear South Africa, launched its FleetFirst tyre management solution, which aims to reduce the downtime and total cost of ownership for fleet owners and managers.
Although the solution is currently running in 28 European countries, this is the first time it will be available to South African commercial fleets. "With this new service offering, TrenTyre will provide fleet owners peace of mind," says Stephen Smith, operations director at TrenTyre.
FleetFirst offers tyre maintenance services with its TruckForce Van, which is equipped with all the necessary tools for full tyre management. With the van, Goodyear and TrenTyre technicians can conduct a tyre inspection at a client's depot.
Tyre inflation, tread and nuts are tested and a visual inspection is undertaken. As part of the inspection the technicians complete a survey on a tablet. The information is then uploaded to the fleet online solutions database. If any concerns arise, the technicians are also able to service the tyre.
The van even includes a mobile wheel balancing machine, which allows the technicians to identify any imbalances and areas where more weights need to be applied on the tyre within about 20 minutes.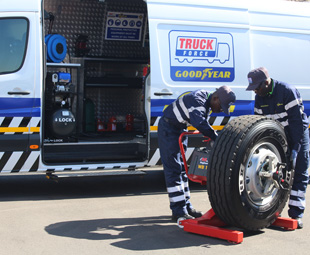 All the work undertaken on the fleet can be monitored by the client through the fleet online solution system. The client can thus contact TrenTyre immediately if they have any concerns before the technician leaves the site.
Included in the FleetFirst solution is the ServiceLine24h, which offers TrenTyre clients emergency truck tyre services at all times. "Trucks that have broken down can be back on the road within two hours with the TruckForce Van services," says Smith.
"As local and global markets evolve, and just about any problem can be solved using an app, TrenTyre recognises the need to move with the times. If anything, we believe that with FleetFirst we are ahead of the curve," concludes Smith.
Focus on Transport
August 3, 2017
Published by