The secret to astonishing your guests is to keep them guessing – which is exactly what Daimler Trucks & Buses (DT&B) did when it recently proved what it calls "The Power of Impossibilities". GAVIN MYERS joined in.
What do a police escort, a cruise along the Vaal River, a helicopter flight in a Vietnam-war Bell Huey helicopter, and an audio-visual extravaganza at Joburg's FNB Stadium, have in common?
Well, as DT&B – a division of Mercedes-Benz South Africa (MBSA) – was keen to prove, they all add up to "The Most Amazing Show on Earth" … which aptly demonstrated that nothing is impossible.
Of course, it wasn't all fun and games – you can't prove the power of possibilities without some solid hard work!
"Our vision is to be the first-choice business for commercial vehicle solutions and to make a real difference in the lives of our stakeholders," illustrates Kobus Van Zyl, executive director Daimler Trucks & Buses.
"We will achieve this by focusing on having the best people, being operationally excellent, ensuring sales growth, being customer centric, remaining product leaders that cover South Africa's whole commercial vehicle landscape, and communicating effectively."
Naturally, each piece of the DT&B puzzle has a significant role to play in bringing this picture to life.
Mercedes-Benz Trucks and Buses
The highlight event for Mercedes-Benz trucks was the official handing over of the one-millionth Actros to be produced, to Imperial Logistics. The Actros continues to offer innovative solutions such as: flexible service intervals through Telligent Maintenance; reduced service costs; decreased fuel consumption; increased up-time; and high-tech safety solutions, such as Active Brake Assist II.
"Buses are a unique business," Van Zyl continues. "The customer base is most unique in terms of knowledge and demand. Through excellent support from all areas of our company, we have a bus business that caters to every need in South Africa."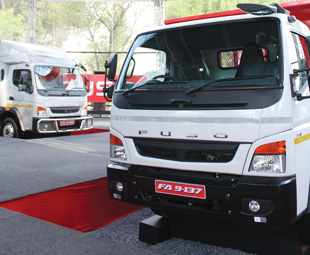 Mercedes-Benz Bus & Coach will soon also offer dual-fuel buses, which combine diesel and gas to produce eco-friendly vehicles.
Freightliner Trucks
Believe it or not, Freightliner currently leads all Daimler brands in South Africa for customer satisfaction – having achieved first position in the Heavy Truck Study Customer Service Index for sales and service.
"Freightliner vehicles have been represented in South Africa for 20 years and have certainly proved themselves during this time," explains Dirk Meyer, brand manager at Freightliner Trucks.
It's clear these trucks strike a particular chord with those who operate them. "A Freightliner customer talks more about nuts and bolts and less about costs," Meyer continues. "Freightliners suit them, because they are easy to fix at the side of the road. Our roadside fix rate is 98 percent. This is especially important for vehicles that are used north of our borders."
However, there is no denying that the brand has some challenges to overcome. "The rand/dollar exchange rate is currently a challenge – importing an American product is expensive at the moment and pricing it right is difficult," Meyer points out.
Fuso Trucks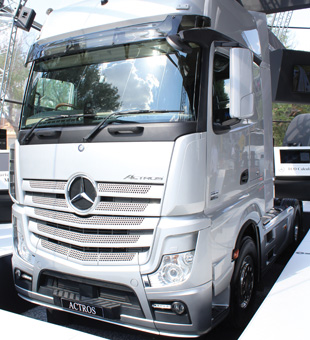 Naeem Hassim, head of Fuso Trucks SA, says the brand's prospects are looking good. To begin with, sales of DT&B's light- and medium-duty range of trucks are up by 40 percent, since the Duonic two-pedal transmission was introduced last year in response to demand from customers.
"The FE 7, FE 8 and Canter are doing extremely well at the moment, especially those with the Duonic transmission, which currently account for 40 percent of the sales," says Hassim. "We are developing an automated-manual transmission for the medium-duty FM as well, which will be introduced in the next couple of months."
Of course, you would have read last month that the company has introduced the FA 9, from the Daimler India Commercial Vehicles operation, to offer a payload up to five tonnes.
"The FA 9 is starting to make inroads and I'm quite optimistic that this will be a good seller for us," Hassim adds.
Those worried about the quality of vehicles produced in India needn't be, as Van Zyl points out: "Because Daimler Trucks implements the same processes in all our plants, we can guarantee the FA 9 will be built to the same standard as any of our other brands."
"Our ideal is that of 'the fusion of motion', which relates to us being able to offer a variety that we've never had before," Hassim smiles.
Western Star Trucks
Duncan Prince, manager: specialised heavy trucks, has a deep passion for this purpose-built brand of trucks. "Western Star is a niche market brand that caters to specialised applications. There are only about 300 of these trucks operating in South Africa," he explains.
The brand has proven itself in the heavy-vehicle towing and recovery application, where it dominates. Of course, low beds, road trains and specialised chassis are what Western Star trucks does best.
"We're good at this, because our chassis are adapted for South Africa," Prince says. "Our solution is to build a truck that meets local specification, equip it with what the customer needs, and ship it to South Africa ready to go. You can mount equipment of up to about 25 t on a single three-, four- or five-axle chassis and it will be street legal.
"Our customers like them, because they can get the vehicle they need for their specific application. The vehicles are very rugged and our customers like the American drivetrain. Beyond that, people think it's a very cool-looking truck!" he laughs.
Mercedes-Benz Value Chain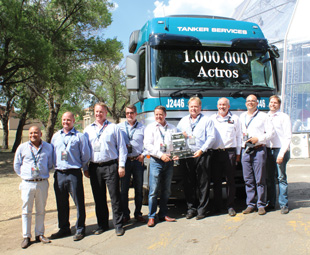 As Van Zyl points out, "product" cannot only refer to the truck the customer buys. "It's far more than that; it's the whole value chain around the vehicle – understanding the customer's business, looking at operating risks, finding ways to share and manage that risk."
FleetBoard, TruckStore, CharterWay and Mercedes-Benz Financial Services (MBFS) are the tools that allow this.
More than 60 percent of all Actros trucks are sold with the FleetBoard telematics system, which is also available on Mercedes-Benz vans, buses and Fuso vehicles. Among other things, the system incorporates stolen-vehicle recovery and a handheld device for distribution customers.
The Centurion-based TruckStore pre-owned vehicle business has quickly become the best-performing commercial vehicle dealership within MBSA, selling more than 700 trucks a year.
With CharterWay, DT&B takes on the challenge of guaranteeing uptime. "We offer a single point of contact for all aftersales requirements and are able to predetermine future costs of the operation," Van Zyl says.
"Finally, through MBFS customers are offered innovative financial products, which include an unmatched operating lease that has contributed to MBFS reaching the billion rand mark in sales," Van Zyl smiles proudly.
"As DT&B, we always believe that our stakeholders – whether they are customers, government, media, dealer partners, the various charities we support, or suppliers – always have to experience us making magic for them," says Van Zyl.
"This means continuously doing what others believe to be impossible. It's easy to write a contract, but, at the end of the day, we need to deliver on the experience."
This event certainly showed that DT&B has no problem proving the "Power of Impossibilities" and creating an amazing experience.
Focus on Transport
December 4, 2015
Published by