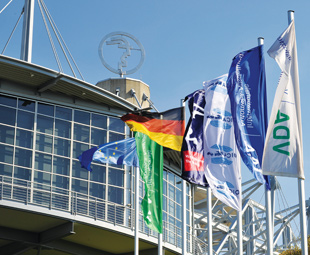 While some companies are still reeling from the recession and the dancing girls were not as plentiful as usual (presumably because of budget cuts), there was still plenty to see at this year's IAA. CHARLEEN CLARKE trawled through all the halls in search of the latest and greatest new products…
While the truckers may have missed the dancing girls, there were still lots of reasons to smile in Hannover this year. I say this because there was an air of optimism at the show. And, if there was one recurring message at all the media conferences, it was this: things are getting better.
DELIGHT AT DAIMLER
Andreas Renschler, Daimler board of management member responsible for Daimler trucks and buses, set the tone for the show when he noted with a wry smile that he was delighted to be able to "completely concentrate on commercial vehicles instead of discussing the consequences of housing bubbles or bankrupt banks". "It's true that the market still has a long way to go before it reaches the level it occupied at the previous IAA. But there's no doubt that the IAA 2010 marks a turning point. The recovery is here!" he announced.
This is not just his opinion; Daimler's sales figures bear it out. Renschler revealed that sales in the first eight months of 2010 were considerably up on the same period last year. In fact, the company's bus sales have risen by 22%, Mercedes-Benz van sales are 48% up and Daimler truck sales have increased by 33%. Told you there were lots of reasons to smile…
The company's stand was another reason to grin; it was home to no fewer than 65 vehicles! (Read all about it on page 14 of this issue of FOCUS.) As could be expected, Daimler placed strong emphasis on "green" vehicles – amongst the environmentally friendly vehicles on its stand were the Atego BlueTec Hybrid, Econic NGT Biogas, Vito E-CELL (a world premiere), as well as the Citaro FuelCELL Hybrid and Canter E-CELL study.
Daimler unveiled Active Brake Assist 2 on the Actros. An evolution of Active Brake Assist (which applies the brakes when there is a risk of a rear-end collision with a slower vehicle in front), this new system also brakes for stationary objects. Any innovation that can save lives is cause to celebrate, I reckon…
What was particularly fascinating about the Daimler stand was the fact that all the company's commercial vehicle brands were housed under one roof for the first time ever. I guess this is indicative of the fact that the world is becoming a very small place – we no longer trade within borders and countries; we trade globally…
MAN FOCUSES ON FUEL SAVINGS
It was interesting to see MAN adopt precisely the same approach – for the first time its brands (MAN, Neoplan and Volkswagen) also shared the same stand. The truly terrific Concept S was the star of the stand (read all about this truck on page 22).
The Concept S is a sign of things to come; in terms of here and now the company impressed visitors with its ultra efficient TGX EfficientLine which, as a result of several innovations, sips diesel ever so slowly. In fact, MAN reckons that it can chop a fuel bill by three litres of diesel per hundred kilometres, which ain't to be sniffed at! If you use the example of a long-haul truck operating in Europe, for instance, assuming that the truck does 150 000 km a year, the transport operator can save nearly €20 000 (or about R200 000 depending on the exchange rate). Naturally, there are considerable CO2  emission implications too; MAN says a reduction of 3,0 l/100 km reduces the annual CO2  emission by almost 12 tons per vehicle.
So how has it achieved this? Well, it's all about reducing drag, which – as we all know – is the primary cause of fuel consumption in long-haul transport. So the TGX EfficientLine only comes without fittings such as sun visors or compressed-air horns on its standard XLX cab. This saves up to 0,3 litres of diesel per 100 km. At the same time, standard equipment includes aerodynamic side cladding, which reduces consumption by another 0,4 litres.
Its top speed is electronically restricted to 85 km/h – field tests proved that this would reduce consumption by another 0,6 to 2,2 litres.
Other fuel-saving measures include the MAN TipMatic, which always selects the most economical gear; a new Intarder (friction losses when idling are reduced by 25%; this reduces fuel consumption by around 0,15 l/100 km); and a tyre pressure management system (tyre pressure a mere 2 bar too low increases fuel consumption by 1,2 l/100 km).
IVECO GLIDES INTO IAA

While the EcoStralis, the Iveco flagship, made its world debut at the IAA (it really is innovative and green), the company also displayed the Electric Daily, an inner-city series-production vehicle. Also on display was the Iveco Glider, which featured a belt-less engine, electricity generated by photovoltaic solar panels, a KERS kinetic energy recovery system and an exhaust gas heat recovery system.
While Iveco CEO Paolo Monferino said he was "optimistically confident" about prospects for the market and he agreed that the market was recovering, he said that the European markets would not reach their 2007/2008 levels "for some years to come".
ISRINGHAUSEN GETS INNOVATIVE
Isringhausen introduced its Velocity progressive shock absorber. This innovation in its truck seats reduces oscillation and amplitude while driving, and increases comfort and safety. Plus it showed visitors its new ISRI seats, which boast an integrated three-point belt system. The big news was that they offer 100 mm of seat belt height adjustment, for more comfort.
SCANIA GOES GREEN
Scania made a big noise about "Ecolution", its range of green products and services. This is the latest in a series of "green" initiatives by the company. Recently, for instance, when it launched its new truck range based on V8 engines, the company chose to webcast the media conference. A whopping 100 tons of CO2 emissions were saved by not flying the 200 registered journalists to Sweden.
Of course, on a local front, Scania has been rolling out elements of this strategy for some time – it is actively involved in numerous green initiatives and its ethanol powered buses are already running on Johannesburg's streets (read more about this on page 100).
Scania also lifted the lid on a new 9,3-litre Euro 5 gas engine for distribution and refuse collection trucks and city bus operation. Read all about the Scania stand on page 16.
AMAROK NOW SINGLE
The big news on the Volkswagen Commercial Vehicles stand was the world launch of the Amarok SingleCab. The SingleCab has a load surface 2,20 metres long with the same overall vehicle length as the double cab, which means that two Europa pallets can be stowed one behind another (loaded transversely). The Amarok SingleCab will be launched in South Africa in the third quarter of next year.
RENAULT OPTS FOR ELECTRIC
Renault launched its Lander OptiTrack. Based on a "conventional" Premium Lander 4×2, its hydraulic drive system offers temporary 4×4 transmission when it is needed, avoiding the disadvantages of all-wheel drive. It also displayed the Renault Maxity Electric. Equipped with an asynchronous electric motor, the Maxity Electric has a maximum speed of 90 km/h and an operating range of 100 km.
It was good to chat to Renault president, Stefano Chmielewski, who is predicting a "slow and modest" recovery in the European truck market over the next two years.
ALCOA LAUNCHES WHEELS
Alcoa launched new medium duty truck wheels (17.5 x 6.75, for trucks within the 6 to 12-ton range). It also exhibited a lightweight, unified rim flange for Alcoa 22.5, which will be available overseas in October. Plus it announced that it would be working with SAF-HOLLAND on the development of a new 22.5 x 11.75 trailer wheel, which can be mounted without a separate hub flange.
BRIDGESTONE (AND CO) GO GREEN
The environment was big news everywhere at the show, and the tyre companies didn't hesitate to join the green party. Bridgestone, for instance, launched Ecopia, a range of low-rolling-resistance truck tyres. The company maintains that the line-up reduces fuel consumption and carbon emissions, without compromising the tyre's performance.
VOLVO LAUNCHES FM
Volvo showed its new FM, which boasts a modern design, even more comfortable interior, high payload, good performance and commendable fuel efficiency. The new FMX construction truck, which appears on this month's cover and is also featured on page 24 of this issue of FOCUS, also attracted a lot of attention. Yet another innovation on the Volvo stand was the Volvo FM with its methane diesel engine. Volvo is the first truck manufacturer in the world to combine Euro 5 diesel engines with gas combustion. It does need a teeny bit of diesel (to ignite the gas) but it's mainly powered by methane. It's seriously clever stuff; Volvo says it is 30 to 40% more efficient than regular gas trucks.
Staffan Jufors, president and CEO of Volvo Trucks, was upbeat and announced that the company was ramping up production and "happy to rehire employees".
Volvo also displayed its 7700 Hybrid bus, which fulfils exactly the same function as the diesel version of the same model but with up to 35% less fuel consumption and sharply reduced emissions. "All indications are that hybrid buses will replace diesel buses in city traffic," noted Stefan Guttman, vice-president of Volvo Buses.
PEUGEOT CROSSES THE DECADES
From old (vintage) vehicles to an electric car… the Peugeot stand really was fascinating. The French manufacturer showed the Peugeot Partner Origin Electric, a zero-emission transporter with a cargo volume of up to 3 000 litres, 42 kW of power and a range of 120 km. It displayed the Peugeot Bipper 1,3-litre HDi FAP SST, which comes with ESP and stop/start technology. And it also exhibited the Peugeot i0n electric car. It had been converted into a city delivery vehicle – with two seats, a flat cargo floor and specially conceived transport boxes from Sortimo.
NEW COACH FROM VDL
VDL exhibited the Citea Low Floor public transport bus, which has just scooped the  international Bus of the Year award.
New VDL Futura – a classic high deck coach for the European market – also made its world debut. At this stage there are two models in the range: a two-axle coach with a length of 12,9 metres and a three-axle coach that stretches to 13,9 metres.
The Futura has always been known for its high cost-effectiveness, and VDL says the latest model will deliver exactly that. But, with its exceptionally low net weight, aerodynamic design and economical DAF drivelines, the New Futura also raises the bar in terms of fuel consumption and emissions. The automatic
AS Tronic transmission provides smooth shifting, easing the driver's task. The modern electronic brake system (EBS) is equipped with a brake assistant. Furthermore, the Futura is fitted with the ESC stability program, which helps the driver maintain control of the vehicle during difficult manoeuvres and prevents roll-overs.
TRAILER DISC BRAKE FROM BPW
BPW focused on its trailer disc brake, the ECO Disc, which boasts an especially compact design (operators of three-axle rigs save up to 39 kg in weight). One of the reasons for its light weight is the fact that it is directly connected to the axle beam. Interior air bags protect the brake against dirt while it has a back plate position for easy handling during brake service. It is not necessary to remove the calliper when changing the disc and the resetting device is really easy to reach. This means that operators can change pads and discs in record time, reducing downtime and maintenance costs during brake servicing in the process.
BLING AT DAF
DAF Trucks presented the 12-ton LF45 hybrid truck, which uses a parallel diesel/electric hybrid system (the truck is driven by the diesel engine, the electric engine or a combination of both). It also showed a wide range of rigids, with a tailor-made vehicle for every application. And, in a first for the truck industry, DAF announced that it would be supplying all of its engine ratings in ultra-clean Enhanced Environmentally-friendly Vehicle (EEV) versions.
I loved its XF105 Super Space Cab Blue Edition, which had been blinged beyond belief (sadly it's only available in a limited series exclusively in Germany). The truck is powered by the 343 kW (460 hp) 12,9-litre PACCAR MX engine, linked to an automated AS-Tronic 12-speed gearbox. And it boasts skylights, xenon lights, a full aerodynamics package, Alcoa aluminium rims, air horns, a leather steering wheel, refrigerator, cab heater and enough audio equipment to make even the most hard-core DJ drool in delight.
JOST OFFERS PEACE OF MIND
JOST displayed a wide range of products, but the cherry on the top of its exhibition display was the LubeTronic, an automatic lubrication system for fifth wheel couplings, which reduces the need for maintenance to a minimum. The JSK 37CW and JSK 42W couplings have top plate liners that allow greaseless operation of the coupling plate, in addition to a plastic seal and maintenance-free joints or sliding bearings. With the standard mini-lubrication system LubeTronic 1Point, the lock jaw no longer needs to be lubricated, as previously necessary. The LubeTronic is mounted directly on the fifth-wheel coupling and has an integrated supply of lubricant as well as an electronic control which is supplied by a built-in battery. No other source of power is needed. The LubeTronic maintains the lock jaw for three years or 300 000 km fully automatically, supplying grease and constantly ensuring reliable and safe functioning. Meaning completely hassle-free lubrication…
The next IAA takes place in Hannover from 20 to 27 September 2012… see you there!
Focus on Transport
November 1, 2010
Published by