Options to boost business agility
Passenger transit operators located in South Africa's rural areas face challenges quite different from their metropolitan counterparts. As such, a well-defined business approach is required to satisfy the diverse transport needs of the local populace.
By nature, country towns are hubs of business activity servicing remote villages. People living in these villages require reliable transport to and from the towns, in order to work, shop and socialise.
The Limpopo municipality of Lephalale (formerly Ellisras) is such a town. Despite its remote location, it is something of a boom town – with the "under-construction" Medupi Power Station located only a few kilometres away. Expanding mining operations in the region are also creating an ongoing demand for labour and related services, not least of which is public transport.
Lephalale's Lowveld Bus Service was established in 1983 and has grown to become the top bus operation in the Waterberg region.
According to Frans Rossel, general manager of Lowveld Bus Service (and son of co-founder and current CEO/chairman, Louis Rossel): "Our operation is characterised by the diversity of both the business activity and the terrain in the area we service.
"Our contracts define our bus procurement policy. With each contract having unique requirements, our choice of bus to service these contracts is determined in a way that delivers optimum benefits for our clients, our passengers and the company."
With a 51 percent empowerment shareholding, Lowveld Bus Service remains a family-managed business that prides itself on its mix of youth and experience, as well as its ability to adapt swiftly to dynamic market demands. The fleet now numbers 270 buses – almost 50 percent of which are MAN – carrying some 30 000 passengers a day.
"We run a mixed fleet because of our 'horses for courses' procurement approach. Ever since our introduction to MAN in the early 1990s, though, we have continually increased our MAN component, because of its unmatched product range.
"Our contracts are diverse and include workforce transport for Medupi contractors, mine labour and private-sector commuters. We also offer private hire to schools, churches and other social organisations," explains Rossel.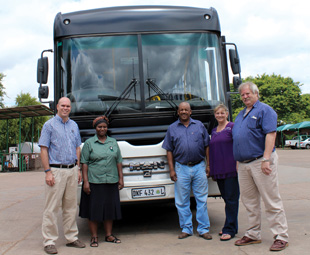 "Our choice of buses reflects these diverse applications and ranges from commuter specification units to semi-luxury coaches. With lead distances of up to 160 kilometres and at least 30 percent of our routes being on gravel roads, our 45 new Volkswagen 17.210 buses from MAN are proving extremely successful in terms of reliability, fuel economy and ease of maintenance.
"Our 40 MAN bus trains service our labour transport contracts perfectly, bringing economies of scale that no other bus supplier can offer," he elaborates.
The MAN HB Lion's Explorer range is well represented in the Lowveld Bus Service fleet, with 114, 80 and 65-seater configurations demonstrating the versatility of MAN's Olifantsfontein bus bodybuilding plant.
Thys de Beer, technical manager at Lowveld Bus Service, states: "MAN offers a complete package, which makes the entire process of buying and maintaining a bus fleet easier and more cost-effective. Our technicians receive ongoing training from MAN and are equipped with all the necessary tooling and diagnostic equipment.
"Furthermore, our four MAN-accredited workshops are supported by our parts department, which is managed on a daily basis by MAN's Hatfield dealership. This keeps our parts inventory at optimum levels and helps speed up our servicing turnaround times."
As South Africa's market-leading bus supplier, MAN values the relationship it has with entrepreneurial operations like Lowveld Bus Service.
"Our product portfolio is broad and application-specific," says Philip Kalil-Zackey, head of bus sales, MAN Truck & Bus SA. "As a bus supplier in southern Africa, MAN has the ability to supply drivetrain and chassis platforms to suit unique passenger-transit operations and to customise bus bodies to perfectly complement MAN's proven diesel technologies.
"MAN customers get exactly what they need to realise sustainable return on investment. Lowveld Bus Service is a perfect example of how MAN's products and after-sales service capacity serve one-of-a-kind bus operations."
Despite operational challenges, including difficulties in obtaining route permits, external labour unrest (20 Lowveld Bus Service buses were burnt during local community unrest in 2015) and its remote geographical location, the company is "in the right place at the right time", says Rossel.
"We are a streamlined operation and, although we employ over 400 people, we carry no fat. We have the energy, experience and versatility to be agile in a highly dynamic and competitive environment in which passengers will demand enhanced transport services in the future.
"We keep our ears close to the ground and know what our customers want – reliability, safety and comfort, at the right price. Lowveld Bus Service is extremely price-sensitive and our relationship with MAN enables us to match customer needs with business imperatives. This win-win situation makes us think twice before looking at competitor models," he concludes.
Focus on Transport
February 8, 2016
Published by