UD Buses on trial in India
FRANK BEETON reports on important UD bus news from India
In May, 2014, we reported on the re-entry of the UD brand into the global bus market. Somewhat surprisingly, the parent Volvo Group had elected to launch this initiative in India, and not in the brand's home market of Japan, or Thailand, which is the initial production base for the new UD Quester truck range.
UD (formerly Nissan Diesel) had exited the bus business in 2010, after a history of bus chassis manufacture that extended back into the middle years of the 20th century. Since then, UD has become a fully integrated member of the global Volvo Group, which is currently rolling out its strategy to fully utilise the strengths of its constituent companies, and reduce the geographic and product footprint overlap that has characterised its corporate structure until now.
Interestingly, the UD Buses project is being managed by Volvo Buses India, and does not appear to be directly connected to the VE Commercial Vehicles joint venture that operates between Volvo and Eicher, although it was apparent that engines built at VECV's Pithampur plant would be used in the new generation of UD buses.
In the initial announcement, it was mentioned that the range of UD buses and coaches, described as 12-m "value" products, would be built in a joint venture with local company SM Kannapa Automobile, in a facility located near Bangalore.
It was appropriate, therefore, that the Bangalore Metropolitan Transport Corporation, which operates 700 Volvos in a total fleet of 6 500 buses, would carry out the first operational trials of the new UD buses, and the first unit entered service for a two-month period starting in June, 2015.
This 36-seater, air-conditioned vehicle – designated UD SLF (semi-low floor) – is powered by a rear-mounted Volvo Group GH8 eight-litre turbocharged/intercooled diesel developing 171 kW (230 hp), driving through a six-speed ZF fully automatic transmission.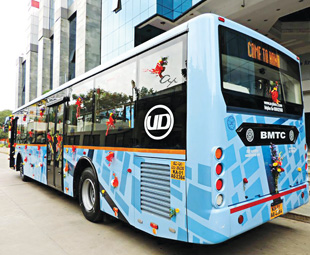 Other features include an anti-lock braking system, utilising front disc and rear drum brakes, a hydrodynamic retarder, full air suspension, roll stabilisers, and on-board diagnostics.
The prototype body was constructed by Volvo Buses India at its nearby Hoskote plant, although subsequent production units are, reportedly, to be built at the Volvo/SM Kannapa JV plant mentioned above.
It was not clear from the publicity related to the trials whether the UD SLF is of monocoque or separate chassis/body construction, although the "semi-low floor" designator does suggest the latter.
The Indian-manufactured engine is Euro-4 compliant, and the right-hand-drive configuration used in that country will facilitate the marketing of these UD buses in other areas where the left-hand rule of the road is the norm.
In the initial UD Buses launch announcement, it was stated that India would be the central focus for the brand, but that export to "growth markets" was also part of the strategy.
Focus on Transport
February 8, 2016
Published by