OZtentatious on every level …
Gone are striped prison garb and shackled chain gangs working along the roadside, and in are huge truck tractors shackled to multi-axle trailers – veritable road trains – thundering through the vast expanse of the Australian Outback. KIM KEMP braves wombats, kangaroos and flies (well, figuratively) to investigate what happens in the famous Australian road train fraternity …
Everything about Australia is ostentatious, from it spanning an astounding 7,6 million square kilometres – a self-contained continent – to its reputation for huge spiders and even bigger characters; size is what it's known for.
Not a land for the faint-hearted, "Oz", as it is colloquially named, is home to some of the most inhospitable territory on planet Earth; with temperatures so high in some parts, that you can literally fry an egg on the tar road, to windswept tracts of nothingness, to lush forests, mountain ranges and swollen rivers. It's a country so vast, so varied and so totally awe-inspiring, that ballads and movies, legends and mystical folklore shimmer in the endless heat haze, to a backdrop of didgeridoos and Aboriginal magic.
To survive in this environment, a long-haul trucker must be made of very stern stuff indeed. But stern stuff is exactly what the Australians are made of – and multiply that by ten when you are talking about an Australian trucker …
Road trains
Size is also evident in its road transport rigs. The country has a reputation for using road trains, with the most popular configurations generally comprising dual-drive axles and three axles on the trailers, with four tyres on each axle. This means that, in this vast land, single, semi-trailer trucks will usually have 22 wheels, which is generally more than their counterparts in other countries.
Long-haul transport usually operates as B-doubles: a truck (or prime mover, as trucks are called Down Under) towing two semi-trailers, each with three axles, for a total of nine axles (including steering). In some lighter-duty applications, only one of the rear axles of the truck is driven, and the trailer may have only two axles.
Set up differently to conventional road trains, from July 2007, the Australian federal and state governments allowed the introduction of B-triple trucks on a specified network of roads. In this configuration, the front of the first trailer is supported by the turntable on the prime mover; the second and third trailers are supported by turntables on the trailers in front of them. This results in a vehicle that is far more stable than a road train and handles exceptionally well.
A combination of a prime mover truck with (at least) three trailers or more, riding on around 60 wheels (minimum), they are truly awesome to behold. Capable of travelling up to 100 km/h, the monsters may take up to a kilometre to stop, obviously depending on their length.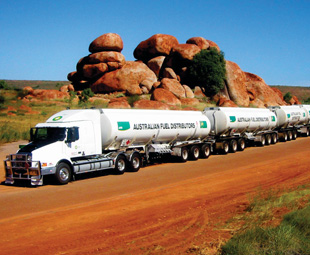 In Australia, the maximum length that any articulated vehicle may be (without a special permit and escort) is 53,5 m. Its maximum load may be up to 164 tonnes gross and it may have up to four trailers. However, in most states heavy restrictions apply to the areas where such a vehicle may travel. In remote areas, such as the Northern Territory, the longer articulated vehicles, especially four-trailer road trains, dominate the landscape.
Prime mover of choice
In this majestic land, Mack Trucks developed a strong and proud heritage, spanning over 100 years, and it still seems to be the vehicle of choice in the Outback. Truck tractors have to be built to cope with the myriad possibilities of things going horribly wrong. In this often hostile environment, a truck has to be equipped with more than that of the average hauler found in less challenging locations; more powerful, optimally cooled engines and better fuel efficiency must come standard.
Onboard the massive trucks, electronic engine controls limiting driver speed come factory-fitted, with some of the larger fleet operators electronically limiting their drivers to between 90 and 103 km/h – with some flexibility to accelerate when needed.
Creature comfort and safety are not "maybes" in this harsh industry. If the driver is not comfortable, he runs the risk of physical discomfort and irritability – something you don't want behind the wheel of a monster truck thundering up behind you in the desolate Outback … Truck manufacturers worldwide have made certain that their trucks emulate passenger vehicles, more than workhorses, when it comes to comfort; with sprung, adjustable seating and air brakes, air-conditioning and sound systems, ideal for coping in the unwelcoming Australian environment.
When you have that amount of inhospitality thundering under your wheels, fatigue is possibly one of the most dangerous hazards of the job, to the extent that numerous surveys and reports have been conducted in Australia – in consultation with the long-haul drivers – to better understand and combat this killer.
In two national, cross-sectional surveys of fatigue and its effects in long-distance road transport in Australia, results showed that stimulant use was a common feature of this industry.
(In South Africa there is a similar malaise, where the long-distance hauler downs a concoction of diet pills dissolved in a couple of litres of fizzy drink, in an effort to stay awake. Locally called "hooligan juice", the side effects, unfortunately, evoke exactly that type of behaviour, with the result being a highly "wired" driver behind the wheel of a leviathan rig, with all the possibility of something going devastatingly wrong …)
In Australia, and some other countries, Hours of Service regulations force truckers to rest after a certain number of hours on the road, in an effort to reduce driver fatigue – even more so, if they are operating a humungous rig.
But it's not all about productivity and schedules. To relieve some of the stress incurred through driving these rigs, competition for the longest road train is rife in the industry, with states vying for the honour. On record, Australia's longest road train laid claim to that status in February 2006, when an Australian-built Mack truck, with 112 semi-trailers, weighing 1 300 tonnes and 1 474,3 m long, pulled the load 100 metres, to recapture the record for the longest road train (multiple loaded trailers) ever pulled with a single prime mover.
We can only sit back and gape in awe at the lengths (pardon the pun) to which the Australian road train fraternity will go, to display this level of oztentation and look forward to the next competition, which is now seriously overdue …
Focus on Transport
May 4, 2014
Published by