Despite tough trading conditions within the South African truck trailer manufacturing sector in recent years, Kearney Payloader has weathered the storm.
Kearney Payloader is in the process of re-engineering its operations to give commercial truck transport operators a new generation of trailers where safety, productivity and overall profitability are enhanced through innovative design concepts and the fitment of premium-quality components.
"I don't believe the trailer manufacturing industry has been keeping up with the advances being made in truck-tractor technology," says Marius Kearney, sales and marketing director at Kearney Payloader.
"Transporters have been far too focused on the purchase price of a new trailer, rather than considering the cost of its total lifecycle. Our philosophy now is to offer 'intelligent' trailer technologies to our customers, by providing solutions that are safer, bring lower cost per kilometre to the operator, have improved longevity and boost productivity."
The Johannesburg-based operation has appointed new management personnel in recent months, including a new managing director, Jo du Toit, a new financial director, Stephen Gapko, and Loodewyk Schoeman – its new in-house engineer.
Kearney Payloader owner and chairman, Eddie Kearney, states: "Our new management personnel bring the necessary expertise and experience in the trailer industry to give us the intellectual capital to meet the objectives of our refined company vision, which is to offer true value to our customers through the provision and support of trailers that outperform and outlast competitor offerings."
With customer-driven innovation as a cornerstone of its new approach, Kearney Payloader has developed a manufacturing process that utilises the best design tools, materials and components available on the world market.
Du Toit explains: "By using the best imported products available, from 3-D animation design tools to high-tensile steel and premium-quality running gear and ancillary equipment, we are able to significantly push the payload envelope without compromising on build strength."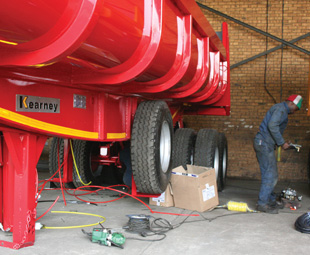 "Lowering trailer tare mass and total cost of ownership simultaneously is the 'holy grail' of trailer fabrication and we have an exciting basket of products to really drive the industry forward in terms of safety, durability, overall cost efficiency and payload productivity," he adds.
Leading the Kearney Payloader foray into the vanguard of South Africa's trailer manufacturing industry is a new range of interlink side-tippers featuring a unique, patented, constant-velocity hydraulic tipping action that eliminates stresses, shock loads and stability issues during the tipping process.
"This is the only side tipper of its kind in South Africa and its merits are being proved in top fleets like NiDa Transport and Imperial Logistics," adds Du Toit. "It has a low height and, therefore, a lower centre of gravity, making it the most stable side tipper currently on the market. Technologies like Electronic Braking System (EBS), roll-over prevention, Electronic Stability Program (ESP) and automated tyre inflation also boost overall vehicle safety.
"The constant-velocity 45-degree tipping action discharges product away from the vehicle in a smooth stroke, effectively improving vehicle longevity by reducing stress on the hydraulic rams, load bins and trailer chassis. The use of Domex steel and low-maintenance European running gear has brought the trailer tare mass down significantly, allowing for a class-leading payload of 38,4 t."
With a portfolio of 165 homologated trailer designs suited to African conditions, Kearney Payloader is geared to service the demand from key domestic and cross-border operators, particularly in mining, agriculture, low-bed and long-haul applications.
After-sales support is a vital ingredient in the building of ongoing customer relationships and Kearney Payloader has established a network of accredited trailer servicing agents in every major city in the country, which will conduct on-site repairs if necessary.
"We also have a dedicated repair and warranty facility at our head office and we offer genuine original equipment manufacturer (OEM) spare parts at cost. Our trailers come with a standard 12-month warranty and all components are covered by respective OEM warranties. All these factors lower overall cost of ownership and bring peace of mind to the operator," says Marius Kearney.
With its revised approach to specialisation, Kearney Payloader is looking forward to playing a leading part in the transformation of South Africa's truck trailer industry. "The industry needs to be better regulated. Manufacturers need to start by using quality components. We would like to challenge our competitors to join us in our quest to fix the industry," he adds.
"The Kearney Payloader approach has evolved over the years to where we are today, which is to work really closely with our clients from the concept and design stages through the manufacturing process to final delivery, to ensure the customer has a safe and genuinely profitable business tool in his fleet," concludes du Toit.
Focus on Transport
October 1, 2014
Published by