In his monthly review of global news for local truckers, FRANK BEETON brings the UD Quester story up to date, tracks new developments at the related Volvo Eicher operation, describes a "different" promotional exercise from Ford, looks at Mercedes-Benz's two-pronged advance on the American van market, and reports on the 2014 implosion of truck sales in the United Kingdom (UK)
UD Trucks' Quester is a very topical subject at the moment, with this range having entered the South African market via a spectacular launch in the Waterberg during March (see last month's edition for Jaco de Klerk's report).
As announced, the local line-up consists of 13 models, in 4×2, 6×2, 6×4 and 8×4 configurations, covering the gross vehicle mass (GVM) spectrum from 20 000 to 41 000 kg, and with gross combination mass (GCM) ratings of up to 60 t. These ratings position the Quester firmly in the extra-heavy category of the South African truck market.
The more basic specification of the Quester model range suggests that it is aimed at distribution, construction and mining sectors, but it is notable that illustrations of refuse compactors are also included, although there is no automatic or automated transmission option at present. There is also a possibility that this range may find some local support from the forestry industry.
In our original coverage of the international Quester launch in August last year, we noted that it was to be built for emerging markets in Thailand at the Volvo Group's Samat Prakarn facility, and also in China and India. Unlike the current European practice of specialisation, the Quester was positioned as a versatile vehicle platform, with variants suitable for a wide range of employment in areas including long haul, distribution, construction and mining.
The absence of a double-sleeper cab option and the lack of emphasis on long-haul applications in the South African context is clear recognition of Quon's established successful participation in that sector.
Subsequent to the international launch, UD Trucks has now released details of some enhancements that it has made to the international Quester range, in response to customer feedback. These include an easier gearshift action, adjustment of the "Extra Engine Brake" featured on the 11-litre engine to operate at a lower engine rotational speed, and approval for operation in the dangerous goods category.
It has also been noted that the Quester family has made its appearance in the Indian market as the EicherPro 8000 range, with a product line-up that consists of 6×2, 6×4, 8×2 and 8×4 models, powered by the eight-litre engine with outputs of 186 kW (250 hp) or 210 kW (280 hp) – these being, in typical Indian fashion, somewhat lower than power levels offered in other markets. The range is equipped with a nine-speed direct-drive transmission, and is available with an option of single or hub-reduction drive axles, and low- or high-roof sleeper cabs.
In our view, the Quester range is of particular significance to the future success of UD Trucks outside of its domestic Japanese market. The decision to base primary manufacture of this product in Thailand is noteworthy, and a departure from normal UD practice. This move was clearly intended to provide viable competition to emerging truck manufacturers in various Asian countries, and it will be very interesting to see how Quester fits into the extremely important global relationship between the Volvo Group and Dongfeng that we covered last month.
As the Quester range is developed, we would expect to see increasing levels of power and sophistication being introduced as the targeted emerging markets move closer to First World standards of environmental protection, and operators demand higher levels of comfort, connectivity and performance.
Volvo Eicher Range Expansion
In addition to the Quester-based Pro 8000 range, Volvo Eicher Commercial Vehicles (VECV) Limited, the joint venture between Eicher Motors Limited and the Volvo Group, has announced further additions to its domestic Indian product range, which are scheduled to appear during the 2015 calendar year.
These include additions to the Eicher Pro 1000 Series, which participates in the five to 14 t GVM category. It carries what appears to be a heavily facelifted version of the Mitsubishi Canter-derived cab inherited from Eicher's earlier cooperation with that Japanese manufacturer (see table at the end), the ten to 15 t gross vehicle mass (GVM) Pro 3000 Series, and the 16 to 40 t GVM/GCM Pro 6000 Series. Both of these use cab designs derived from UD Trucks' mid-range vehicles currently sold in the South African market.
The new VECV Pro 1000 Series model has a 14 t GVM rating, and is powered by Eicher's 3,3-litre E483 engine, which is built at the new Volvo Eicher Powertrain Pithampur plant, but still retains a mechanical fuel injection system. The 10,5 t addition to the Pro 3000 Series line-up, on the other hand, utilises the new 3,8-litre E494 power unit, developed from the four-cylinder E483 design, but incorporating electronic engine management and with available outputs ranging from 90 to 112 kW (120 to 150 hp).
In the heavier Pro 6000 Series, additional 25 t GVM 6×2 haulage and 6×4 tipper models are in the offing. These will use Volvo Eicher's four-cylinder, five-litre VEDX5, or six-cylinder, eight-litre VEDX8 engines, both employing electronically controlled common-rail fuel injection systems, and offering Bharat Stage III (Euro-3 equivalent) outputs of up to 150 kW (200 hp).
Eicher's use of four-cylinder engines in vehicles up to 25 t GVM is noteworthy, and reinforces our opinion that smaller and lower- powered engines are the norm in India, in comparison to those generally accepted in other markets. The Pro 6000 series also incorporates the fuel coaching and cruise control features that are available in the Pro 8000 (Quester-derived) Series models.
VECV has also launched a new lightweight bus model carrying Skyline Pro branding, under the designation 10.90 L. This fully built bus complies with the AIS school bus body norms that came into force in India on April 1, 2015, and is built at the joint-venture company's Pithampur plant.
It has a wheelbase of 5 165 mm, seats 39 passengers, and measures slightly more than 9,3 m in overall length. It is equipped with parabolic suspension and radial tyres, and is offered with Eicher's E483 engine in compressed natural gas or diesel-fuelled forms with outputs of 62 kW (83 hp) and 70 kW (94 hp), respectively. There can be no doubt that the name Eicher is to feature prominently in the Volvo Group's activities going forward.
In the meantime, parent company Eicher Motors Limited's longer-term plans include extending its market coverage to the light commercial category, below three tonne GVM, with a range of vehicles developed in a joint venture with American manufacturer Polaris Industries.
This will include a double-cab micro pickup and a multi-purpose van, suitable for both on- and off-road use, and powered by a 600 cm³ diesel engine manufactured by Greaves Cotton Limited in Mumbai.
The joint venture, Eicher Polaris Pvt Limited, will operate out of a new facility in Jaipur scheduled to come on stream in May 2015, with an eventual planned capacity of 100 000 units per annum. This range is intended for "last mile distribution" duties within India's developing hub and spoke logistics scenario, and is expected to compete with Tata's Ace and Mahindra & Mahindra's Maxximo Plus models.
Get your (Big) Tonka Toy from Ford!
Most of us played with toy vehicles when we were children. I am sure that the big red and green metal van with opening rear doors that I pushed around in pre-school days was at least partly responsible for my ultimate choice of a career in the commercial vehicle industry, as were the long-suffering Dinky Toys that followed, despite being subject to my messy efforts with enamel paint to recreate the trucks and buses that passed regularly in front of our Bluff, Durban, house in the very early 1960s.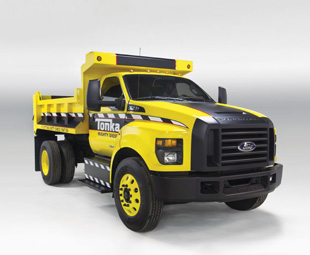 Most of these models were based on real-world prototypes, at least when they were initially purchased, no matter what modifications they may have been subjected to later in life.
Many readers will remember Tonka Toys as big yellow metal or plastic reproductions of construction vehicles and earthmoving plant. No doubt many were put to work reshaping back-yard gardens, possibly to the detriment of parents' prized flowerbeds. The combination of one of these and a pile of building sand would have provided endless hours of fun to any budding civil engineer.
Recognising the wealth of nostalgia potentially attached by its customers to Tonka Toys, and its potential benefit to their marketing efforts, the Ford Motor Company in North America created its own full-size Tonka Toy dump truck, in collaboration with Funrise Toy Corporation, present owners of the Tonka brand, for display at the National Truck Equipment Association's Work Truck Show held in Indianapolis early in March.
Built on Ford's all-new 2016 F-750 platform, the Tonka truck was painted in signature Tonka yellow with black nostril grille, and fitted with a fully functional dumper body by Truck Tech Engineers. The F750 is rated at 15 t GVM, suitable for a payload of approximately 7,7 t, and is powered by Ford's 6,7-litre Power Stroke V8 diesel engine developing up to 246 kW (330 hp), driving through a TorqShift HD six-speed automatic transmission. This unique Tonka-branded vehicle is intended for display at numerous other work truck, commercial and vocational trade shows in North America throughout 2015.
The F-750 Tonka is not the only creation linking Ford products and Tonka Toys. Tuscany Motor Company, a custom truck shop based in Elkhart, Indiana, first built a small run of Tonka F-150 pickup conversions in 2013, and followed up with a similar version of the new aluminium-bodied F-150 the following year. This conversion, officially licensed by Ford, is based on the F-150 Lariat derivative, powered by a 5,0-litre V8 engine, and features a six-inch body lift, 20-inch alloy wheels, Quiet Tone exhaust, chunky bumpers, side cladding, step bars, and redesigned Tonka-logo tailgate. There's also a bonnet with prominent ram-air intakes. The Tonka F-150 is available in any colour as long as it is yellow! Only 500 of these conversions will be built.
Just the thing for some lucky dad's 2015 Christmas stocking!
Mercedes-Benz intensifies attack on US van market
This column has devoted considerable attention, over a number of years, to the migration of European integral vans across the Atlantic to become a substantial force in the North American market. Recently, much of our focus has rested on the Fiat Chrysler family, which has translated the Fiat Ducato into the Ram ProMaster to suit American tastes as a "purpose-built, full-size van".
However, the movement was initiated by the Mercedes-Benz Sprinter, which was introduced to the American market as early as 2001, and has subsequently also been marketed with Dodge (during the DaimlerChrysler era) and Freightliner branding. Up until now, assembly of knocked-down Sprinter component kits imported from Germany has been carried out in Charleston, South Carolina, to supply local demand for van, bus and chassis/cab models. However, this solution necessitated the payment of substantial import duties, and a more cost-effective strategy was clearly a Mercedes-Benz priority.
Early in March, parent company Daimler Trucks announced that a new van manufacturing plant, incorporating an assembly line, body shop and paint shop, was to be erected in Charleston to build the next generation Sprinter. The plant will require an investment of some US$ 500 million (R6 billion), create 1 300 additional job opportunities, and cover a total area of more than 800 000 m². This will allow the manufacturer to improve the economics of its North American van business, and shorten delivery times.
Globally, more than 2,8 million Sprinters have been sold since its initial introduction in 1995, and in 2014, the United States (US) was Mercedes-Benz's second largest individual market for this product after Germany, with around 26 000 units delivered.
At the same time, Mercedes-Benz announced the launch of a further midsize van model into the US market. Dubbed Metris, this is a dedicated version of the European Vito range, tailored to suit local market requirements and preferences. Powered by a 155 kW (211 hp), 1,9-litre four-cylinder M274 petrol engine, the Metris is to be made available in cargo van and passenger versions, and is equipped with airbags, a seatbelt warning system, tyre pressure monitoring system, and Crosswind Assist. The Metris launch took place at the NTEA Work Truck Show in Indianapolis.
UK truck market takes a dump in 2014
When the final 2014 results for the UK's truck and van market over 3,5 t GVM were released, it was noted that sales volumes had taken a massive 26,2 percent drop when compared to the previous year's outcome. The absolute total annual volumes for 2014 and 2013 were 41 469 units and 56 218 units respectively.
This was in stark contrast to our own South African market, where positive market growth of slightly more than two percent had been experienced in the same year-on-year comparison. Year-on-year comparisons for all of the constituent UK market segments revealed varying degrees of contraction, with the notable exception being the four-axle rigid truck category with GVM ratings above 15,1 t, where positive year-on-year growth of 4,6 percent was returned.
In the overall market, DAF retained its leadership position, albeit with a reduced market penetration of 20,8 percent, after having achieved 25 percent market share in 2013, while Mercedes-Benz occupied second position, having increased its penetration level from 18,3 percent in 2013 to 20,2 percent in 2014.
The two market leaders were followed by Scania (11,5 percent vs 12,2 percent), Volvo (9,8 percent vs 9,8 percent), MAN (8,2 percent vs 8,8 percent), Iveco (7,9 percent vs 7,5 percent) and Renault Trucks (4,9 percent vs 4,5 percent), with all ratios reflecting the 2014 and 2013 outcomes, respectively. The market leaders in each of the segments, together with the comparison of their 2014 and 2013 segment share performances, are reflected in the table below.
---
Global FOCUS is a monthly update of international news relating to the commercial vehicle industry. It is compiled exclusively for FOCUS by Frank Beeton of Econometrix.
Focus on Transport
May 2, 2015
Published by