After a year of planning, Truck Test 2015 hit the open road during April. It was the most thoroughly planned, scientifically accurate, utterly awesome event so far. GAVIN MYERS takes you through the journey.
There we were, standing on the deck at the Komatipoort Golf Club and staring into the dimly lit darkness, after having dinner at the end of day one. Just below us, in the far reaches of the deck's floodlights, was an elephant having its own dinner; helping itself to some of the long reeds on the bank of the Crocodile River. Just to the left, a rather large hippo made its way across the shallow water.
(The club is located between the Crocodile and Komati rivers; its eastern-most point being where they meet to form the Incomati River that flows into Mozambique.)
The scene had attracted quite a crowd; most of the Truck Test 2015 participants had gathered there, drink in hand, to pause for a moment and take it all in.
"Now this is how you end a day," one of the guys said with a satisfied smile.
Truck Test 2015 was certainly unique; this being just one of the experiences that made it so special … It was also, without doubt, the most efficient, thorough test we have run thus far.
Prepare to succeed
Truck Test 2015 was perhaps the most unique in the series thus far, in that each participating vehicle had to be fitted with an identical trailer and load. This, as you can imagine, required a lot of planning and processes we haven't had to manage before. Chiefly, we knew we had to manage the loading process with an iron fist.
This, in turn, meant that, for the first time, we had to practise. It was organised early on that David King and his team from AfriSam would supply the pallets of cement to be loaded onto the vehicles – so they were happy for us to go to their premises and practise. We then needed to borrow a reefer and an interlink and organise a pallet jack to move the loads into the bodied trailer.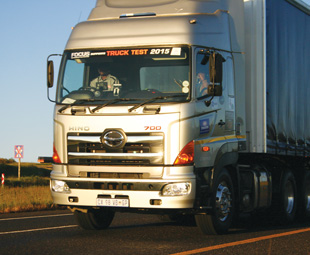 Enter Scania South Africa and Linde Material Handling. As Scania happened to be entering one reefer and one link into this year's test, product and marketing director Alexander Taftman went above and beyond by arranging for the two vehicles to be available a week before they were actually required.
Reg Ravenscroft, Linde service manager: Gauteng, also made sure we had a standard 2,5-t pallet jack at our disposal. Linde, it so happens, has a 15-year relationship with AfriSam, so Ravenscroft's decision to help out was a no-brainer. The company supplies all types of lifting equipment up to over 40 t.
"AfriSam makes use of our three- and eight-tonne forklifts every day. There's not much out there that can beat our eight-tonne lift for reliability," he says.
Taftman was overtly excited to take part in the day. "It's great to be able to learn about the problems and be able to set the process. It's also just fun to be here, actually; at what is the start of Truck Test," he says.
"FOCUS and the organisers have really taken Truck Test to the next level. It is completely different this time, which is brilliant. It's the most comprehensive commercial-vehicle test in the South African market," he enthuses.
Scania's two vehicles for Truck Test 2015; the G460 (reefer combination) and R500 (interlink combination), were absolutely bog-standard off-the-shelf units. Taftman explains: "We wanted to enter vehicles that any customer can buy, with no tweaks at all; to deliver good, reliable figures that our customers can achieve."
At the end of the day – literally – the dummy run turned out to be an imperative extra step that everyone was glad we had taken. Truck Test coordinators Adrian van Tonder of Barloworld Logistics and Martin Dammann from Hellberg Transport Management were both pleased with the way things went.
"It went better than I think anyone expected – the weights were spot on and we learnt a lot," says Dammann.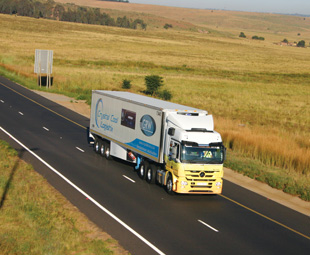 Van Tonder concurrs: "It was a good exercise, without it we would've been running around like headless chickens on the pre-test loading day …"
Like kids in a …
It's amazing how excited we all were. It wasn't even 06:00 yet; we hadn't had our morning coffee and that early-morning Highveld winter chill was rolling in with biting abandon … yet the FOCUS staff, the Truck Test 2015 organisers, and all the supporting partners present, were like kids in a, um, Tonka-Toy store, as the first few rigs rolled into the holding area at AfriSam's Roodepoort depot.
The actual running of the test (in mid-April) was still a week away – but, after months of planning and preparation, this was it: the start.
One by one they rumbled in – as did that coffee and some breakfast muffins, again courtesy of King and his kind team. As each vehicle arrived, Van Tonder, Dammann and HTM's Olav Tollner scrutinised them for compliance with the rules, according to a comprehensive pre-test checklist.
The first group of vehicles made their way across the AfriSam weighbridge and into the depot. Van Tonder's remark a week earlier (about us running around like headless chickens) rang true – it was immediately apparent that the procedure we perfected at the dummy run was working well.
To be honest, this was more for the reefers than the links (which were, naturally, easy-as-pie to load with a forklift). The reefers required those Linde pallet jacks (they had kindly lent us two additional ones for the day) and each required around six of AfriSam's burliest men to shift the two-tonne pallets of cement into and around the closed bodies.
Nonetheless, by noon the day was done. Each vehicle had been loaded, weighed, adjusted (where necessary) and sent on its way to be parked until April 14. This was to be the day they would all congregate at Super Group's Super Park, in Jet Park, have their tanks brimmed to exacting measurements and be readied to hit the road the following morning.
And, by that time, well, excitement was not a descriptive-enough word …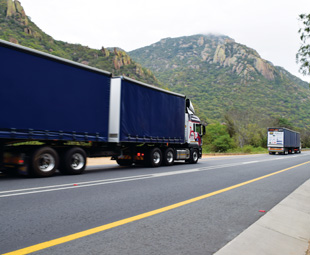 We want more!
All Truck Tests are equal, but some are more equal than others … yeah, by our own admission, there's one specific facet that made Truck Test 2015 that tiny bit extra-special. It's the same factor that was present in the inaugural 2012 event – the fact that the 16 vehicles under review were 6×4 truck tractors.
The "super models" of the industry, we called them back then. And super models they still are. It's awe-inspiring to witness how the South African trucking fraternity loves these vehicles. (Not, it must be pointed out, that that means nobody cares about the light(er) weights!)
Comments after the test ranged from "Don't worry about the other categories, let's repeat this next year", to "It should have been a three-day event, two days was just too short".
The second that the first truck left the Super Park yard, on Wednesday, April 15, we expected we'd get this sort of "abuse" from all who took part. Truckers, without doubt, live for the open road.
The open road in this instance was eastbound on the N4 highway from Kraft Road, Jet Park, to Komatipoort, with a slight detour via the Schoemanskloof Pass. The total test distance (including the few kilometres from Super Park to the freeway) was 859,5 km.
Out of the gate first – at one-minute intervals – were the reefers, from most powerful (Scania G460) to least powerful (FAW 28.380 FT). They were followed by the heavier interlinks, again from most powerful (Scania R500) to least powerful (Iveco Trakker 440 SR). The starting sequence was done in this way to avoid any bunching up of vehicles caused by the more powerful reigning in the lesser-powered ones.
It was a smart move, as the vehicles maintained an even distance apart as they made their way to their destination; the first "checkpoint" being the Middelburg weighbridge. Here, they would have their mass ratings confirmed.
It was also here that we received some distressing news – one of our trucks, the FAW, had been entangled in an accident between two vehicles, driving alongside it, some distance from the weighbridge.
Thankfully, the accident wasn't major and the damage to the truck was minimal. In fact, the company was able to have a new panel sent to Nelspruit area within a few hours, so that the damaged piece could be repaired there and then (see notes on page 28). Other than a few scrapes and bruises, the vehicle looked as good as new. To put a positive spin on the incident, this surely speaks volumes for FAW's after-sales backup.
The stop at Belfast allowed the opportunity for the drivers, observers and their support crews to have some brunch at the facility's Wimpy, kindly sponsored (on both days) by Wabco. TRAC N4 also set up a driver "work out" area, where they could stretch their limbs and grab an energy drink.
From here, it was on to the Schoemanskloof pass, which put drivers and vehicles to the test. Nonetheless, they conquered it with style.
Once the vehicles arrived in Komatipoort, everyone was, naturally, eager to see how they had fared as they filled up once more. Interestingly, there really didn't seem to be much in it at the half-way point. (Don't go skipping on to the results pages just yet …)
Another nice addition to Truck Test this year was the inclusion, that evening, of a dinner at the Komatipoort Golf Club. With delicious braai-style grub, entertainment by musical duo Cashel, and a visit by our friend the elephant, a great time was had by all the 100-odd guests.
The FOCUS team played taxi in getting some of the guests to and from the club (see page 30). This was probably a good thing, as, for what must be the first time in the history of truck industry get-togethers, an early night was preferable.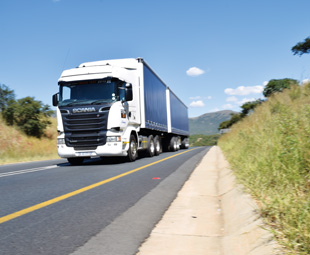 Well, for most …
As the sun rose on day two, everyone was eager to hit the road once again. Amidst the early-morning film shoot and camera interviews, the overnight security (organised by Engen) departed and Van Tonder and Dammann gave a few fatherly words to the drivers and observers – as they had the morning before.
For this leg, observers were required to ride in a different vehicle – which added to the excitement. The trip back to Joburg was without incident and, by 15:00, the convoy began to roll back into Super Park for the final fuel top up.
"I could do it all over again, right now," one of the drivers commented at the end of it all. Given the attention the convoy attracted, and the allure of the open road, we were inclined to agree … talk immediately turned to what we should do next year.
Whatever it turns out to be, the height to which this year's Test raised the bar will definitely mean next year's is, at the very least, just as epic.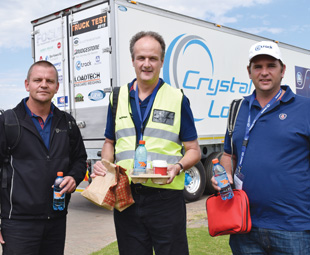 FOCUS and the organisers of Truck Test 2015 would like to sincerely thank all participants, drivers, observers and their support crews, as well as the following sponsors: Aero Truck, Afrit, AfriSam, Alcoa, Alcosafe, Barloworld Transport, Beier, Bridgestone, BPW Axles, Cargo Carriers, Ctrack, DAF, Engen, Engen Air1, Elite Fibre, FAW, Freightliner, GEA, GRW, Hino, Iveco, Knorr-Bremse, Linde, Loadtech, MAN, Mercedes-Benz, MSA, One Insurance, Phoenix Risk Solutions, Renault, Scania, Scott Byers, Sika, Sub-Saharan Tyre Services, Super Group, TFM, TRAC N4, TransSolve, UD, Volvo, Wabco, ZF.
TRUCK TEST LIVE ON IGNITION
Catch all the Truck Test 2015 action on Ignition. Truck Test 2015 will be aired on: Saturday, May 23, at 12:00; Sunday, May 24, at 18:00; Monday, May 25, at 08:00 and 17:00; Tuesday, May 26, at 14:00; Wednesday, May 27, at 24:00; Thursday, May 28, at 04:00 and Friday, May 29, at 20:00.
Click here to download the Truck Test 2015 specifications.
Click here to download the Truck test 2015 results.
Click here to download the Truck test 2015 graphs.

Check out the full gallery of pics here.



Focus on Transport
May 16, 2015
Published by