Thutha Services recently took delivery of six new Tank Clinic tanker combinations to supplement their fleet dedicated to new and existing contracts for Total. STUART MOIR investigates the rebirth of this old friendship and the technological advancements involved.
According to John Ralph, group general manager of Tank Clinic, the majority of the tankers were the 49 000 l double conical three-axle semi-trailer version, which is the latest addition to Tank Clinic's range of cutting edge, technologically advanced tankers. "State-of-the-art design tools and manufacturing processes have been used in conjunction with in excess of 34 years of industry knowledge to produce what is now our company's flagship tanker," adds Steven Holm, head of Tank Clinic's technical and engineering department. "Tank Clinic is proud to introduce its latest design in road tankers to the industry."
Thutha Services is one of the first businesses in the liquid fuel transport industry to introduce the new tanker to its fleet. As Cyril Malanda, owner and founder of Thutha Services, explains, "The six new tankers conform to the latest design specifications, as well as the requirements of the contract awarded by Total." According to Holm, these specifications are based on the European agreement concerning the international carriage of dangerous goods by road (ADR), which falls under the scope of SANS 1518:2008 in South Africa.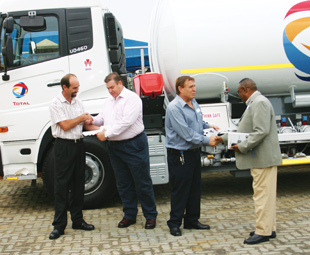 Thutha Services was established from humble beginnings when a need was identified to provide a service to customers operating under very difficult circumstances in rural areas not considered a priority when it came to fuel deliveries. This concept was embraced at the time by both Malanda and Kobie Allers, manager of Thutha Services. Malanda says that their business was started in 1996 because Total service stations in more remote locations were literally running dry. "We saw a market opportunity and we wanted to improve the efficiency of fuel deliveries to rural Total sites," he explains. "We already had a link with Tank Clinic back then, which is where this agreement stems from. When the new specs were approved by Total, it was a perfect opportunity to come back to our roots."
Tank Clinic has more than three decades' experience in manufacturing road tankers for the oil and petrochemical industries, while Nic Gerber, the company chairman, has been involved in Tank Clinic's operations and management since he first opened the company as a repair facility in 1976. "Cyril is the kind of person I can relate to," says Gerber. "He has the vision to pursue his goals and the ambition to achieve them. We are also alike in that we believe in surrounding ourselves with like-minded people who share our dedication. Just as Malanda has Allers and his team to rely on, so too do I have a young and ambitious group of people working towards ensuring that Tank Clinic is a market leader."
Holm believes that the recently designed and developed 49 000 l double conical three-axle semi-trailer selected for the Thutha Services project is ideally shaped for the job. "A double conical or 'double tapered' tanker allows for the complete drainage of all compartments, especially on uneven surfaces such as those regularly experienced at the filling stations serviced by Thutha." The tare weight of the tanker also played an important role in Thutha's choice of tanker. "This is where the new design scores particularly well: at 6 400 kg, it allows for a maximum payload of 45 861 l of petrol or 40 369 l of diesel in its current configuration," says Holm. The tanker has been designed primarily for use with the latest sealed parcel delivery (SPD) systems, which require complete product drainage. However, further developments have seen this tanker being used successfully as a plain bridging unit, as well as a metered delivery unit.
"Lowering a tanker's centre of gravity is critical in eliminating the disastrous effects of a roll-over situation, one of the major causes of accidents with liquid bulk tankers. The cross-sectional area of the bulkhead sections in Tank Clinic's new design has been optimised to ensure that this centre of gravity is lowered even further," continues Holm. "The materials used to manufacture the new tankers are primarily aluminium, which constitutes approximately two-thirds of the tanker's weight. The benefits of aluminium are enormous, especially when one tries to attain the lowest possible tare weight," he concludes.
Tank Clinic is proud not only of the quality of its workmanship, but equally of the relationships the company has built both with suppliers and clients. As chief executive officer (CEO) of Gammid Trading – a member of the Argent Group and long-time aluminium and alloy supplier to Tank Clinic – Chris Botha says, "We've come a long way with Tank Clinic; we work with them on a monthly basis to ensure their requirements are always met. We can therefore supply the materials they need within a day to ensure they remain competitive." According to Holm, Gammid has collaborated in many of the current and new designs employed on tankers when it comes to custom-made extrusions and aluminium developments. "We continuously look at different alloys and shapes so we can streamline and ultimately pass on the benefits of our designs to the end-user," Botha emphasises. "Working closely with Tank Clinic, our biggest customer, has allowed us to forge an important partnership and given them the opportunity to beat almost any worldwide price," he adds.
Soliflo – a locally and internationally recognised equipment supplier representing Emco Wheaton – was responsible for the supply of complete bottom loading and vapour recovery (BLVR) kits designed to facilitate the safe, trouble-free transfer of fuels. Phil Dawson, general manager of Soliflo, explains: "We have installed complete BLVR systems on board each of the six tankers." In his view, this offers Thutha a one-stop shop because everything is supplied by Soliflo. Other major technological advancements fitted on the tankers include the wireless sealed cargo system (SCS). "This system provides the highest level of sealing integrity which can be monitored remotely using proprietary software," Dawson continues.
According to him, a system like this is designed to give real-time status to every activity surrounding the opening and closing of American Petroleum Institute (API) outlets and manhole covers. "The system communicates via general packet radio service (GPRS) and global positioning systems (GPS) by way of the on-board advanced vehicle location (AVL) reader and modem," he elaborates. The system is built around the tried and tested, highly sophisticated and sensitive active radio frequency identification (RFID) Hi-G-Tag. "RFID enables the identification of objects using radio waves to move information from point to point," explains Dawson. The Hi-G-Tag system is atmosphere explosive (ATEX)-certified for use in hazardous situations; it is the only ATEX-approved active RFID tag available in the market place today, and is approved to South African Bureau of Standards (SABS) requirements.
"The AVL reader checks the status of each seal every three seconds," Dawson continues. "Any change in status is communicated via the AVL and modem to the control centre, identifying the time and location of each event." Each API spool-lock tag contains information concerning the compartment number, capacity and with which tanker it is associated. All loading and unloading procedures are automatically monitored and recorded, with exceptions to the norm issued as an alarm alert sent by text message (SMS) to the person responsible. Each vehicle using this system is assigned Geo-fence areas, which can be a depot or filling station. Drivers will only be able to offload in the designated area, otherwise an alarm is automatically activated. "This will help operators to know if their drivers are involved in any dodgy dealings," says Dawson.
Tank Clinic has established a network of repair facilities in all major city centres across most of South Africa, a fact which did not escape the attention of Thutha Services when entrusting them with this project. "Our dedicated maintenance and repair facilities in KwaZulu-Natal, the Western Cape and, of course, Gauteng ensure our customers in each of these provinces peace of mind," says Ralph. Allers confirms that Tank Clinic has, indeed, gone to great lengths for Thutha. "They have provided us with a customised maintenance plan in accordance with the specifications used in the build of the tankers, and are involved with training the users of each of them," he says.
Tank Clinic continuously strives to build solid, long-term relationships with each of its partners and clients. Says Brendan Pritchard, legal advisor and marketing manager: "Long-term relationships form the core of honest and mutually beneficial partnerships." This has led to the formation of a new marketing department dedicated to servicing the needs of customers and maintaining mutually beneficial relationships with each stakeholder. The company is also embarking on various capital expansions. "There is a progression plan for a substantial capital expenditure programme during the remainder of 2010 and 2011, which will include installing a new seam welder and plate rolling machine enabling larger plates to be welded and rolled automatically," explains Ralph. "Currently, Tank Clinic boasts the least amount of welding per tanker in the industry, a factor which ensures extra safety and reduces the risk of damage and spillage in the event of an accident or roll-over," he concludes.
Malanda admits that the economic climate when the deal was negotiated made securing funding for the investment difficult. "Many large commercial banks turned Thutha down, but we were eventually financed by Ithala Development Finance Corporation," he says, adding that – recognising the magnitude of the undertaking – Tank Clinic stood by Thutha Services during the entire finance-seeking process. Thutha is hoping to expand its operations throughout South Africa. "We currently service the whole of KwaZulu-Natal and the northern parts of the Eastern Cape, formerly Transkei, but plan to spread throughout Southern Africa in the future," concludes Allers. 
Focus on Transport
April 1, 2010
Published by