The Hino brand has – and will – always been present at Nampo. That's because, as CHARLEEN CLARKE discovers, farming and Hino go together like fish and chips (or maybe a boer and his bakkie?)
Nampo is a no-brainer for Hino. As Leslie Long, senior manager: marketing and demand planning at Hino South Africa, points out, the company has long been active in the agricultural market. "Our roots can be traced back to the farming community. This is where we became a well-accepted brand. We owe our position in the market to these customers," he tells FOCUS.
Accordingly, the company had a substantial stand at this year's Nampo, which was packed with product. Three general vehicles were on display – a Hino 700 2848 truck tractor, Hino 700 3541 8×4 mixer and 33-seater bus. The other four vehicles on the stand were specific to the farming market.
First up was a Hino 300 814 dropside, which has proved to be popular on South African farms. Next up was the Hino 300 915, a highly manoeuvrable vehicle that is ideal for transporting a smaller numbers of animals. It was joined by a Hino 500 1626, which serves as a double-decker sheep carrier and is ideal for farmers who need to transport sheep to market or auction.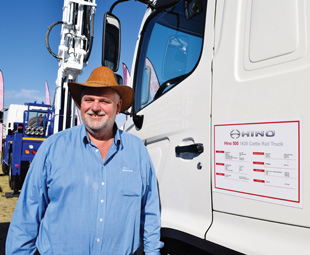 Finally, there was the Hino 500 1322, a 4×4 which was equipped with a drill supplied by Thor Drilling. The Zeus Junior drill is ideal for drilling for water and it could also be utilised for putting in fence posts on a farm. Long says that entrepreneurial farmers could hire this rig to other farmers in the community.
"This is a trend that we're seeing in the agricultural sector. Farmers have slowed down in terms of purchasing vehicles. This is understandable – they may buy a truck and use it only a couple of times a year to carry grain to the silos. The vehicle is, therefore, not very productive.
"Instead, the farmers are forming informal cooperatives today. They buy a vehicle together and then all make use of it. It certainly makes a lot of sense. A truck tractor can cost anything from R1,2 to R1,8 million … then you spend another R700 000 on the rig. If you spend that sort of money on a transport solution, you need to keep it productive," he notes.
Long says that this does come with certain challenges. "If they are all mealie farmers, they all need the vehicle at the same time. So, this type of arrangement is better suited to those involved in different types of farming," he explains.
Given the current drought, Long says that farmers are having to "box clever" like never before. "Driving to Nampo was a depressing experience – because there are failed mealie crops all over. This year is going to be a difficult one. There is a drought throughout the country – the North West, Northern Cape and Limpopo are facing the same problem. So, the farming community is struggling at the moment."
Long says that this does, however, create opportunities for a truck manufacturer. "We need to stand by our customers and find ways of helping them in difficult times. That is what builds relationships. Dealers can structure really good deals through Toyota Financial Services. I am referring to things such as structured payment plans built around when the farmer knows if he/she will have cash."
She? "Oh yes, we are seeing some lady farmers now. This is a worldwide trend – just like the number of women who are truck drivers, which is also increasing. It is something that makes sense. People are people; it doesn't matter whether they are men or women. It depends where their interests lie," he contends.
On a personal note, Long says that he really looks forward to Nampo – because it is a real show. "It shouldn't even be called a show. It is more like a gathering of friends," he says with a big smile.
As I leave the stand, he reiterates Hino's commitment to the farming community. "We have always been part of this community and we need to stay part of this community," he stresses. I have no doubt that Hino will.
Focus on Transport
June 16, 2015
Published by