Grain SA's Nampo Harvest Day must be the finest exhibition on the planet … but the farming sector is facing some challenges, as CHARLEEN CLARKE discovers in Bothaville.
Sometimes it's hard to feel sorry for South African farmers. As one Nampo exhibitor quipped: "How do you know a farmer is battling? When he is driving last year's model Mercedes-Benz."
The airfield at Nampo is yet another indication that some farmers aren't taking too much strain (it is buzzing with activity during show days, with farmers arriving and leaving in their own aeroplanes or helicopters).
The fact of the matter is, however, that not everything is coming up roses within the agricultural sector. Gosh, considering the drought, it would be surprising if anything came up at all! In fact, a drive to and from Bothaville is a somewhat depressing one.
After one has passed through the picture-perfect town of Parys, dead mealies line the road. The soil is dry. The crops are dead – and this isn't a situation limited to the Free State area.
As a result, Grain SA predicts that farmers will harvest a mere 9,665-million tonnes this year, a third less than last year. This will be the smallest harvest since 2007, when the yield was 7,1-million tonnes.
The dwindling harvest is not the only reason for concern. Grain SA is extremely concerned about various government land reform initiatives – its CEO, Jannie de Villiers, believes that we could soon see a situation of "food shedding". Speaking at a media conference at Nampo, he strongly criticised government's plans to force farmers to hand over 50 percent of their land to farm workers.
"We agree to the guidelines for land reform in the National Development Plan – meaning 20 percent of land is handed over by 2030 – on a district basis. We will assist in making this a reality, but grain producers say no to the Minister's 50:50 plans. They are unconstitutional and they will be to the detriment of the poor. The first need in our country is food, not land ownership," he noted.
According to De Villiers, more than 60 percent of farmland is covered by debt. "Around 83 percent of farmers require loans in order to produce food. If the 50:50 proposal is implemented, 83 percent of farmers won't have production loans to produce food on half the land. Our infrastructure cannot carry imports of the magnitude we would need. Where is the food going to come from?" he asked.
"Why is the minister not responding to our moderate proposals that are being practised and are already working? By government's own admission, land reform, thus far, has been a 90-percent failure," he pointed out.
There are two other major challenges within the agricultural industry. As Loane Sharp, economist at the Free Market Foundation, noted at our very own FOCUS Conference recently, the number of farms has declined from 920 000 in 1994 to 50 000 today. Employment numbers have been decimated too. In 1994 the agricultural sector employed 2,1-million farm workers. Today it employs a mere
670 000 individuals.
Of course, the reduced number of people means that farmers have become more and more reliant on machinery – and there certainly was lots of that on display at this year's show. Here are just some of the highlights …
While UD Trucks is doing particularly well in the heavy commercial vehicle sector this year (its sales within this segment have grown by a whopping 23 percent), it was the company's all-new Quester that got the most attention – because the name of this truck is brand new to farmers.
The farmers' wives, on the other hand, remarked on the company's truly delightful stand – the inside was reminiscent of a farmhouse interior; the exterior was like a farmhouse stoep and the stand even featured pumpkins that served as doorstops. So clever!
Equally smart was the release of controversial helicopter drones by Engen. (I say "controversial" because of the latest government legislation to control their use.) Engen has been present at Nampo for 38 years and the 70 000 visitors to the show appeared to be delighting in the drone technology, which the company was using for the first time.
Hercie Venter, Engen national sales manager – Lubes Distributors, told FOCUS that the company's support of Nampo over the years is an indication of its long-standing relationship with agriculture.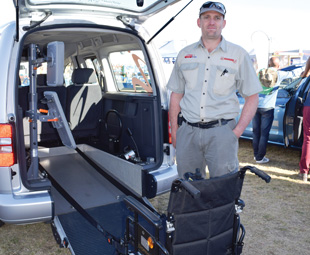 "Farming is important to us. We have supported agriculture in South Africa for decades through Nampo and many other initiatives. We take a lot of satisfaction from the knowledge passed on in that way, as well as the scientific, business and technological innovation shared," he commented.
According to Venter, Engen lubricants have been trusted to keep things running smoothly on farms for generations. The agricultural industry appears to agree. "Wind, rain, heat and dust put a lot of strain on farm vehicles and machinery. Engen lubricants are designed for these extreme conditions," said Rudi Barnard, Massey Ferguson dealer in Hartebeesfontein.
Frikkie Kirsten, farmer at Makwassie, supports this view. "My planters are the heart of my business. Engen lubricants keep them running day in, day out," he pointed out.
The Mazda team, present at Nampo as a stand-alone brand for the first time, was also in an upbeat frame of mind. The company displayed the Mazda2 1,5-litre Hazumi; Mazda3 2.0-litre Individual six-speed manual hatch; top-of-the-range Mazda3 2,0-litre Astina sedan; Mazda6 2,5-litre Individual; and the 2015 Mazda CX-5 facelift model (boasting advanced technology, improved functionality and refined interior and exterior design).
Naturally, the company's bakkies were also there in full force – the bakkie line-up included the Mazda BT-50 3,2-litre Freestyle Cab Manual, and the fully Drifter-pack accessorised 3,2-litre 4×2 Double Cab.
Some accessories introduced on the Mazda BT-50 Drifter include black alloys, black side steps, black nudge bar, black styling bar, load bin mat, tonneau cover, spare wheel lock, Drifter car mats, tailgate shock and the Drifter decals.
"Agriculture and farming play a significant role in the South African economy. We are enjoying exhibiting our comprehensive vehicle offering and we are here to meet all the visitors who are gathering at this year's Nampo Harvest Day," said David Hughes, managing director of Mazda Southern Africa.
The team from MAN was also in an ebullient mood … which was further heightened when the company sold a number of trucks off its stand! Geoff du Plessis, managing director of MAN Truck and Bus, visited the show (and his stand, of course), and he was very enthusiastic about Nampo.
"We have been exhibiting at Grain SA's Nampo Harvest Day since the early 1990s. As such, we are showing a variety of vehicles – aimed at both agriculture and general transport applications – at this show. We are thrilled to be taking orders off the stand. We're expecting to take two more this afternoon," he enthused.
In typical Mercedes-Benz South Africa fashion, the company was at Nampo – in a big way. It was great to see its two Truck Test 2015 entrants displayed on the stand, but the company had a number of other models on exhibit too.
Fuso fans got up close and personal with the award-winning Canter LIFT; a truck that has earned farmers' trust globally (the acronym LIFT stands for Light-Duty International Future Truck) while van customers could check out the Sprinter and Vito.
"Mercedes-Benz vans are not only known for their work ethic and tested reliability on the countless farms on which they operate, these workhorses also offer secondary solutions. Mercedes-Benz Vans is in a position of dominance as we can offer a diverse number of vehicles that are guaranteed to fulfil a variety of needs," noted Nicolette Lambrechts, vice-president Mercedes-Benz Vans South Africa.
"This may be a farmer looking for a small, medium or large van to take care of the transport needs of his farming operations, a luxury van to transport his family, or the ideal all-purpose vehicle to take on his next holiday. We have a Mercedes-Benz van to match every need," added Lambrechts.
FAW exhibited at Nampo for the 15th time, and it showcased its latest medium-sized truck. According to Yusheng Zhang, CEO of FAW Vehicle Manufacturers SA, the range is kicking off with a five-tonne payload dropside body, which boasts the lowest cost per tonne in its market sector.
"FAW pays attention to what customers are telling us. This is why we are extending our local offering to this weight category. We believe this segment of the market has great potential and opportunity for growth," said Zhang. "The new range will be fitted with the best drivetrain and will include international-brand componentry."
Iveco launched its new 682, which is built right here in South Africa! The 682 is Iveco's answer to the
buying-down trend. Available in 4×2 and 6×4 guise, it is ideal for harsh applications and the construction environment. Dubbed "a more affordable truck that can still do the work", it still has many creature comforts – air-conditioning and cruise control, for instance.
It is competing against the Japanese, Chinese and Indian players (not the European). Currently only available
with a manual transmission, it will boast an auto in about six months (the auto is currently being developed in conjunction with ZF).
With the launch of this new truck, Iveco anticipates becoming a volume player in the South African marketplace.
Focus on Transport
June 16, 2015
Published by