Rewriting the trucking rulebook, Mack Trucks sings its own Anthem and E-Fuso to take MFTBC to the future
"The Tesla Semi will deliver a far better experience for truck drivers, while increasing safety and significantly reducing the cost of cargo transport." That is the official promise from the company after the long-awaited reveal of its first all-electric, long-haul truck on November 16.
With production due to begin in 2019, the Tesla Semi seems – on paper – to be one of the most exciting, significant developments ever in the global trucking arena. If Tesla's impressive passenger cars are anything to go by, this may well prove to be true…
The company claims that the biggest immediate cost advantage comes from savings in energy costs. Fully loaded, the Tesla Semi consumes less than two kilowatt-hours of energy per 1,6 km and is capable of 800 km of range at its 36-t gross vehicle mass at highway speed. This is ideal for the American market, where nearly 80 percent of freight is moved less than 400 km.
Given the low price of electricity in the United States (US), Tesla says owners can expect to save $200 000 (R2,84 million) or more over 1,6-million kilometres, based on fuel costs alone.
Contributing to this range performance is the Semi's regenerative braking system, which recovers 98 percent of kinetic energy to the battery. This also significantly reduces braking life – "basically infinitely", says the company.
From life-long braking, the Tesla also promises sports-car levels of performance… Without a trailer, the Tesla Semi reaches 100 km/h in little over five seconds! With a trailer, this increases to 20 seconds… We're not sure how relevant that is to the trucking industry, but it'll sure give drivers something to boast about at the truck stop. Of more importance, it climbs a five-percent grade at a steady 104 km/h, compared to 72 km/h for a diesel truck.
The Tesla Semi requires no clutch work or gear-shifting for smooth acceleration and deceleration. Indeed, the driver's experience has been an important design focus. The Semi's cab is unlike any other, most notably because of its central driving position.
Two touchscreen displays positioned symmetrically on both sides of the driver provide easy access to navigation, blind-spot monitoring and electronic data logging. Built-in connectivity integrates directly with a fleet's management system to support routing and scheduling, as well as remote monitoring.
Safety was a high priority, too. The truck's all-electric architecture features a reinforced battery that shields the Semi from impact and gives it an exceptionally low centre of gravity. The windshield is made of impact-resistant glass.
Tesla claims that jackknifing can be prevented – its on-board sensors detect instability and react with positive or negative torque to each wheel, while independently actuating all brakes, thereby stabilising the truck.
The surround cameras aid object detection and minimise blind spots, automatically alerting the driver to safety hazards and obstacles. With Enhanced Autopilot, the Tesla Semi features Automatic Emergency Braking, Automatic Lane Keeping, Lane Departure Warning, and event recording…
Naturally, the Tesla Semi can also travel in a convoy – or "platoon", as the Europeans call it.
What about reliability? Will American truckers feel comfortable betting their livelihood on such an extreme, untested product?
Tesla claims that, with far fewer moving parts than a diesel truck, the Semi requires significantly less maintenance. Its battery is designed to support repeated charging cycles for over 1,6 million kilometres, while its motors have been tested to last more than 1,6 million kilometres under the most demanding conditions.
The final piece of the puzzle will be "refueling", and in this regard Tesla is planning a series of Megachargers – its new, high-speed DC charging solution. These are claimed to add about
640 km of range in 30 minutes and can be installed at origin or destination points and along heavily trafficked routes.
Will the Tesla Semi change the face of trucking as we know it? Time will tell … and we can't wait to find out!
Mack Trucks sings its own Anthem
While Tesla's version of the future is a complete departure from that to which the trucking world is accustomed, another American original equipment manufacturer, Mack Trucks, has revealed what it calls "the next-generation highway hero" – the Mack Anthem.
The company claims that the Anthem is "a re-engineered, redesigned and reimagined interpretation of what today's highway truck should be – aerodynamic, comfortable and connected, all with a distinctively bold Mack look".
"As one of the most significant new trucks in Mack's 117-year history, the Anthem combines our latest innovations with more than a century of truck building know-how," says Dennis Slagle, president, Mack Trucks.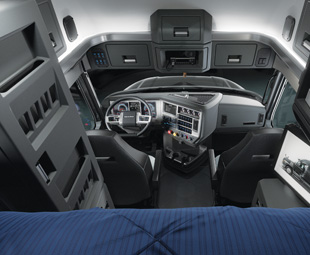 "The incredible result is a truck that's been built for our customers' businesses and designed for drivers, while delivering the power and presence that only a Mack truck can deliver."
The truck features an all-new exterior design with optimised aerodynamics that improve fuel efficiency by up to three percent.
A new cab environment increases driver comfort and productivity. For example, gauges have been positioned higher on the instrument panel for better visibility; the new steering wheel features illuminated buttons; and Mack's Co-Pilot display has been updated with a new full-color screen for improved visibility and more intuitive navigation.
"Every detail on the Anthem was designed with a purpose in mind," says Jonathan Randall, senior vice president, sales, Mack Trucks North America. "We surveyed thousands of drivers and incorporated their feedback to deliver a functional, strong, efficient highway truck with an authentic design unlike anything on the road today."
Mack has also introduced Mack Connect as part of its growing connectivity and uptime service offering. With Mack Connect, current and future services will be structured under connected support, connected business and connected driving.
When a service is required, the closest dealer location is identified and service bay space and parts availability is confirmed – all while the truck is still on the road.
Using predictive analytics and connective technologies, Mack Connect turns data produced by the truck, the driver and the service process, into insights and actions, resulting in superior support and service to Mack customers.
Full production begins in the first quarter of 2018.
E-Fuso to take MFTBC to the future
Mitsubishi Fuso Truck and Bus Corporation (MFTBC) will electrify its complete range of trucks and buses in forthcoming years, according to an announcement made at the recent Tokyo Motor Show.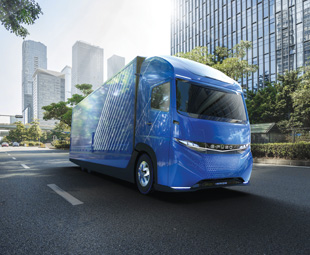 At this occasion, MFTBC unveiled E-Fuso as the first original equipment manufacturer (OEM) to launch a product brand exclusively dedicated to electric mobility of trucks and buses, and premiered its all-electric, heavy-duty truck concept: E-Fuso Vision One.
"Our E-Fuso Vision One is an outlook on a feasible all-electric, heavy-duty truck. It underlines our commitment to electrify our complete product range. In the future, all our electrified vehicles will run under the name of E-Fuso, our new product brand dedicated exclusively to electric trucks and buses," stated Marc Llistosella, president and CEO of MFTBC and head of Daimler Trucks Asia.
The E-Fuso Vision One is an all-electric heavy-duty truck concept, has a gross vehicle mass of about 23 t and carries a payload of approximately 11 t.
It can be fitted with batteries up to 300 kWh, thus enabling a range of up to 350 km on a single charge, making regional intra-city distribution a potential application.
MFTBC states that the E-Fuso Vision One could be feasible within four years in mature markets like Japan or Europe.
Furthermore, MFTBC revealed that, in upcoming years, all truck and bus models by Fuso will include an additional electric powertrain alternative. The timing for the launch of each model will be defined according to the required technology and feasibility.
Focus on Transport
December 19, 2017
Published by