North Star Alliance's Paul Matthew discusses his involvement in this non-profit organisation that provides quality healthcare along trucking corridors throughout Africa.
Matthew is known to the local transport industry through his involvement with the Road Transport Industry Education and Training Board (RTIETB) and Ikaheng HR Services. Since the merger of Ikaheng with the Learning Clinic, he became actively involved with North Star Alliance.
Here, Matthew has concentrated on setting up Roadside Wellness Centres on the African continent. Following a change of focus in 2011, where the continent was split into regions, Matthew became 100-percent focused on the southern region of Africa (South Africa, Swaziland, Zimbabwe, Zambia, Mozambique, Botswana and Malawi) and also filled the role of a director for North Star Alliance International.
How did North Star Alliance come about, and how did you get involved?
In the late 1990s, the South African road freight sector saw a decline in truck drivers from an estimated 75 000 to an estimated 35 000. The World Food Programme (WFP) experienced the same effect with the drivers who were assigned to their food relief projects in Malawi, Zimbabwe and Zambia. Truck Drivers were dying as a result of communicable diseases such as HIV/Aids, tuberculosis (TB) and malaria.
Drivers were unaware of their role in the spread of these diseases. The delays of goods crossing the borders into neighbouring countries meant drivers were held back at border posts for up to two weeks, which lead to a number of informal bars being established and an increase in sex workers and unprotected sex.
From my involvement with Trucking Against Aids, we became involved with the WFP (United Nations) by setting up our first Roadside Wellness Centre, in Mwanza (Malawi) in 2005, to address the alarming impact of HIV/Aids on mobile workers.
This was made possible through a partnership with TNT Logistics and the WFP. It led to the formalising of North Star Foundation, which later changed its name to North Star Alliance.
What does North Star Alliance offer?
North Star Alliance offers mobile populations, particularly long-distance truck drivers, access to complimentary healthcare at a network of 22 Roadside Wellness Centres across southern Africa. The services include: primary healthcare services, HIV/Aids counselling and testing, treatment for sexually transmitted diseases (STDs) as well as screening for TB and malaria.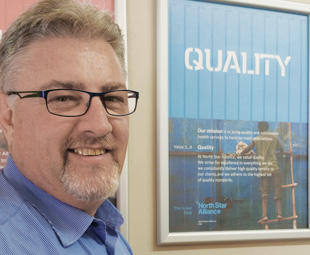 Many of the centres are also commencing with the rollout of anti-retroviral (ARV) treatment. We use converted shipping containers painted blue. These "blue box" clinics are well recognised along the trucking corridors in which we operate.
What impact has North Star Alliance had?
The clinics are strengthening gaps in healthcare by providing health services that are not available, and by targeting populations who do not have access to healthcare.
North Star Alliance has participated in cross-sector collaboration between the medical and transport industries. Its social impact is the reduction of the HIV/Aids footprint in Africa. By working in collaboration with the ministries of health to strengthen healthcare systems, we are improving the quality of life of key populations across the African continent.
More people now have access to ARVs across the region. During 2014, we provided 329 552 treatment and education services across the entire network of 35 clinics – in both southern and eastern Africa. During the same period, 56 481 clients were tested for HIV and are now aware of their status. With additional clinics coming on line within the next 24 months, the number of clinics will increase to 40 across 12 of the Southern African Development Community (SADC) countries.
What has been North Star Alliance's greatest success?
As our target populations are mobile, migrant and hard to reach, we often operate in remote areas under harsh conditions. Yet, with the help of our donors and partners, we have managed to build up a proficient network.
The 35 centres across Africa have an electronic data system called COMETS. This captures client information that can be easily retrieved when the client accesses services within the network. It also allows us to track and analyse disease trends.
Tell us about the awards you have received.
In 2012, I was recognised by Ernst & Young as Social Entrepreneur for South Africa and received the award for Outstanding Social Entrepreneur for Africa by The Schwab Foundation at the World Economic Forum. It was a great honour to receive these awards.
This June, at the South African HIV/Aids conference, I was awarded the Dira Sengwe Leadership in HIV/Aids award. This goes to an individual or organisation that has made an extraordinary contribution in the fight against HIV/Aids through work in human rights, treatment, research and development, or access to care for people living with HIV/Aids – again a great honour that the North Star Alliance impact is being recognised.
Where to from here for North Star Alliance?
We want to increase our footprint by building capacity in key countries. Our main target group remains long-distance truck drivers, and, therefore, our clinics will still be located at truck-driver-related locations; along trucking corridors, and at border posts as well as at truck stops.
Our goal is to increase our Roadside Wellness Centres to 56 across the SADC region by 2023. We also want to have quadrupled our patient reach, from over 100 000 patients last year in southern Africa to over 400 000.
How can people get involved, and what type of support would you need?
We want to continue to strengthen our relationships with our donors, but we also want to build and develop new, sustainable partnership opportunities in South Africa among corporates.
For our clinics to be truly sustainable we are looking into a fee-for-service model. This would help ensure our long-term continued care for our patients and black economic empowerment (BEE) social enterprise development opportunities for corporates.
Focus on Transport
December 4, 2015
Published by