Rolling out the asphalt carpet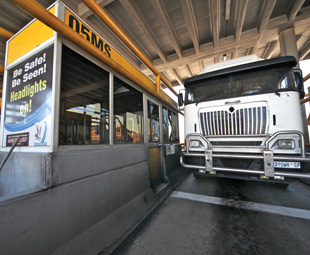 Truck Test 2012 is going to provide lots of interesting information about the fuel efficiency, performance and driveability of the participating vehicles – but it would be remiss of FOCUS not to acknowledge the route that will be playing host to the 16 gleaming trucks.

The N3 Toll Route – the 415 km section of National Route 3 operated by N3 Toll Concession (N3TC) – is an important economic lifeline for South Africa and its neighbouring countries. Conveying large volumes of import and export freight, it's one of the busiest hauling roads in the country and the ideal setting for the test.
"Heavy vehicles make up more than 40 percent of our traffic, but contribute to more than 50 percent of all accidents on the route," says Miles le Roux, N3TC transportation manager. He explains that these vehicles are predominantly involved in head tail accidents due to poor visibility, illegal parking and unlawful stopping. This dilemma is further escalated by some un-roadworthy vehicles, driver fatigue and overloading. "It's important that we understand the challenges faced by this sector if we are to implement solutions that could save lives."
N3TC is the road safety partner to Truck Test 2012, which will use the N3 Toll Route from the Heidelberg South Interchange in Gauteng to the Cedara Interchange in KwaZulu-Natal. "We felt it would be appropriate to support the test, especially since we will be supporting a segment of our customer base that uses the route on a regular basis," comments Andy Visser, N3TC PR and communications manager.
The organisation has implemented a fully integrated Incident Management System and runs a number of road safety programmes and projects. One such initiative is its "I Put My Hand Up For Road Safety" campaign, which resulted from the company's proactive commitment to the UN Decade of Action for Road Safety 2011-2020.
Visser says that N3TC has good relationships with those taking part in the test – and she believes these operators are often victims of more irresponsible drivers out there. "But if their drivers use our 24/7 customer care line to report bad driving, it will allow us to work with law enforcement and deal with problems," she says. "We also assist in other ways – for instance, if a truck breaks down, is involved in a crash or its payload shifts, we can be there virtually immediately."
The N3TC route control centre can even be seen as extension of a logistics company's operations room. "Operators can get valuable information and immediate updates from us," says Visser. "We use an SMS service to notify the trucking community of major accidents that could delay one or more of their vehicles."
This information can be invaluable to operators in terms of planning trips and getting the most out of their operations. Le Roux believes the reporting system could be utilised to reveal problems even before the N3TC control centre is aware of them, and enable the company to take action.
"If the logistics industry knows how best to use the route from a cost and time-saving perspective," says Visser, "and if it adapts driving techniques to suit the road conditions, we will have a positive impact on road safety. I believe the test will play an important role in helping us to achieve this objective."
Focus on Transport
May 1, 2012
Published by