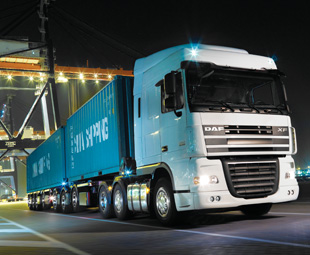 Truck Test 2012 is upon us, with excitement building to a peak as manufacturers prepare to strut their long-haul stuff. Babcock and DAF plan to bring it on in the most comfortable way possible.

The company is entering its DAF XF105 FTT 340 kW (460 hp) MT23-165 model with Kenworth Air-glide 400 rear air suspension. This driving machine is specifically designed for long haulage applications, with the
XF105 cab being one of the largest and most comfortable sleeper cabs on the market. "This will be validated during the test," says a confident Dave Black, managing director of retail at DAF.
And this is just one advantage of the XF105 that DAF aims to demonstrate in the upcoming test. "This is an ideal opportunity to have a controlled but natural test performed on the new DAF PACCAR MX engine," says Black. "The Road Freight Association conference is also an excellent avenue to highlight and showcase our products, which creates excellent brand awareness."
The Euro 3 12,9-litre PACCAR MX engine has new pistons, optimised fuel injection and a unique fully encapsulated exhaust manifold unit that all work together to substantially lower fuel consumption, which in turn lowers CO2 emissions. It can also be Euro 5 and EEV compliant with the use of DAF's SCR Technology. This engine is designed to increase service intervals to 40 000 km with the use of semi synthetic oils.
The MX engine has a six-cylinder in-line configuration, is turbo-charged with an intercooler, has four valves per cylinder and idles at 550 r/min. The 340 kW output is generated between 1 500 and 1 900 r/min, with the 2 300 Nm kicking in between 1 000 and 1 410 r/min. These torque characteristics contribute to low operational engine speeds, which promotes further fuel economy. The vehicle also comes standard with a three-year/600 000 km drivetrain warranty.
The Truck Test 2012 rules state that weighbridge certificates must be provided for the empty and the fully laden vehicle, which is favourable for DAF, as the XF105's low tare weight is another benefit that the company aims to highlight through the results of the test. "A low tare weight means more legal payload for operators," says Black, adding that the MT23-165 model has a standard gross combination mass (GCM) of 70 tonnes.
The XF105 doesn't only provide benefits to transport operators – it has a number of features that enhance driver safety and comfort, such as Hill Start Aid in combination with a ZF 16-speed AS-Tronic Automated gearbox that is fine-tuned for enhanced gearshifts and drive-off characteristics.
The EBS (Electronic Braking System) is also enhanced with a hydraulically operated decompression MX engine brake that is integrated in the valve rocker groups, delivering an output of 320 kW at 2 100 r/min. This, together with the pneumatically operated butterfly valve brake situated in the exhaust duct, further improves the overall braking efficiency of the vehicle.
An optional ZF intarder can be added that will boost the already impressive braking power by up to 500 kW, with a maximum brake torque of 3 300 Nm.
"We are excited to have a controlled test performed on arguably one of the toughest routes that commercial vehicles have to endure daily," says Black. "The Johannesburg-Durban route is a very fair test to see the truck's performance, especially with regards to the changes in temperature and gradients between the reef and the coast."
Focus on Transport
May 1, 2012
Published by