Rustenburg routed for success
South Africa's public transport infrastructure is moving in a global direction, with the introduction of Bus Rapid Transit (BRT) systems in cities around the country. JACO DE KLERK takes a look at the system currently being established in Rustenburg, and finds that it includes bicycle lanes and rest areas for pedestrians.
Rustenburg – a mining town about 30 minutes drive from Sun City in the North West province – has been described as one of the fastest-growing urban areas in the country. More than half of its 500 000 residents work on the region's famed platinum mines, and 83 percent of all inhabitants are reliant on public transport and non-motorised options such as walking or cycling.
The Rustenburg Rapid Transport (RRT) project was launched in 2011 to manage mobility and congestion within this medium-sized-city – and aims to satisfy the needs of all road users, including pedestrians, cyclists, public transport users and motorists.
As Gail Jennings, non-motorist transport consultant for RRT, told delegates at the ITSSA Urban Mobility and Congestion Management workshop held at The Innovation Hub in Pretoria on June 19, 2012, RRT isn't only about the bus …
"Although the RRT system includes a 40 km BRT route and stations, it is the word 'include' that's important," says Jennings. "Public infrastructure spend on a project like this needs to achieve the maximum advantages for the city and the region. Learning from the systems currently in operation or construction, such as MyCiti in Cape Town and Rea Vaya in Johannesburg, RRT has taken a holistic, multi-measured approach to urban mobility and congestion management."
She says that the RRT system aims to alleviate congestion while creating greater mobility, emphasising a universal design and non-motorised access. "The goal is to transform the public movement space to better serve the needs of everyone – whether existing or potential users," highlights Jennings.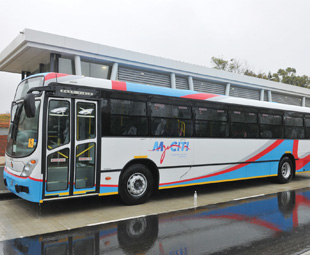 This goal was set in 2007, when Rustenburg was identified as one of the 12 cities that would benefit from an Integrated Rapid Public Transport Network. The official construction of the BRT corridors for the RRT system started in the week of June 25, 2012. Most of this is taking place in the middle of roads, where the construction teams are digging out and preparing foundations for the separate concrete bus lanes to be laid. Foundations and services for the first six RRT closed stations will also be prepared – with the actual stations themselves only being completed at a later stage under a separate contract.
This first section includes two trunk routes that will link the settlements of Phokeng and Kanana to the Rustenburg central business district (CBD) with multiple feeder and direct routes, 32 main stations and 500 other stops. The construction started at the city's taxi rank in the CBD and will move northwards in three sections over a 15-month period – with only one lane being restricted to one-way traffic at any time during construction to keep motorist delays to a minimum.
The current construction work is being undertaken by a local construction company which won the tender for the project following a stringent procurement process. This first leg is creating employment for over 100 people.
"We are delighted that work is starting and that the public will see this project in a more physical form," says RRT director Marks Rapoo. "It is the first of many infrastructure projects that will need to be completed for the RRT system to operate." He states that the organisation aims to cause as little disruption as possible to current traffic during construction, but does ask for the public's patience and support.
The RRT project will differ from other cities' BRT systems because of Rustenburg's mining and regional status. Shift workers, for example, will need off-peak and very early morning services. There is also a thriving informal trade network, with entrepreneurs determined to provide goods to commuters at the start of their journey. Because this agricultural and rural area is a major destination centre, the mobility options must also cater for Friday shopping days, as another example.
According to Jennings, this highlights the importance of integrating "low-tech" options into the RRT system, instead of focusing exclusively on technology-based congestion options – such as in-vehicle GPS devices, mobile applications and traffic management centres – which usually get preference. These "low-tech" options call for the building of more sidewalks, structures providing shade, and rest areas for pedestrians at the informal market areas. She adds that the system should focus on a way to improve cyclist and pedestrian mobility, parking management and urban green space.
"Our research has clearly indicated that RRT's bus system is unlikely to replace walking and cycling," explains Jennings. "Quite the opposite, in fact – better public transport, universal design and reduced public parking usually generates more non-motorised transport. We need to plan for this, and encourage more of this lowest-carbon mobility."
The RRT project will therefore integrate the bus system within the current urban environment, and encourage walking and cycling as part of the improved system. To achieve this, the RRT organisation will undertake landscaping and greening initiatives around each bus station, which also forms part of the overall regeneration strategy for the central city. It will also focus on pedestrian-priority streets and construct bicycle lanes.
"There's no doubt that this public investment in streets, sidewalks, parks and open spaces will enhance and encourage private investment," says Rapoo. He adds that improved public health, increase of local property values, emissions reductions, and a greater circulation of money in the local economy are just some of the benefits that this holistic approach to mobility and congestion will provide.
Focus on Transport
September 1, 2012
Published by