SA's first TruckStore is open for business
TruckStore, the specialist used commercial vehicle concept launched by Mercedes-Benz South Africa, is now officially open for business. Blair Burmeister attended the launch which was met with great enthusiasm by all.
Bringing an original business concept to Centurion on Thursday, September 6, Mercedes-Benz launched its first South African TruckStore. The concept, a Daimler initiative, has been in operation in Europe since 2002 and is now that region's largest used vehicle dealer network.
With almost 30 000 m2 of display area, the Centurion TruckStore is one of the biggest used commercial vehicle outlets in the southern hemisphere. It offers a wide range of models to clients ranging from single-vehicle operators to the biggest fleet owners. The team behind the project is confident that it will soon be the leading used truck dealership in Africa.
Mercedes-Benz South Africa (MBSA) is the first market performance centre in the world to bring the TruckStore concept outside of Europe (Brazil will be next).
"It is an exciting and crucial day as we take used vehicle dealership management to the next level," said Martin Zimmermann, President and CEO of MBSA, adding that the team behind the launch of the new TruckStore has demonstrated tireless commitment and dedication.
This is a positive development for South Africa, with the concept expected to act as a platform that will expand the used vehicle trade. An independent operation, it is headed by a superb management team. Roy McAllister, Group MD of Sandown Motor Holdings, explained how the concept came to life with the help of MBSA, and said the project has all the ingredients for success.
TruckStore Europe, which celebrates its 10th anniversary this year, now has 31 location sites in 15 European countries – and continues to grow. TruckStore Global founder and director Ralph Plavac revealed that in a good financial year, good performance can be expected (2007 was one such year, with 20 000 units sold that year). Plavac said individual dealership performance depends on the market as well as customer needs, but that the biggest dealerships sell up to 1 500 units a year while the smallest might only sell around 150 units.
Bringing the concept to South Africa is an exciting development, said McAllister, in that it represents organic growth and creates employment opportunities. "The team is very motivated, and there is plenty of room for optimism," he said. Clients, the general public and the project management team share this optimism, together with a sense of assurance that this business will work. Several adjustments have been made to adapt the concept to suit South Africa.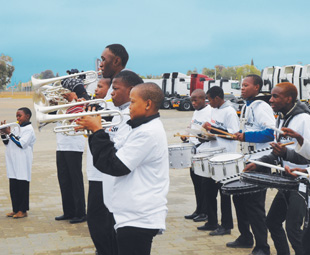 TruckStore SA sales and business development manager Oliver Marte mentioned that when the idea of bringing TruckStore to South Africa was first mooted, the country was facing a recession and the market wasn't in a good state. However, this didn't stop development. "I am passionate about this concept, and South Africa is very close to my heart," he said. "We are very proud of what we have achieved. This is an innovative business concept."
An investment of some R90 million was made to build the dealership, and several challenges were overcome to bring the project to life. The intention is for TruckStore to provide hassle-free trade-ins, and convenient and cost-effective replacement options. A dedicated reconditioning centre where vehicles are checked, upgraded and refurbished has been established in Zandfontein, Pretoria. This centre will also house the Mercedes-Benz financing facility.
TruckStore accepts commercial vehicles of any type (no brands are blacklisted), depending on market demand and the condition of the vehicle. An innovative aspect of the concept is the categorisation system. Vehicles are given gold, silver and bronze ratings depending on their condition and price-performance ratio. Ultimately, TruckStore aims to ensure that every vehicle delivers what is promised. "The categorisation is an advantage in this business, assuring vehicle quality," said Plavac. "It will be interesting to see how the South African markets react."
Construction work on the R20 million office building involved numerous geometric tests and required specific preparation due to the prevalence of dolomite in the area. Environmental factors were taken into consideration in the design of the building, making sure it was both functional and sustainable. Eco-friendly measures have been put in place to retain water for irrigation, and solar geysers have been installed to minimise electricity usage.
The TruckStore initiative will hopefully stimulate growth in the used commercial vehicle segment and strengthen synergy within and collaboration between members of the MBSA dealer network. With all the ingredients for success, TruckStore is set to become a big player in a new environment.
Focus on Transport
October 1, 2012
Published by