Scania expands natural gas in the UK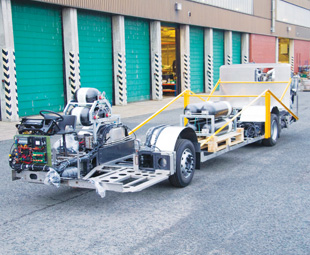 FRANK BEETON reports on Scania's gas-fuelled Euro-6 double decker
Scania has launched a Euro-6 natural gas-fuelled, double-deck bus chassis on to the United Kingdom (UK) market. Based on the N 280 UD4x2EB chassis, this vehicle is powered by Scania's 210 kW (280 hp) OC09 10,1-litre, five-cylinder dedicated gas engine, driving through a ZF EcoLife six-speed fully automatic transmission.
The engine is capable of operating on either compressed natural gas or biogas, and employs a three-way catalyst and exhaust gas recirculation system to meet Euro-6 emission standards.
Bodywork for the first demonstration vehicle is being provided by the Falkirk plant of Alexander Dennis Limited to its 400MMC design.
The demonstration programme is being supported by Roadgas, which will provide a mobile refuelling station for the vehicle as it tours the UK. Roadgas will also be offering potential purchasers a service to plan, design, install, commission and maintain equipment to store and deliver gas at their depots.
Gas-fuelled Scania single-decker buses have been operating in the UK since April 2013, when Reading Buses placed the first units in service, and some 80 units have subsequently entered operation.
The double-deck unit draws its fuel from six 150-litre gas tanks, with four located in the rear, and two under the stairs. This is expected to provide an operational range of 300 to 330 km between refuelling.
As we have stated before, service bus operation is an ideal scenario for alternative fuel and driveline applications, as the vehicle can routinely visit fixed refuelling infrastructure, and will always be relatively close to technical support.
In South Africa, with its dearth of clean diesel fuel availability, bus operators wishing to become more environmentally friendly, and achieve higher levels of emissions mitigation, may well be advised to consider natural gas fuel as a viable alternative.
Focus on Transport
April 4, 2016
Published by