Scania Truck Rental: providing a total-solutions package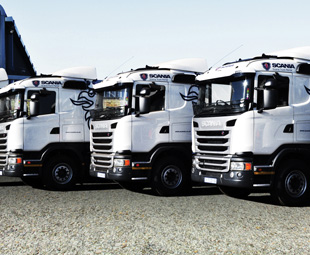 In tough economic times, renting a vehicle can make better financial sense than buying one. The risks associated with truck ownership are always high – more so in a volatile and unpredictable business landscape. THATO TINTE discovers how Scania Truck Rental provides a solution.
Perhaps your company has a large fleet that needs to be expanded in the peak season, or you may be a small operator requiring extra vehicles to service a short-term contract.
If these scenarios are familiar, long-term financial commitments are not feasible. Enter the alternative: Scania Truck Rental – a revolutionary off-balance-sheet solution, fully supported by a wide-ranging services portfolio – which can bridge your trucking gap.
"Scania Truck Rental offers a full-service solution based on our customer's business needs. Our fully maintained rentals provide the perfect opportunity for operators to free up cash flow without long-term commitment, or risks," says Patrik Glas-Crommert, Scania chief financial officer overseeing the rental division.
According to Nicola Engelbrecht, national manager at Scania Truck Rental, the total-solutions package comes with full maintenance, comprehensive insurance and additional options, such as driver training from the Scania Driver Training Academy.
"Our training educates drivers on the most effective driving techniques – helping each driver to maximise the efficiency of their Scania vehicle, as well as improve and optimise driving habits and fuel efficiency," says Engelbrecht.
Scania's Fleet Management System (FMS) features on each truck and customers have full access to the fleet management information services. This is an added plus for companies with smaller fleets that may not want to invest in their own fleet management service.
Truck rental periods range from one week to 12 months. Flexible tailor-made solutions are also available – enabling customers to predict their costs upfront.
Standard credit checks and feasibility assessments are conducted before rental agreements are signed. Before the delivery of a truck, a deposit is payable and upon return, an assessment is conducted to establish that the condition of the truck complies with the terms of the agreement. If this is acceptable and the account is up-to-date, the deposit will be refunded.
Glas-Crommert says: "The rental offering is competitively priced and comes with the benefits of access to Scania Southern Africa's extensive service network. This enables us to maximise the vehicle uptime and, as a consequence, the customer's overall profitability."
He adds: "Customers are able to concentrate on running their business, while we take care of the risks. We provide the vehicle and the service back up, while the customer adds a driver and gets a predictable monthly bill. It is a plug-and-play solution."
The Scania rental fleet comprises mainly low-mileage trucks, which are no older than three years. Scania adds that models in its range are easily adaptable across many applications – customers with specific applications can discuss these with Scania for a solution to fit their needs.
Engelbrecht explains that Scania Truck Rental is unique in that it forms part of the original equipment manufacturer. "We only rent Scanias; we manufacture them, so we really understand our products and know how to influence the uptime for our customers."
Scania Truck Rental can be obtained nationally through the Johannesburg head office, Durban and Cape Town rental offices, or through Scania's countrywide dealerships.
Focus on Transport
February 3, 2016
Published by