Solar panels to save your fridge unit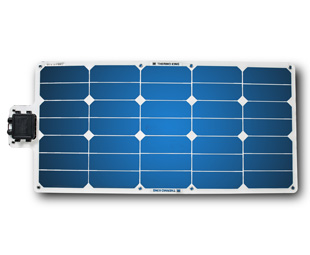 Thermo King, a manufacturer of transport temperature control solutions, has introduced its new, high-capacity ThermoLite solar panels – designed to maintain a continuous charge, extend battery life of the reefer unit and prevent costly road calls for flat batteries.
ThermoLite solar panels are designed to prevent battery deterioration caused by natural or deep discharge through auxiliary loads like telematics systems or other devices, lights and sensors.
"Batteries may reach a point where they have been fully discharged so often that they become un-rechargeable. This leads to expensive service call-outs and eventually battery replacement," says Gary Mullins, aftermarket product manager at Thermo King in Europe, the Middle East and Africa.
"Our solar panels enable TracKing, and other telematics systems, to monitor assets over long periods of time, even when the transport refrigeration unit is off, while also safeguarding the health of the battery."
The only automotive-rated charge controller on the market, ThermoLite's patent-pending charge controller eliminates concerns regarding electrical power surges, reverse polarity (that creates a potential shock hazard), overcharging and high-voltage jump starting.
Designed to fit directly to the rooftops of the insulated bodies, the panels underwent extensive tests including resistance to vibrations, pressure washing and exposure to high- and low-ambient environments to ensure their robustness and reliability.
Focus on Transport
March 31, 2016
Published by